Governor COVID: 10 ways Greg Abbott flubbed the Texas recovery effort
Texas was flattening the COVID-19 curve... and then we weren't. Here's a list of times Texas Gov. Greg Abbott got in the way.
10. Gov. Abbott issued a "stay at home" order then refused to call it a "stay at home" order.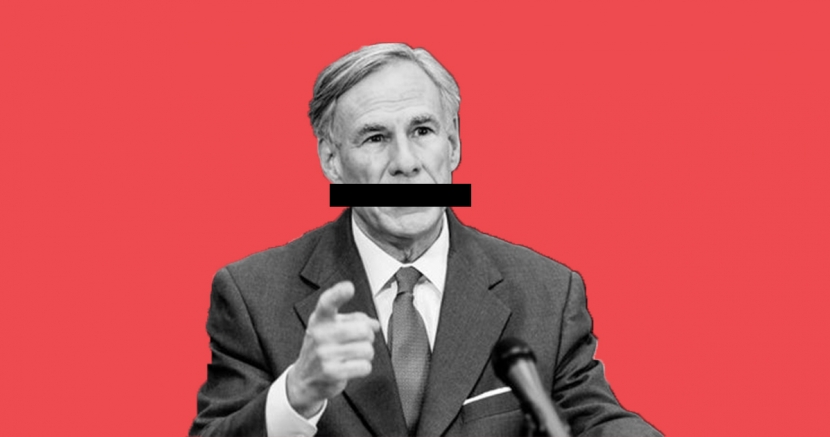 Why? To not piss off conservative voters who opposed it, which only resulted in creating public confusion. As the Texas Observer reported, "Abbott's message was so muddled that he was forced to release a video the following day clarifying that his order 'requires all Texans to stay home' except for essential services." As NBC in Houston put it, "Abbott isn't calling it a stay-at-home order but he's telling Texans to stay home."
9. Abbott invited Texans to figure out what his coronavirus Executive Orders allowed.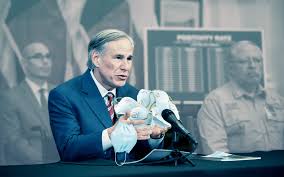 Pool/Getty; Masks: Xinzheng/Getty
When local officials wanted to enforce mask rules in April, Abbott issued an executive order prohibiting them from doing so. And by June, when a local official decided to exploit a loophole in the executive order, Abbott responded by saying the official "finally figured out" what was in the orders. Governors don't usually play the role of the Riddler, but that's what Abbott did instead of acknowledging that his prohibition was damaging community spread. By July, Abbott himself finally figured out that he needed to issue a statewide mask order.
8. Abbott teetered back and forth on letting communities govern themselves, but only when it served him.
Texas Republicans are all for local control when cities are implementing conservative policies that they agree with. But the moment cities implement more progressive policies like paid sick leave or mask mandates, the GOP steps in and their war on local government continues. 
After avoiding responsibility and leaving cities and counties to handle coronavirus on their own, Abbott stepped in and took power away from localities that could have helped save lives. Meanwhile, local progressive leaders like Harris County Judge Lina Hidalgo and Dallas County Judge Clay Jenkins have been working all along to protect Texans' health and safety.
7. When it served his political agenda, Abbott used COVID-19 as an excuse to block abortion access.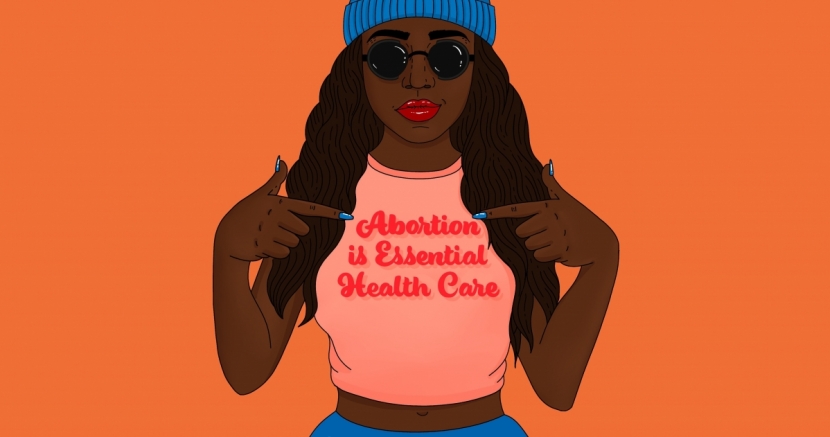 Together with his extremist buddy, indicted-Attorney General Ken Paxton, Abbott blocked time-sensitive, essential health care for Texans and forced providers, advocates, and patients to spend valuable time and energy fighting back. 
Emergency actions during a global pandemic should advance health and safety for us all, not force people to delay much-needed care and possibly exacerbate their health situations.
6. Texas admits 6% of initial COVID tests were actually antibody tests.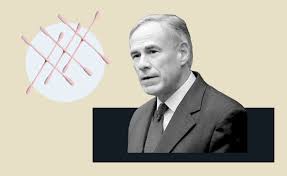 Sunny Sone/Justin Miller
Early on in the pandemic, Abbott boasted about the state's ability to conduct widespread testing, thus justifying a rushed reopening of the state. Except the state wasn't reaching it's testing goals, and even then it was suspected that some of the tests were actually for antibodies, not for current infections, with no accurate way to meld the two tests. 
When asked if this was taking place, Abbott insisted it wasn't. Then the state quickly backtracked on this claim, admitting that the initial reports of mixed tests were accurate, and had to issue corrections.
5. He knew reopening Texas would result in a higher infection rate.
As Abbott was assembling a team of millionaire and billionaire political donors to guide the state towards reopening in April (!) when a recording emerged revealing him telling legislators that he knew opening up the state early would lead to an increase in infection rates. But he did it anyway and, as the Houston Chronicle wrote, "Gov. Abbott didn't listen to coronavirus warnings and Texans died."
Along the way, Texas ended up reopening bars, movie theaters, and restaurant dining rooms as high as 75%. Even as cases soared, he said there was "no real need" to scale back the openings. He went on to state that he regretted this decision.
4. Abbott refused to expand access to mail-in voting, forcing people to choose between their health and their right to vote.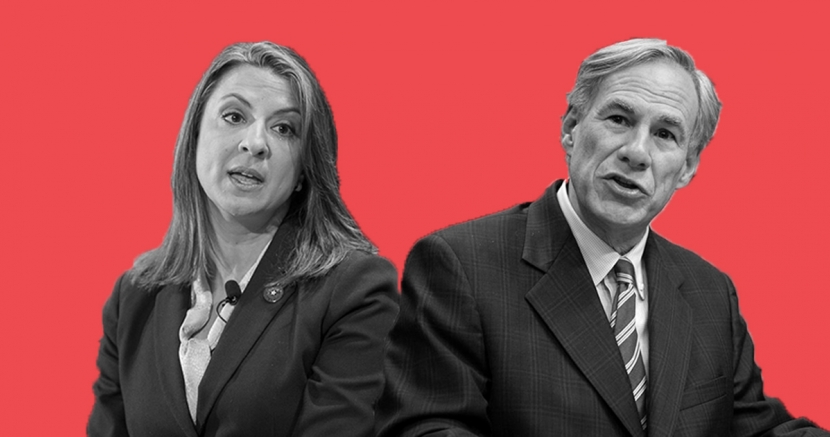 In an effort to protect Texans' health, safety, and fundamental right to vote, voting rights organizations have been fighting for months to expand access to mail-in voting throughout the state. Unfortunately, Abbott and other Republican state lawmakers are continuing their voter suppression strategy and have opposed these efforts at every turn. Instead of protecting Texans, conservatives are arguing that Texans should be forced to risk death or illness in order to vote. The irony of it all? The three top Texas GOP officials opposed to expanding vote-by-mail have each used it. 
3. An affluent Dallas hair salon owner defied Abbott's orders - and he came to her rescue.
As part of a huge media stunt, Texas Republicans got involved in a Dallas salon owner's case in which she was sentenced to seven days in jail for defying the state's emergency orders and subsequent court orders. This was after she refused numerous opportunities from the judge to come into compliance with court orders. It was a proven, pre-planned stunt, evidenced by the fact that a GoFundMe account was launched for the woman before she attempted to reopen. 
Abbott, along with fellow Republicans like indicted-AG Paxton and Senator Ted Cruz, supported the salon owner, even though it was Abbott's own executive orders the woman was defying. This is a perfect example of Abbott's backwards approach to the pandemic. His waffling and refusal to allow cities to enforce the rules he put in place put Texans at even greater risk.
2. Abbott re-opened the bars then blamed the increase in spread on young Texans.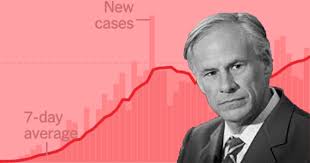 After deciding to reopen way too soon, the thing everyone warned was going to happen happened. Cases increased and hospitalizations went up. But instead of taking responsibility for his poor decision-making, Abbott blamed the increase in cases on young Texans. As quoted in USA Today, Tara Pohlmeyer of Progress Texas stated "if we're really in this together, all Texans have a duty to protect each other and Gov. Abbott has a duty to take responsibility for his actions."
And Texans have noticed, judging by Abbott's dipping approval numbers. Not only are Abbott's actions responsible for the increased spread and jump in hospitalizations and deaths, but he didn't even succeed at boosting the economy, which was the driving force behind his decision to reopen. In reality, he's extended the impact of COVID, hurting the Texas economy even more in the process. 
1. Abbott helped bring on the second wave before Texas was even done with the first.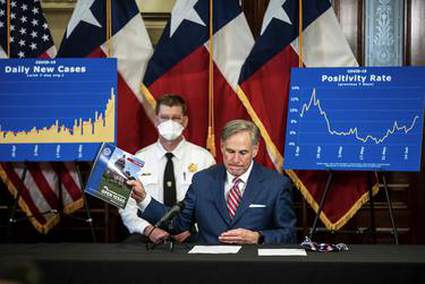 Ricardo B. Brazziell/Pool via Austin American-Statesman
About two weeks after Texas reopened, COVID-19 cases and deaths began to soar. Texans watched as the state hit record after record of case numbers, hospitalization rates, and more, all as part of a second wave before the first was even done. Hospitals began to run low on PPE supplies (again), while the state failed to implement additional health and safety standards to stop the spread. 
All of this? Preventable. Abbott made deliberate choices over the last few months to put the opinions of political donors first, and the health and safety of Texans suffered because of it. As the Texas Tribune reported, Abbott is lucky he's not on the 2020 ballot, but Texans would do well to remember this when he's up for reelection in 2022. 
Are there things he got right? To his credit, Abbott stopped the unraveling of our health and safety by pausing the reopening at the end of June, which wouldn't have been necessary if he wouldn't have rushed the reopening, but whatever. He also extended early vote by one week for the July primary runoffs and for the November election, which also may not be necessary if he were to get on board with no-excuse vote by mail for everyone.
He did authorize booze-to-go, which has come in very handy for those of us living with his decisions. Hopefully that one's here to stay.
For a complete timeline of Abbott's orders, visit this handy page by NBC in Houston.
DONATE
Your donation supports our media and helps us keep it free of ads and paywalls.