As the Delta variant takes hold, will Gov. COVID take action?
The variant poses a severe risk to unvaccinated Texans, but executive orders barring mask mandates pose a barrier to stopping it.
Toplines and Key Points:
The Delta variant of COVID-19 poses a severe risk to unvaccinated individuals, who make up half of all Texans.
Gov. Greg Abbott has taken away important health and safety measures that local governments, schools, and businesses could use to slow the spread, including banning mask requirements from governmental entities.
Texas is still the most uninsured state in the nation, but Abbott has refused to call a special session to expand Medicaid or address the COVID pandemic.
Abbott opened the state too soon and failed to stop the spread. He can do the right thing now and encourage everyone to get vaccinated.
COVID-19 cases are once again on the rise in Texas, as the Delta variant continues to spread across our state. Much more infectious than the first variants of the pandemic, Delta poses a severe risk to unvaccinated individuals, who make up half of all Texans. If left unchecked, new COVID infections could add another strain to our hospital system, putting the health and safety of our communities at risk. But despite the threat, Governor Greg Abbott has done very little to slow the spread and encourage vaccinations in Texas.
Abbott puts a ban on saving lives
In March, Abbott declared that it was "time to reopen Texas 100%." Today, COVID cases are nearly the same as when he reopened the state, and infections are rapidly rising with no signs of slowing down. The governor has made it harder than ever before to keep communities safe from the virus, getting rid of nearly all enforcement measures that local authorities could take to slow the spread.
Texas kids will be going back to school in one month, and all students under 12 will be unvaccinated. But thanks to Gov. Abbott, schools are banned from requiring their students to wear masks in the classroom. Democratic lawmakers have signed a letter to Abbott asking him to reverse the ban, but he's shown no signs of compromising for the health and safety of our kids.
Abbott has also signed legislation that bans businesses from requiring customers to be vaccinated against COVID-19, as well as an executive order that bans all government entities from requiring masks. That's on top of legislation that excludes religious gatherings from emergency closures, and a commitment to not impose another mask mandate, no matter how dangerous the Delta variant becomes.
With Abbott banning nearly any safety measure to slow the spread, getting vaccinated is the best chance we have to save lives. But don't count on Abbott to do much to encourage vaccinations either — while other states have used vaccine lotteries and incentive prizes, our governor hasn't done much more than ask politely.
In addition to banning live-saving measures, Abbott has refused to call a special session to expand Medicaid or address the COVID pandemic. Texas is the most uninsured state in the nation, but Abbott is wasting time on a harmful special session agenda to appeal to his extreme, far-right base. 
New variant, same mistakes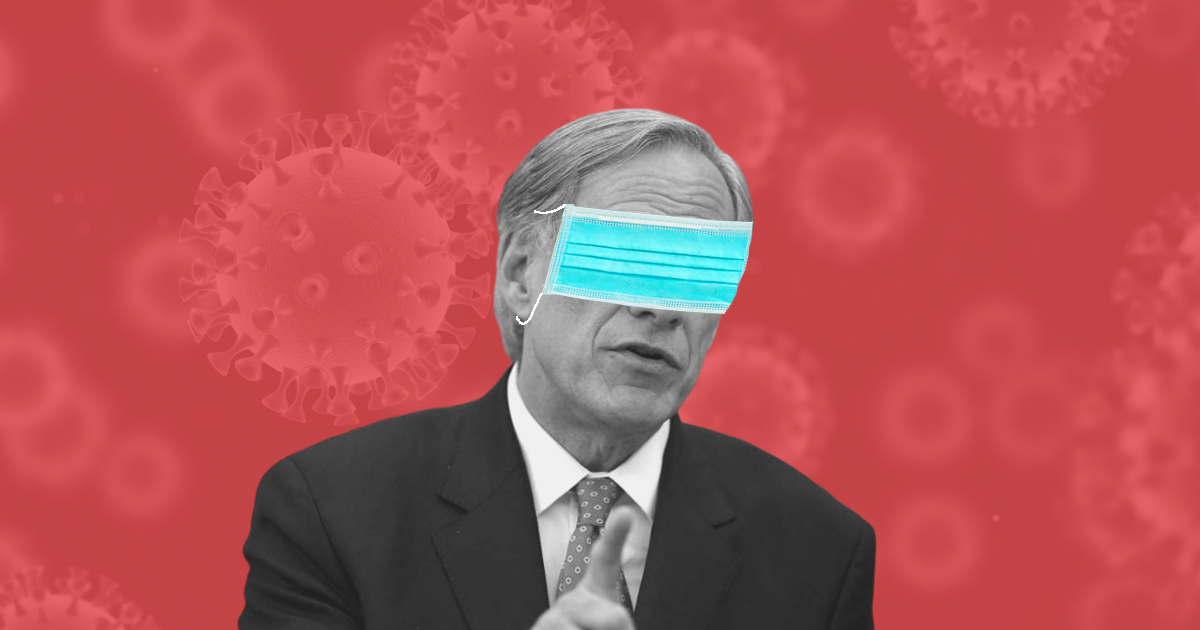 While Greg Abbott's mishandling of the Delta variant has been more than disappointing, it wasn't unexpected. Since the start of the pandemic, he's failed repeatedly at managing the virus, putting petty partisanship over life-saving public health measures. 
When the pandemic first began, Abbott put out a series of confusing executive orders as he tried to balance health and safety with resistance from his far-right base. Did Abbott want people to stay home? Were cities able to require masks? It was too hard to tell, and our governor even invited local leaders to "figure out" what his convoluted executive orders allowed. Then he took away power from local communities to decide their own safety measures anway. 
As if that weren't enough, Abbott took every chance he had to restrict abortion access and voting rights. In March 2020, he joined forces with indicted-Attorney General Ken Paxton to block abortion, claiming it was unessential health care. As a result, Texans were forced to delay their abortion care and even travel out-of-state at the start of a deadly pandemic. 
When election season came around, Abbott and the Texas GOP tried to block vote by mail, drive-thru voting, and other measures that made it safer to vote during the pandemic. They're still trying to suppress those voting innovations today, as Democrats fight back to protect voting rights for all. 
Greg Abbott knows that public health measures work. But throughout the pandemic, he's ignored our safety and prioritized his far-right base instead. 
Texas deserves better than Abbott
As of July 2021, over 50,000 Texans have lost their lives to COVID-19. It's a tragic loss — one that could have been avoided had Gov. Abbott listened to scientists instead of political consultants.
In leaked audio from last year, Abbott admitted that he knew reopening the state would result in a higher infection rate, saying "whenever you have a reopening … it actually will lead to an increase in spread."
BREAKING: As @GovAbbott reopens the state in the midst of a rising infection and death rate, leaked audio from a call with Texas Legislators reveals that he knows reopening puts more Texans at risk. #txlege pic.twitter.com/kTK4M8gpSY

— Progress Texas (@ProgressTX) May 5, 2020
To be clear, Greg Abbott knew that reopening Texas too early would result in avoidable deaths. But he chose to do so anyway, in May 2020 and March 2021. Each of those reopenings led to an increase in cases, just as he predicted it would. And as a result, Texans lost their lives. 
Texas deserves a governor who will focus on health, safety, and protecting our communities during a disaster. During the pandemic, progressive champions like Harris County Judge Lina Hidalgo have worked to keep Texans safe from COVID-19, while Democrats in the Texas Legislature fought for our rights along the way. 
Governor COVID has failed Texas. Now, it's time to get vaccinated and get to work electing a new, progressive leader in 2022!
DONATE
Your donation supports our media and helps us keep it free of ads and paywalls.