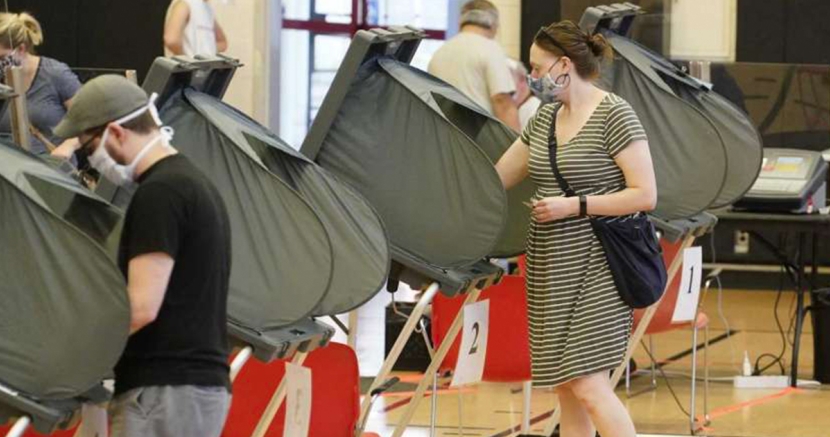 Melissa Phillip, Houston Chronicle / Staff photographer
Texas voters turn out in record numbers for Democrats, building momentum for November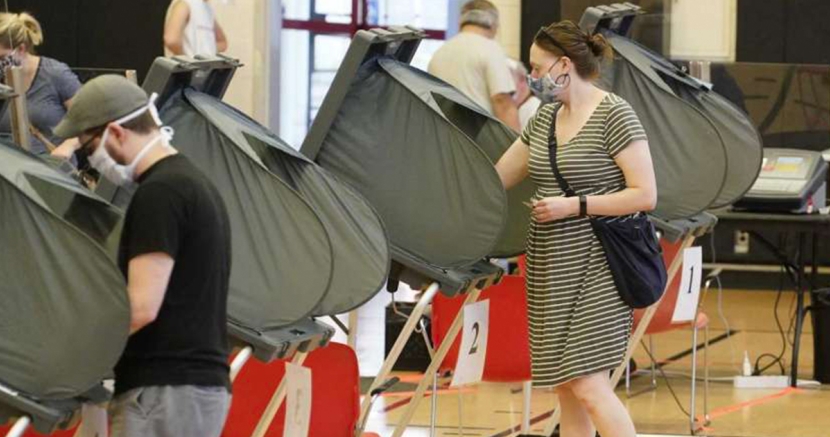 Melissa Phillip, Houston Chronicle / Staff photographer
Texas is the fastest growing state in the nation, and once again the voter growth is all on one side of the aisle.
Texas progressives made huge strides Tuesday night in the primary runoff election, setting voter turnout records despite a global pandemic and voter suppression attempts from GOP officials.
More than 1 million Texans cast a ballot during the early voting period between June 29 and July 10, including more than 652,000 Democrats and more than 411,000 Republicans, according to data from the Secretary of State's office. After Election Day, more than 955,735 total Democrats cast a ballot. That means on the Democratic side, even before Election Day, more votes had been cast than in the 2018 runoffs, as well as the 2006, 2008 and 2012 runoffs, according to Texas Election Source's analysis of Texas State Historical Association data. The party also beat its highest runoff turnout in the past 20 years, surpassing the 1994 record at 747,000.
As Republican turnout continues to stagnate, progressives are bringing more and more voters into a Democratic coalition and creating change. Texas is the biggest battleground state, and we must continue to build upon this momentum for November.
Other important election victories in Tuesday's runoff:  
In the U.S. Senate race, MJ Hegar won the Democratic nomination, and will provide a strong top of the ticket for November in the race to beat Sen. John Cornyn. Cornyn is unliked or unknown by roughly two-thirds of Texans, and has a lower approval rating than Ted Cruz and Donald Trump. He might be the most unpopular three-term Senator in the nation right now. Texans are ready to kick him and his abysmal track record out the Senate once and for all. We know that progressive issues are mainstream issues, and when it comes to fighting the pandemic, ensuring access to affordable care, and racial justice, Hegar will be a fighter for all Texans.
Progress Texas-endorsed candidate Chrysta Castañeda won her primary runoff for Texas Railroad Commission and is headed to the general election. Virtually every notch on Castañeda's belt has prepared her for the position. She's an environmentalist, engineer, and energy attorney who also has industry expertise. The misnamed Texas Railroad Commission has nothing to do with railroads and actually oversees the oil and gas industry - it should be called the Energy Commission. And while it's supposed to be an environmental watchdog, Republicans have turned it into a lapdog. We look forward to supporting Castañeda in the general election, because the future of Texas and our climate depends on it. 
A slew of other progressives, including congressional candidates Candace Valenzuela and Mike Siegel, as well as candidate for Travis County district attorney José Garza, also won their runoffs, proving again that Texans are ready for more progressive leaders in our government. 
In the SD-27 race, Progress Texas-endorsed candidate Sara Stapleton-Barrera came close to unseating an almost 30-year incumbent and career politician. Stapleton-Barrera's campaign embraced the progressive values we should expect from all Texas leaders in the 2020 election, and showed that the fight for change in the Rio Grande Valley, and across the state, has only just begun. Her campaign was a testament to the power of young Latinx voters and activists in the RGV who helped propel her candidacy forward. 
Together, Texas progressives are building a movement, and are voting for a future where all people are able to thrive.