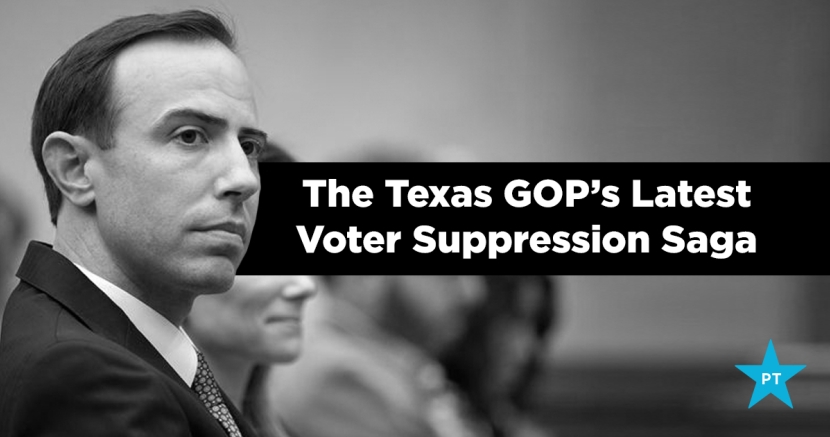 UPDATES: Texas GOP's Latest Voter Suppression Saga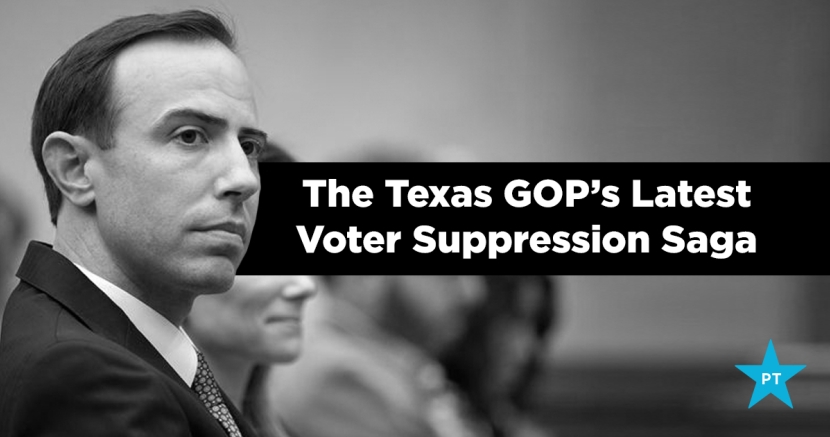 Republicans are back at it with their voter suppression games and Progress Texas is fighting back.
David Whitley was appointed by his former boss, Gov. Greg Abbott, to hold Texas' top election position back in December, and things have not been going well.
Almost immediately, Whitley began executing a massive voter suppression effort that furthers the history of a decades-long attempt by Texas Republicans to prevent people of color from voting.
Republican claims of voter fraud are just plain not true, and no lie can live forever. One of the most critical parts of our work here at Progress Texas is to call out these lies and hold accountable those who perpetrate them.
Texans refuse to stand for these deceptive tactics and are speaking up for those being attacked and purged from the voting rolls. When we join together and change the conversation about voting rights, we make progress possible.
Our Work to #PurgeWhitley
Note: This may take a moment to load on mobile.
On February 21st, Progress Texas joined more than 30 organizations in a letter that calls on Senate Democrats to hold the line and vote NO on Whitley's nomination. His work is a threat to our democracy and our basic rights; all of us have a responsibility to speak out.
On February 22nd, all 12 Senate Democrats announced their opposition to David Whitley's confirmation, stopping the latest round of voter suppression efforts pushed by Texas conservatives. This news is the latest in our collective effort to protect the right to vote and to demand fair and free elections. Through Progress Texas' digital organizing work, thousands of Texans were able to contact their Senators and demand they vote "no" on Gov. Abbott's nominee. Because they spoke up, we have halted David Whitley's nomination and his voter suppressing ways. 
On February 22nd, Whitley's nomination was successfully voted out of committee along party lines. His confirmation will now head to a full floor vote of the Senate where he will need 2/3 of all Senators present to proceed. Using our petitions, thousands of Texans are telling their Senators to vote NO, Join them now! 
Need to catch up on the voter suppression madness? We've compiled our best work for you to follow the Whitley hearings and lawsuits. Check them out and then check back as we keeping an eye on ol' David Whitley and continue to amplify progressive voices in this fight.
READ
Texas must end the threat to unregister thousands of citizen voters
Denying voting rights to eligible citizens is just wrong
David Whitley's no good, very bad, voter suppression showdown
WATCH
FOX 7 Discussion: Texas is *again* trying to limit voters by claiming "voter fraud"
KVUE Face Off: Texas has not backed up claims of "voter fraud"
KVUE Face Off: Property taxes and voter suppression at the #txlege
FOX 7 Discussion: Voter suppression must end in Texas
Break Down: Voter Suppression and the Texas Secretary of State
FOX 7 Discussion: Texas Secretary of State David Whitley must go
#PurgeWhitley: Acting Texas Secretary of State won't take responsibility for voter suppression
TAKE ACTION
It's not too late to make your voice heard, sign our petition and tell senators to vote NO on Whitley.