POLL: Texans say the Legislature needs to focus on COVID response, want a weatherized energy grid
Gov. Abbott and Ted Cruz also get low marks for disaster response.
Texans have been through a lot lately. From the COVID-19 pandemic to the winter freeze, our state has had no shortage of disasters. In our latest poll, Progress Texas wanted to get an idea of where Texans are on different issues related to these events.
The following data is from a survey conducted March 5-6, after the winter freeze and after Gov. Greg Abbott announced he was lifting the statewide mask mandate. The poll includes approval ratings for different politicians as well as opinions on energy and climate related policies, legislative priorities, and progressive issues. 
Approval Ratings 
The winter storm revealed that Texas GOP leadership isn't really adept at disaster response. And as Texans led, Republicans fled; they abandoned the state and left communities to fend for themselves during one of the biggest disasters Texas has ever faced. You can't ditch your constituents at a time like that and expect no consequences. 
Sen. Ted Cruz was underwater with 45% approving and 52% disapproving of his overall job performance, but those numbers dropped even more when Texans were asked about his response to the winter storm. Only 38% say they approve of his response and 55% disapprove, which is an overall negative shift of 10-points and made even worse by the fact that of the 55% who disapprove, 42% strongly disapprove.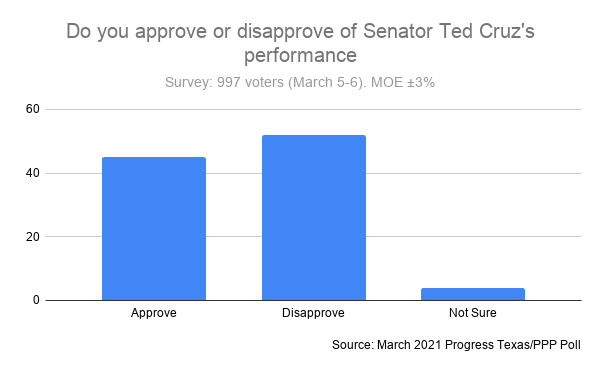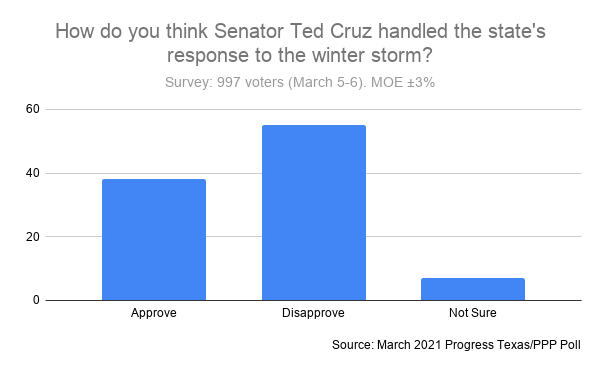 Gov. Greg Abbott took a minor hit from the winter storm. According to the poll, 50% approve of Abbott's job performance in general and 48% disapprove, but when asked about his handling of the storm specifically, only 47% approve and 48% disapprove.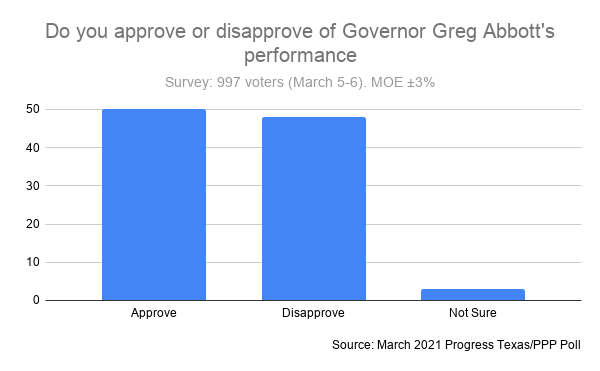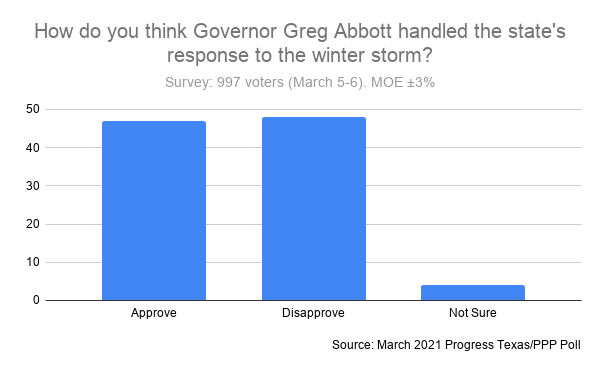 Energy and Climate Policy
The energy crisis our state experienced during the winter storm was preventable, and Texans know it. The disaster was a result of decades of deregulation and greed made possible by the Texas Republican Party. Texans want lawmakers to take action to ensure it never happens again
At 79%, an overwhelming majority of Texans said they were impacted by the winter storm while only 18% said they were not.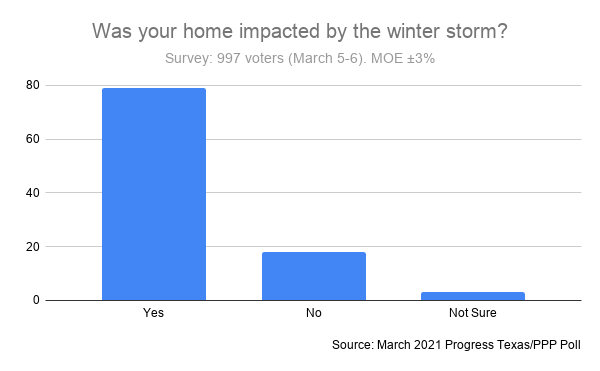 A majority of respondents also agreed that the Texas Legislature should mandate weatherization of the power grid with 61% in favor and only 18% in opposition. They were split on whether we should merge the grid with the national grid, however, with 42% in favor and 43% opposed.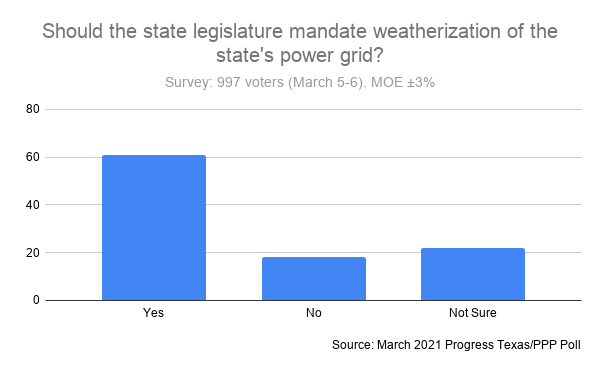 COVID Response 
While Republican lawmakers attack our rights and conjure up solutions to problems that don't exist, Texans have made it clear what the focus of the 2021 legislative session should be. Texans want our leaders to focus on the state's response to COVID-19. This shouldn't be surprising given the pandemic's impact on our lives over the past year. 
Legislators need to put partisanship aside and make informed decisions that are backed by science on how to respond to this crisis to avoid further sickness and death.
Given a list of nine choices, at 32%, a plurality of respondents said that responding to the coronavirus should be the state legislature's top priority this session. 
When it comes to the mask mandate repeal, the overall number shows that Texans are evenly split on the issue with 48% approving of the repeal and 48% opposing. However, digging deeper into the numbers we see that there are start contrasts in that those who live in urban areas and/or are people of color overwhelmingly oppose the repeal. Click here for more on this story.
Progressive Issues
Progressive values are mainstream values. While Abbott and other Republican politicians attack progressive solutions to the problems their policies have created, Texans are showing that they see through the charade. Instead of wasting time fighting culture wars, lawmakers should get to work on increasing access to abortion, health care, and resources for those experiencing homelessness.
At 52%, a majority of respondents said they support some form of abortion rights, while 39% said they do not.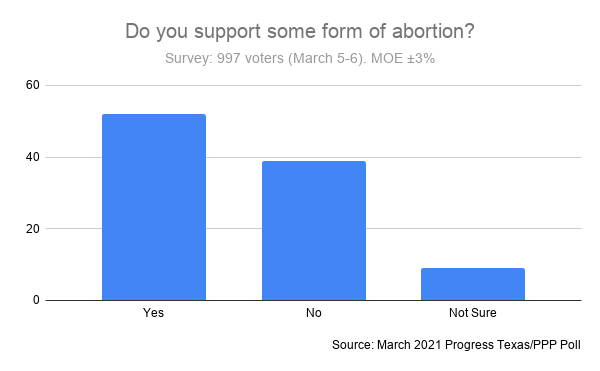 When it comes to Medicaid, 46% of respondents said the state should expand the program, while only 29% said it should not and 25% said they were unsure.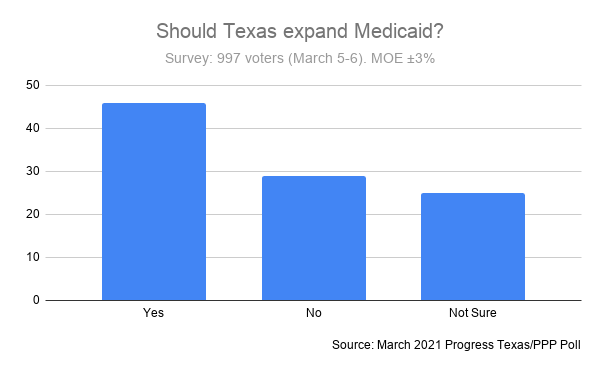 When asked if the state is doing enough to help those experiencing homelessness, 50% said no and only 25% said yes.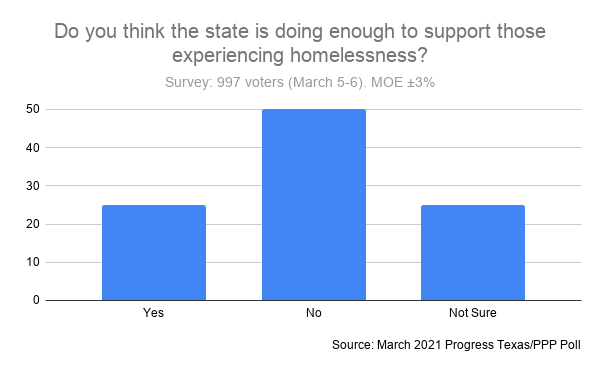 Methodology: The Progress Texas/PPP survey of 997 registered Texas voters was conducted by Public Policy Polling from March 5, 2021 to March 6, 2021 and has an overall margin of error of +/- 3 percentage points. The method of conducting the poll was 50% by landline and 50% by text message.
Poll results: Full poll results including questions, responses, and crosstabs
DONATE
Your donation supports our media and helps us keep it free of ads and paywalls.