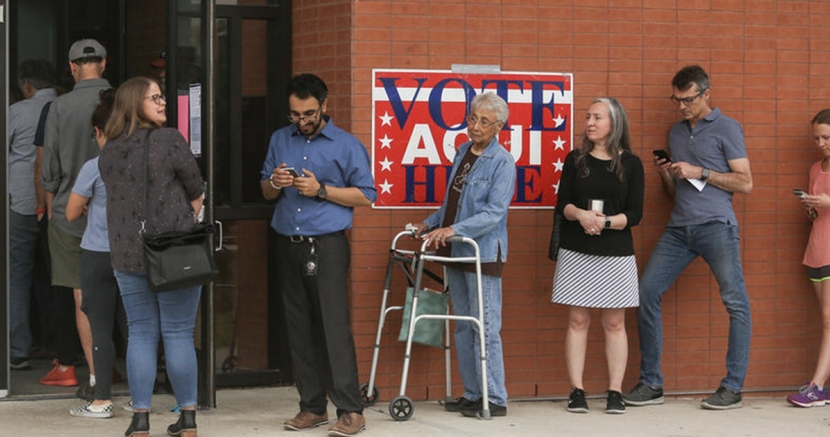 Texas needs poll workers for the next election. Young people can help.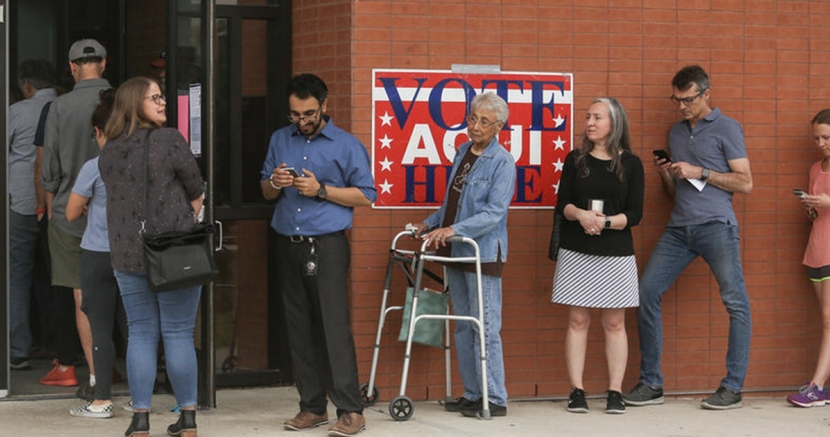 We can minimize shortages and the risk to our elderly neighbors by working the polls on in the upcoming elections.
Texas Republicans have done everything in their power to suppress the right to vote in our state. We've got restrictive voter-ID laws, outdated registration systems, gerrymandered districts, and no universal vote-by-mail. In recent elections, more and more Texans have made sure that their vote is counted by turning out, and there's one group that manages to guide them through the process — our neighborhood poll workers. 
Several times each year, hundreds of people across Texas wake up at the crack of dawn to work at our polling places and help us exercise our fundamental right to vote. They check our IDs, answer questions, and give us our sticker when we leave. But this time, Texas poll workers face a unique threat — the coronavirus pandemic. 
Around 87% of Texas election workers are older than 60, and the average age of a poll worker in Travis County, for example, is 72. This means that our polls are staffed by those most at risk of serious complications from COVID-19, which creates a challenge for elections in Texas. 
We've already seen how the coronavirus pandemic can impact voting in our state and around the country. On March 3, some election workers in Travis County stayed home due to coronavirus fears, which delayed polling locations from opening — before the lockdowns even began. In Milwaukee, lack of poll workers meant that there were only five polling places for the entire city. Across the country, states like South Carolina, Alaska, West Virginia, and many others are facing poll worker shortages in their elections. And in Georgia, we saw how excessively long lines and confusion affected mostly minority neighborhoods. 
That's where young people come in. If our elderly neighbors understandably don't feel safe working the polls, it's up to us to fill the gap. To avoid poll worker shortages and protect our neighbors most vulnerable to COVID-19, we need to step up to the plate. 
As young people, if we're exposed to COVID-19, we are much less likely to experience complications or take up a necessary hospital bed. Plus, many polling places are adding sneeze screens and giving out protective equipment, which minimizes your risk. No one is obligated to work the polls, but if you are a young person who feels comfortable doing so, consider becoming a poll worker to minimize shortages and the risk to elderly Texans. 
How can I become a poll worker?
The specifics of working the polls vary from county to county. Generally, though, it involves working on Election Day from 6 a.m. to 8 p.m., potentially later if the lines are long. Poll workers can also get paid somewhere around $15 per hour, depending on your role and where you work. 
For the upcoming election, you can choose to work on Election Day, or you can work shifts during the early voting period. It also involves a training course, which can usually be taken online. Check with your local elections department for the details in your county. 
You don't have to be 18 to be a poll worker, either. Texas has a student poll worker program, which allows for high school students 16 or older to serve as election clerks across the state. Students are paid for working the polls, and the program helps young people get involved in the electoral process. Students can also claim community service hours — and a boost to the resume. 
If you're interested in becoming a poll worker, sign up at texasvoterprotection.org/pollworker. You may also need to submit an application to your county's election department or county clerk, who will contact you with next steps. If you aren't available to work in the upcoming election, you can always work a future election as well. 
In addition to coming up with creative solutions to protect voters who choose to vote in person, Texas leaders need to allow for expanded, no excuse mail-in voting to minimize risk and the spread of COVID-19. We also hope to see all counties implement other safety measures, like curbside voting, outdoor voting locations, and social distancing requirements. No one should have to vote in person if they don't feel comfortable — you can go here to learn if you are eligible to vote by mail, and you can sign our petition calling on our state lawmakers to make vote-by-mail available to all Texans.
Otherwise, though, working the polls is a good way to give back to your community when voting out incompetent leaders is more crucial than ever before. And if you vote in person, make sure to take a second to thank your poll worker, however old they are. They deserve it.