The Most Inclusive VAWA Ever Drafted Passes!
With a 286 to 138 vote, the Violence Against Women Act (VAWA) was passed in the US House of Representatives. The bill is now on its way to President Obama's desk. The VAWA includes provisions that would protect Native American women living on reservations, LGBTQIA, and undocumented women who are victims of domestic and intimate partner abuse.
Hooray!
One more time, just so Ted Cruz can hear us!
HOORAY, VAWA PASSED!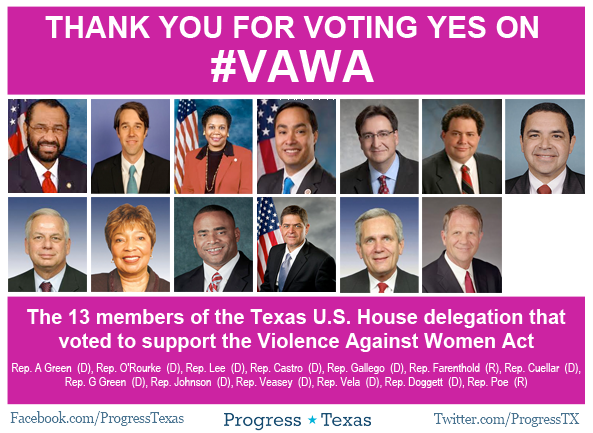 Both Texas Senators - Ted Cruz and John Cornyn - voted against the bill in the U.S. Senate.
In the U.S. House, the Texas delegation voting broke down as follows:
| No Vote (20) | Yes Vote (13) | Did Not Vote (3) |
| --- | --- | --- |
| Rep. Ralph Hall  (R) | Rep. Al Green  (D) | Rep. Sam Johnson  (R) |
| Rep. Jeb Hensarling  (R) | Rep. Beto O'Rourke  (D) | Rep. Kay Granger  (R) |
| Rep. Joe Barton  (R) | Rep. Sheila Jackson Lee  (D) | Rep. Ruben Hinojosa  (D) |
| Rep. John Culberson  (R) | Rep. Joaquin Castro  (D) |   |
| Rep. Kevin Brady  (R) | Rep. Pete Gallego  (D) |   |
| Rep. Michael McCaul  (R) | Rep. Blake Farenthold  (R) |   |
| Rep. Mie Conaway  (R) | Rep. Henry Cuellar  (D) |   |
| Rep. Mac Thornberry  (R) | Rep. Gene Green  (D) |   |
| Rep. Randy Weber  (R) | Rep. Eddie Bernice Johnson  (D) |   |
| Rep. Bill Flores  (R) | Rep. Marc Veasey  (D) |   |
| Rep. Randy Neugebauer  (R) | Rep. Filemon Vela  (D) |   |
| Rep. Lamar Smith  (R) | Rep. Lloyd Doggett  (D) |   |
| Rep. Pete Olson  (R) | Rep. Ted Poe  (R) |   |
| Rep. Kenny Marchant  (R) |   |   |
| Rep. Roger Williams  (R) |   |   |
| Rep. Michael Burgess  (R) |   |   |
| Rep. John Carter  (R) |   |   |
| Rep. Pete Sessions  (R) |   |   |
| Rep. Steve Stockman  (R) |   |   |
| Rep. Louie Gohmert  (R) |   |   |