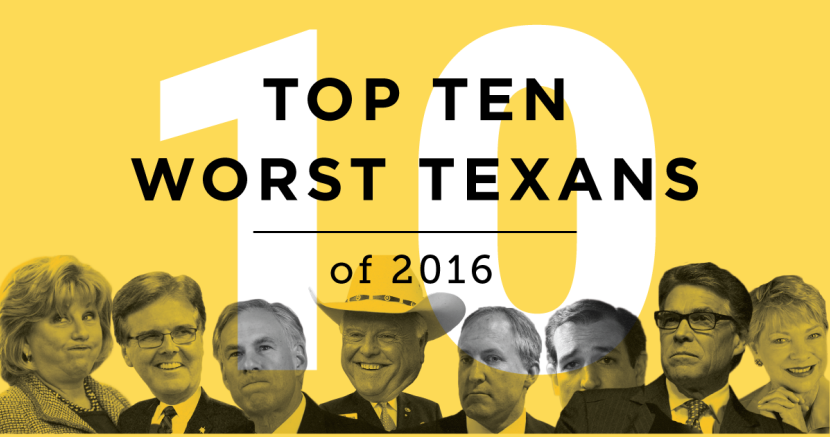 Top 10 Worst Texans of 2016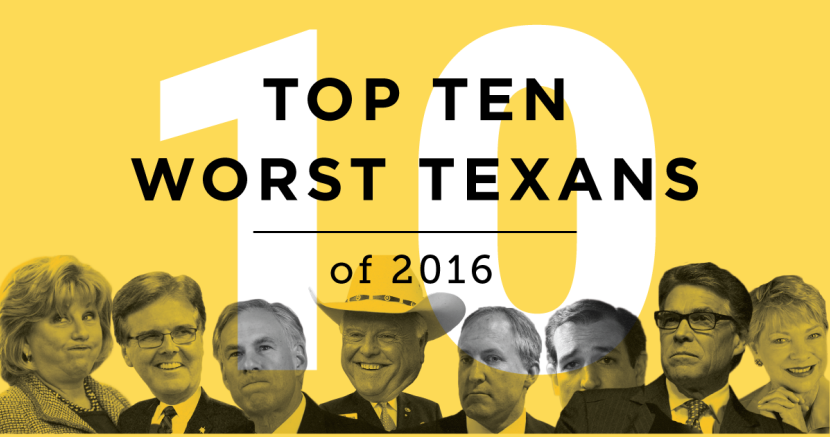 It doesn't get any worse than this...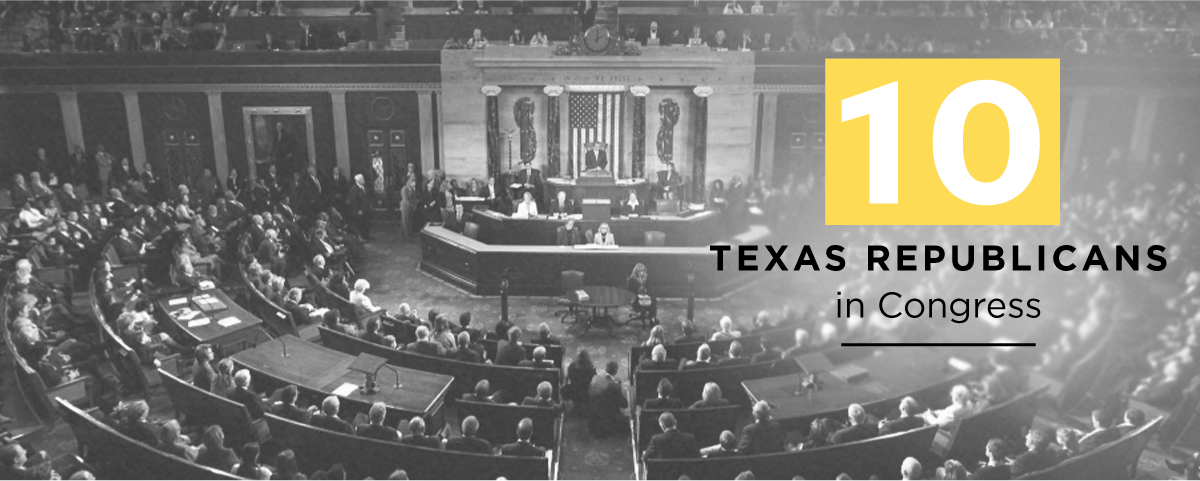 10. Texas Republicans in Congress
These guys want to build Trump's border wall (Michael McCaul), dismantle the Affordable Care Act (Pete Sessions), gut social security (Sam Johnson), think a "lady needs to be told when she's being nasty," (Brian Babin), don't believe in science (Lamar Smith), would consider defending officials who rape women (Blake Farenthold), and want to save us from gay space colonies (Louie Gohmert).
And yet - there are 9 Texans worse than them. Buckle up.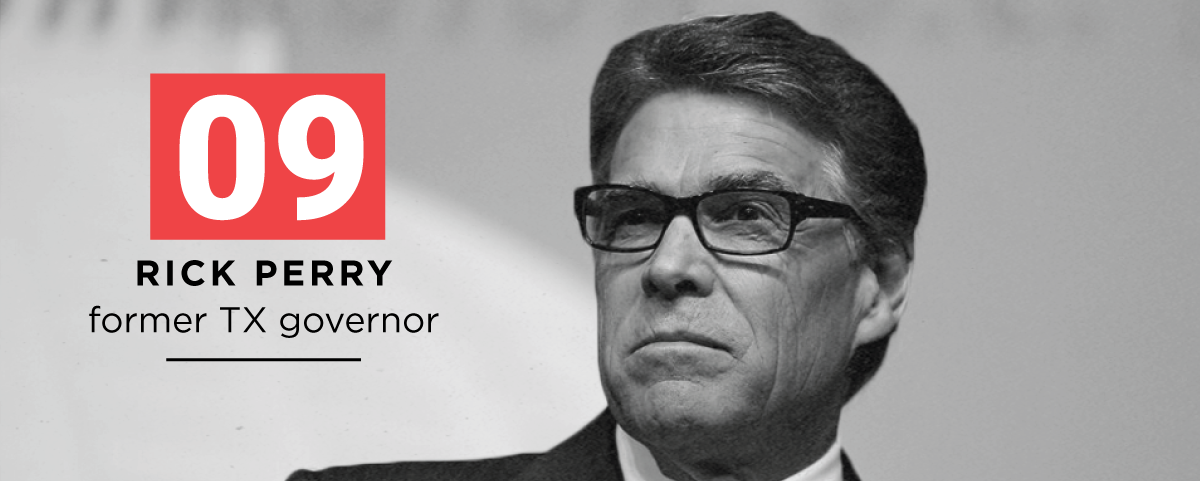 9. Rick Perry
Rick missed our list last year, and we weren't sure his Dancing With the Stars appearance would be enough to qualify him. But now that he is Trump's pick for Energy Secretary, he's baaaaaccckk. This comes after we agreed with Perry calling Trump a "barking carnival act" only to endorse him shortly afterwards.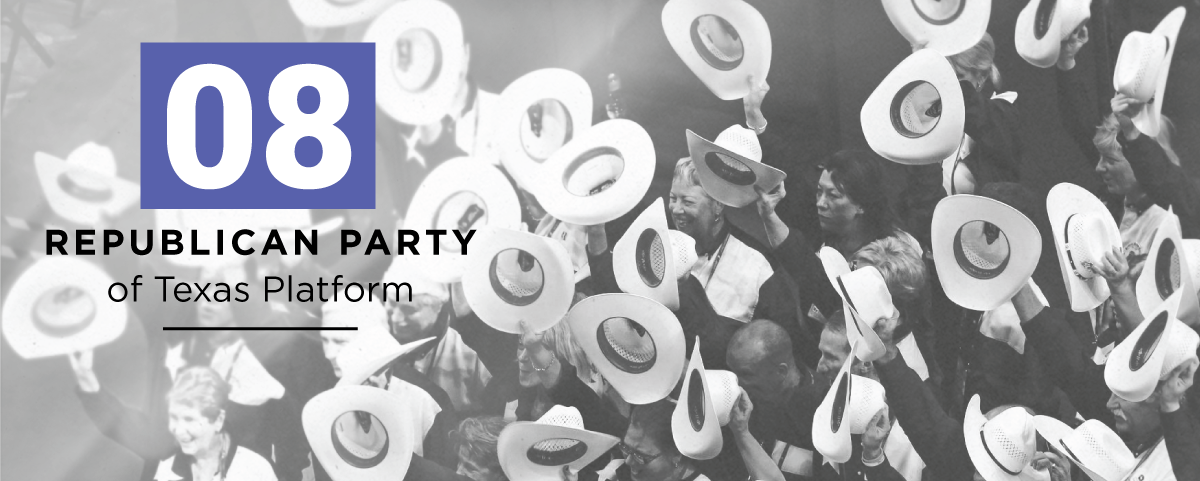 8. Republican Party of Texas Platform
Limiting voting rights in Texas, restricting affordable access to health care, criminalizing abortion, telling LGBTQ Texans to seek reparative therapy, promoting private school vouchers. We are not making this up...check out the Top 10 Worst Sh** in the Texas Republican Party platform.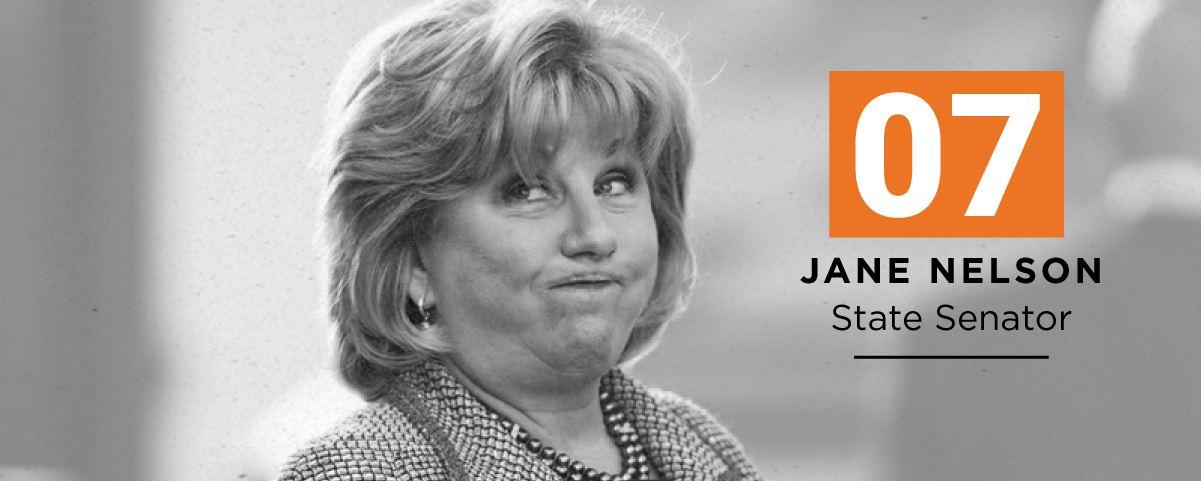 7. State Sen. Jane Nelson
Nelson has spent her career blocking expansion of health coverage and attacking abortion access. Earlier this year, Nelson put ideology above facts and science to fire well-respected research scientists for authoring a nonpartisan study on the negative impact removing Planned Parenthood from the women's health program.
But it's her decades-long refusal to take meaningful action about the state's foster care system - which has finally reached such an immense crisis that everyone is paying attention to it - that easily makes her one of the worst Texans of 2016.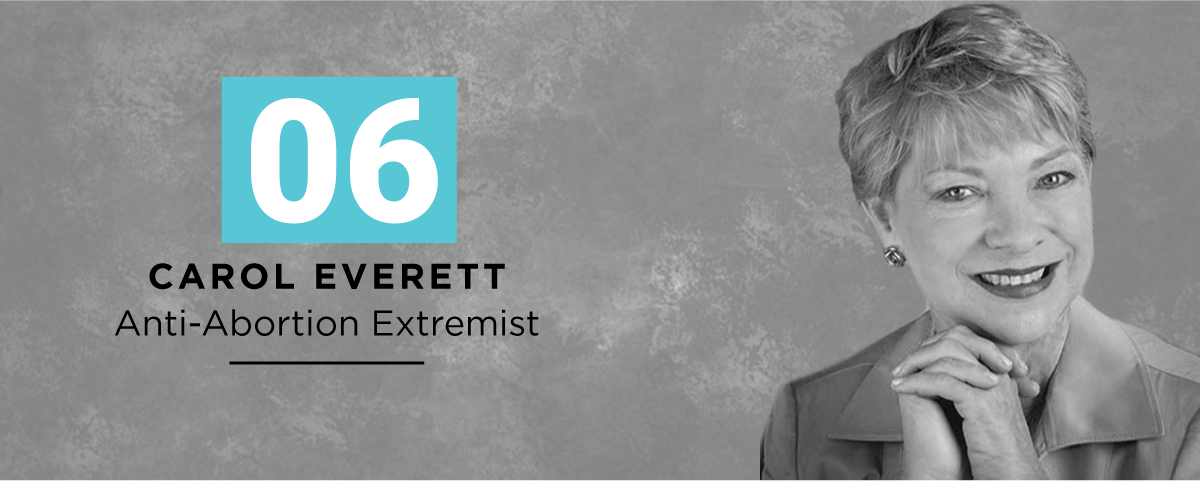 6. Anti-Abortion Extremist Carol Everett
Everett has a long history of propagating anti-abortion extremism and running fake medical clinics that masquerade as pregnancy centers. This year, her anti-abortion organization received $1.6 million in taxpayer dollars to provide reproductive health care services — services her organization has no record of providing. Check out this video to hear some of shocking things she's said about basic science and public health: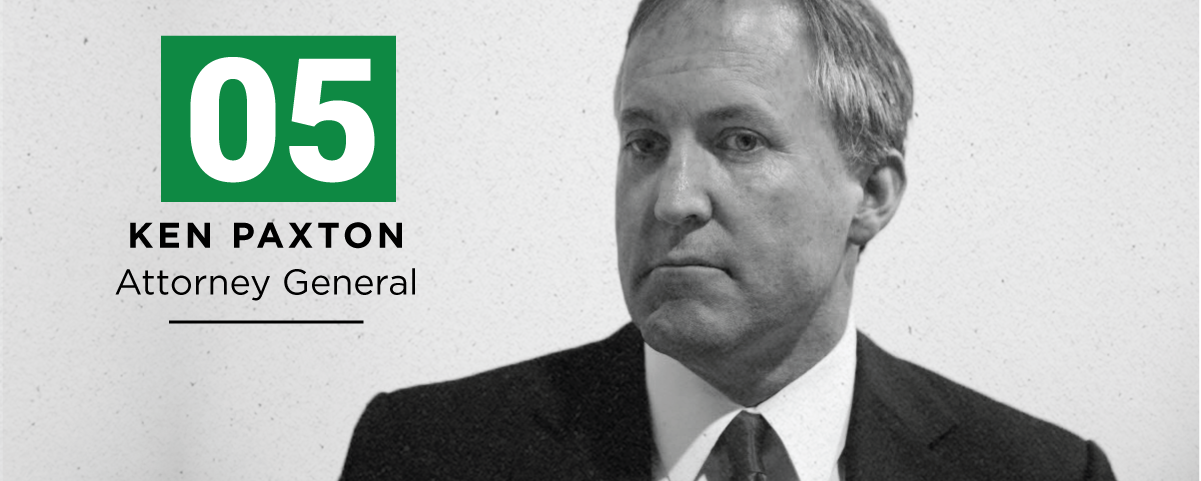 5. Ken Paxton
Paxton's legal troubles are hard to keep up with. He spent most of 2016 under indictment for felony charges. He used taxpayer dollars as hush money to silence former employees - a practice we filed a complaint against and that almost immediately led to rebuke from Texas Democrats and GOP officials alike. And on top of all that, he spent more money defending Texas' voter ID law than the state spent to tell voters what they need to vote.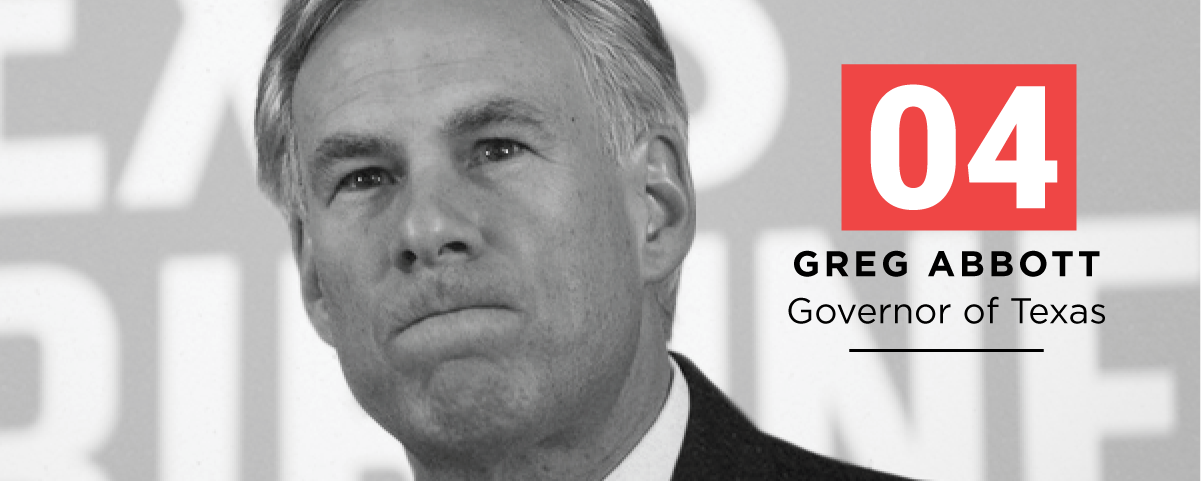 4. Greg Abbott
Two years in, and can anyone name anything positive that he's done? Instead of focusing on issues that matter, Abbott spent 2016 chasing fake news headlines at every turn. As part of his antics after the Supreme Court ruling striking down two abortion restrictions, Abbott proposed and passed a twisted rule to force women to bury fetal tissue.  A major defender of Trump, Abbott echoed Trump's anti-Mexican rhetoric by continuing his fake-news fight against sanctuary cities. He's a follower, not a leader.
3. Ted Cruz
2016 is a year Ted Cruz may never want to remember. For us, it will be a year we will never forget. Through CruzWatch, we followed everything he did - his call to increase surveillance of U.S. citizens and shrink the Supreme Court. His ridiculous positions on abortion and immigration. It was so bad that no Texas newspapers endorsed his candidacy, and he even tried to "name" Carly Fiorina his VP. And then - after he lost, rebuked Trump, endorsed Trump, then thought about un-endorsing Trump, and lost all relevancy - he couldn't even answer the question, "Why is Texas queso good?"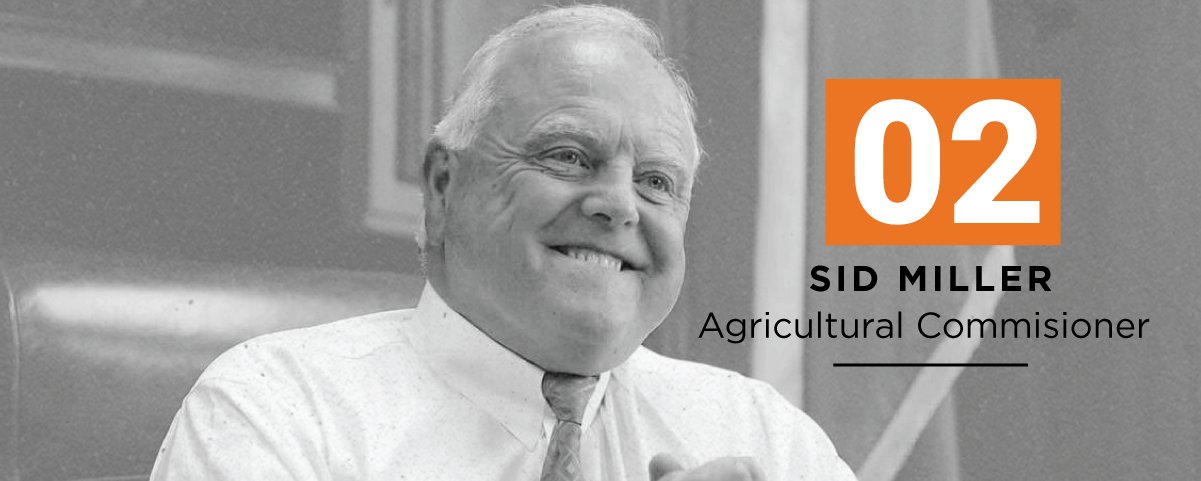 2. Sid Miller
Miller was Donald Trump's #2 supporter in Texas, most famous for calling Hillary Clinton a "c-word" on Twitter. That plus the fact that he's a regularly terrible person would put him on this list, but it was the news earlier in the year - that he used taxpayer money to get a "Jesus Shot" in Oklahoma - that pushes him towards the top. Our criminal complaint against Miller led to a prolonged investigation, holding him accountable for wasting taxpayer money.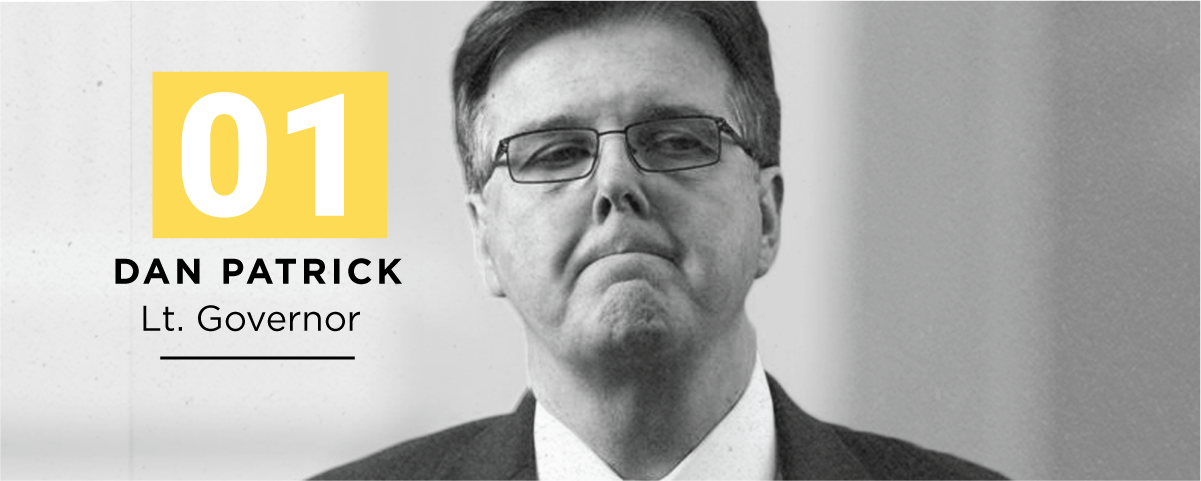 1. Dan Patrick
Where to start? Texas' Republican Lieutenant Governor was Donald Trump's #1 supporter in Texas. He blamed the #BlackLivesMatter movement on the Dallas police shooting then had the audacity to blame President Obama for divisive rhetoric in wake of the tragedy. Patrick is obsessed with bathrooms, wants to deny basic rights to LGBTQ Texans, suggested Ted Cruz serve on the Supreme Court, only believes in local control he controls, wants to privatize education, and described the Supreme Court ruling in defense of abortion access as a total "devastation."
Next year's legislative session will put to the test how much of Patrick's fake-news-politics is just talk, and how much will actually impact Texans' lives.