Texas COVID case counts nearly identical to when mask order was first implemented
A timeline of Gov. Abbott's actions and rising case counts
On March 2, 2021, Gov. Greg Abbott defied reality by revoking the state's mask order and declaring that "it's time for Texas to be 100% open." The governor received immediate criticism for the action that comes at a time when Texas has a mere 7.1% vaccination rate - among the lowest in the nation.
What may have been missed in the news coverage is that the case count on March 2, 2021 had crept back up and was nearly identical to the day he implemented the mask order on July 2, 2020.
So what changed?
Put simply, the governor looked really bad after the state's disastrous response to Winter Storm Uri, which knocked out power and water for millions of Texans. The storm, however, also led to a lack of COVID testing and reporting causing the state's case counts to go down, offering a false sense of security. It also offered Abbott the rebound he was looking for; an excuse to lift the mask mandate and throw some red meat to a conservative base.
Texans shouldn't have to fill ICU beds in order to fulfill Greg Abbott's agenda. 
But don't take my word for it, take it from the governor himself! Specifically, his past self. Here's a timeline of the governor's actions as they have related to case counts along the way and how he's previously reigned in the urge to open too soon, only to go and do it all over again...
May 5, 2020: Abbott caught on tape admitting that a reopening of the state would lead to an increase in spread
We released a recording of Gov. Abbott saying, in no uncertain terms: "How do we know reopening businesses won't result in a faster spread or more cases of COVID-19? Listen the fact of the matter is, pretty much every scientific and medical report shows that whenever you have a reopening, whether you want to call it a reopening of business or a reopening of society...it actually will lead to an increase in spread, it's almost ipso facto. The more that you have people out there, the greater the possibility is of transmission."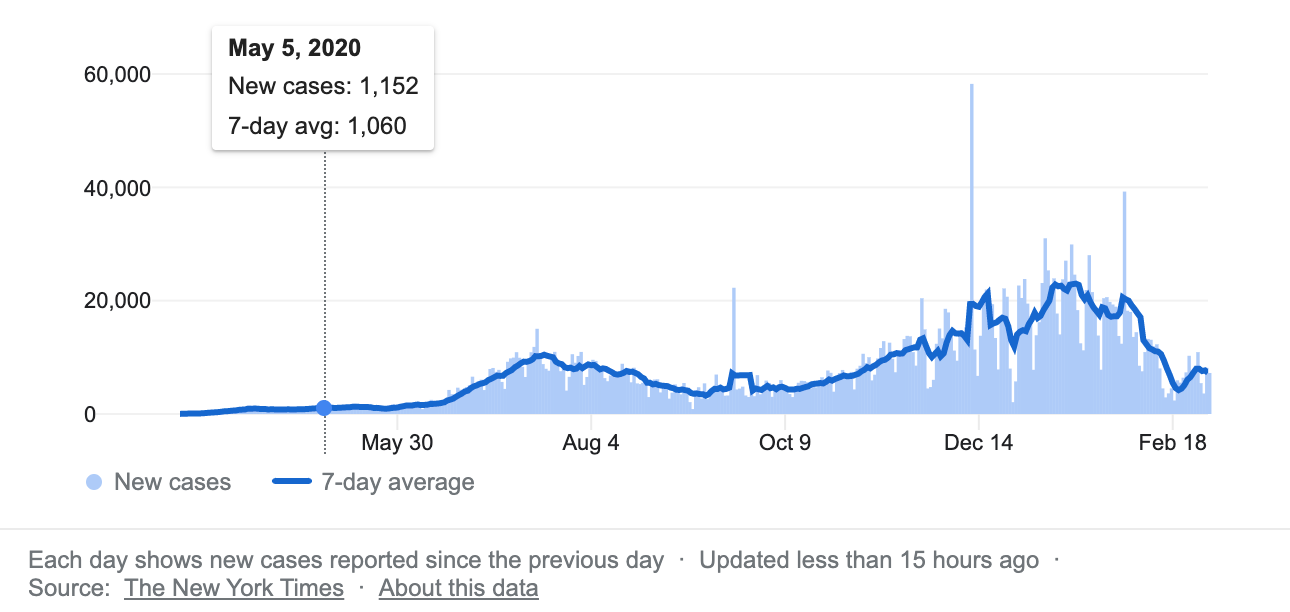 June 26, 2020: Abbott regrets reopening state too soon - blames bars for his actions
As seen in this tweet, Gov. Abbott stated, "If I could go back and redo anything, it probably would have been to slow down the opening of bars, now seeing in the aftermath of how quickly the coronavirus spread in the bar setting."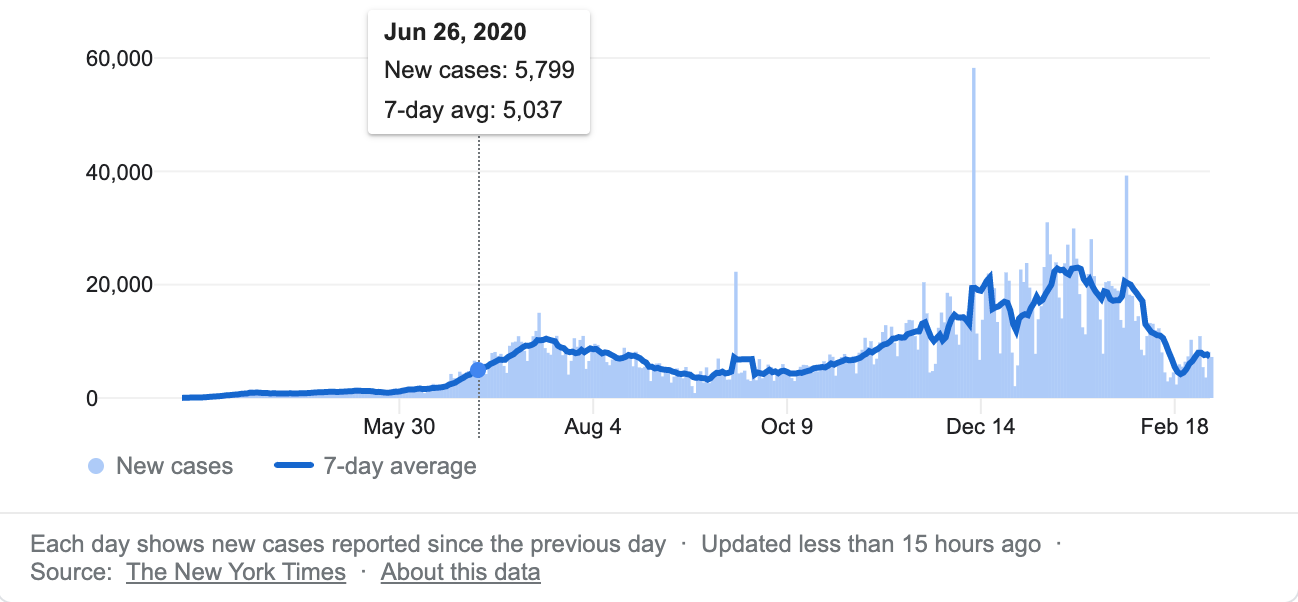 July 2, 2020 - Abbott issues mask mandate
Let's give the governor some credit here, he finally breaks down and issues a mask mandate when the case counts are at 7,434 with a 7-day average of 6,497. This happened nearly four months after the pandemic was declared and after he prevented county officials from issuing mask mandates, but hey, better late than never, right?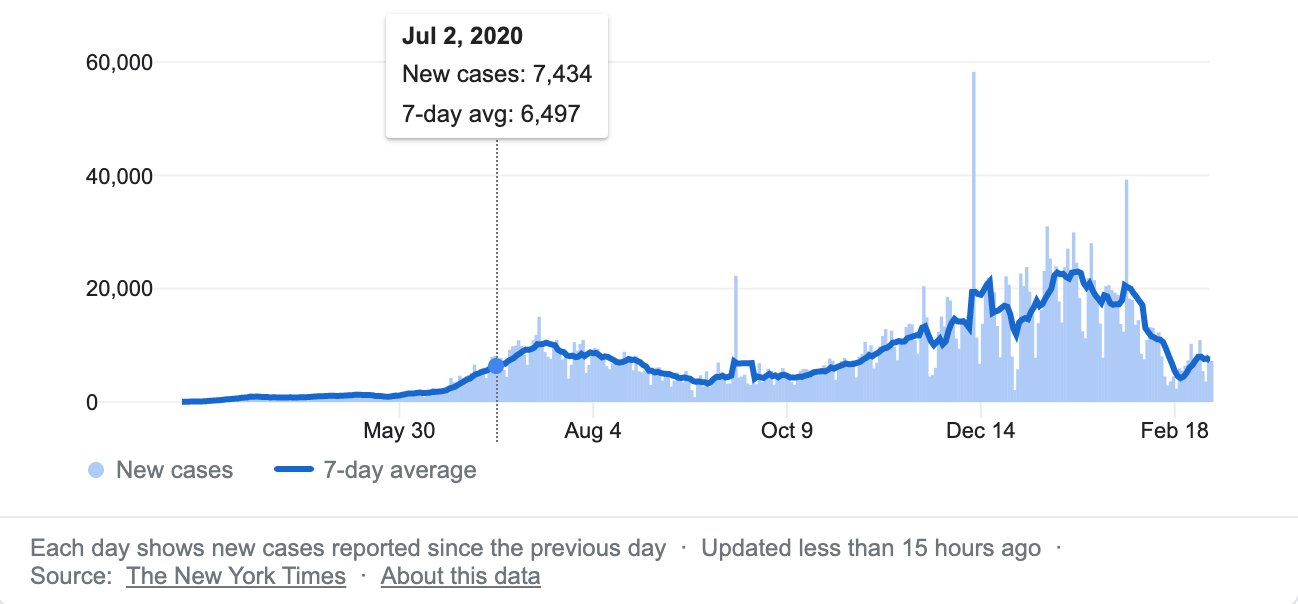 Jan. 16, 2021 - Texas 7-day rolling average peaks at 23,006 cases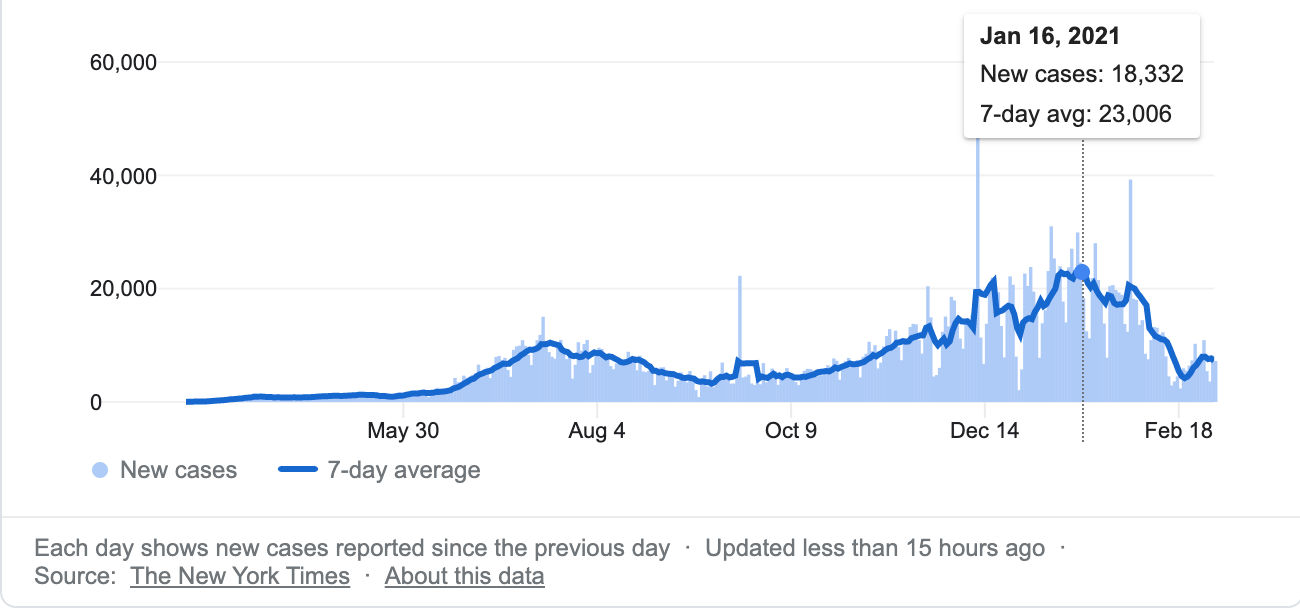 Feb. 19, 2021: Winter Storm Uri causes a dip in testing and reporting of new cases
March 2, 2021: As numbers begin to rise again, Abbott revokes statewide mask mandate with a case count of 7,240 and a 7-day rolling average of 7,259.
Abbott's order came on a day when infection rates were climbing again and nearly identical to rates on July 2, 2020, the date of the original mask order. However, the 7-day rolling average is now 10% higher than it was in July. This is the opposite of progress!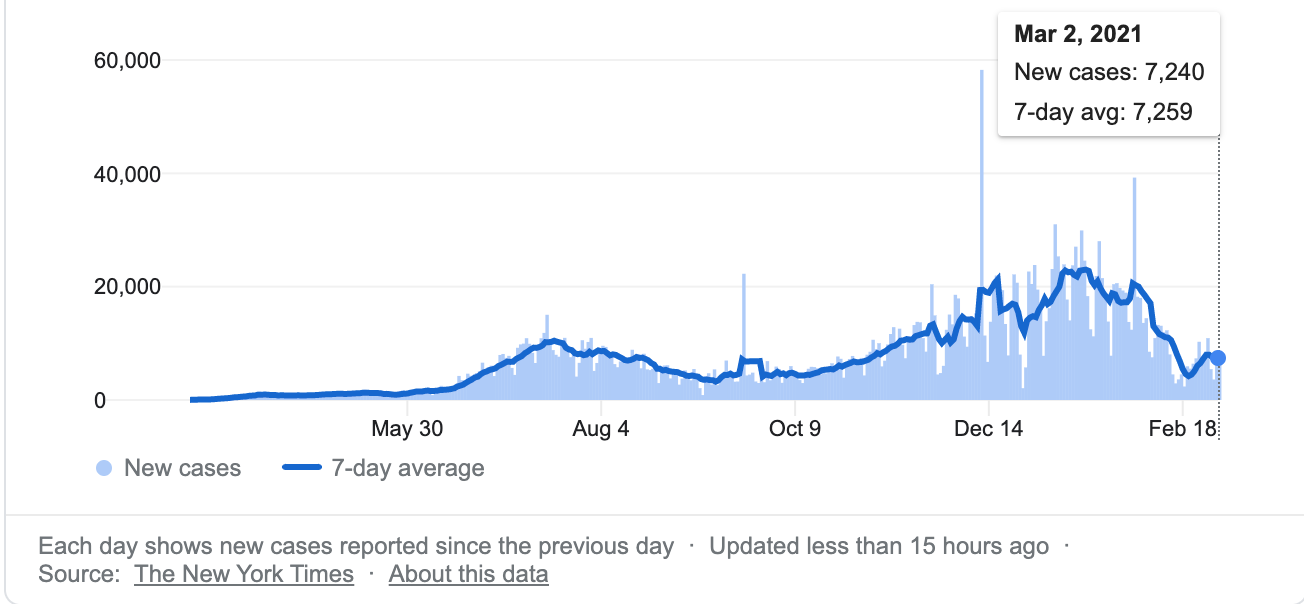 While the vaccine is out and should be readily available by May, the governor's latest actions could make the next several months the most dangerous ones of the pandemic. Be careful out there - and mask up!
DONATE
Your donation supports our media and helps us keep it free of ads and paywalls.