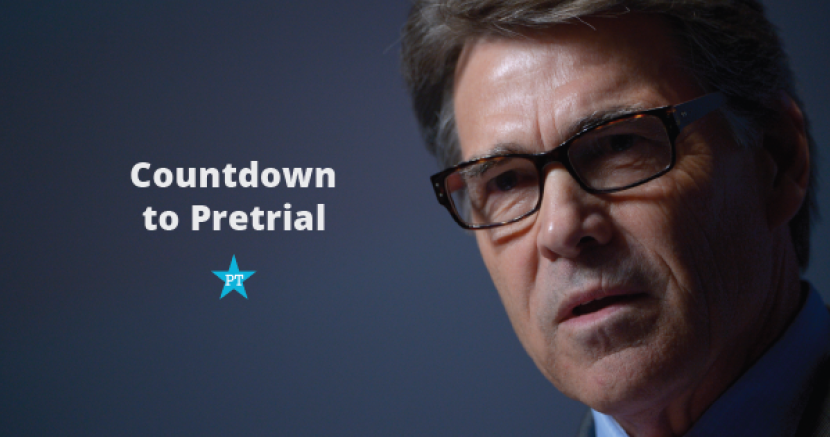 Rick Perry Indictment: Resources & Updates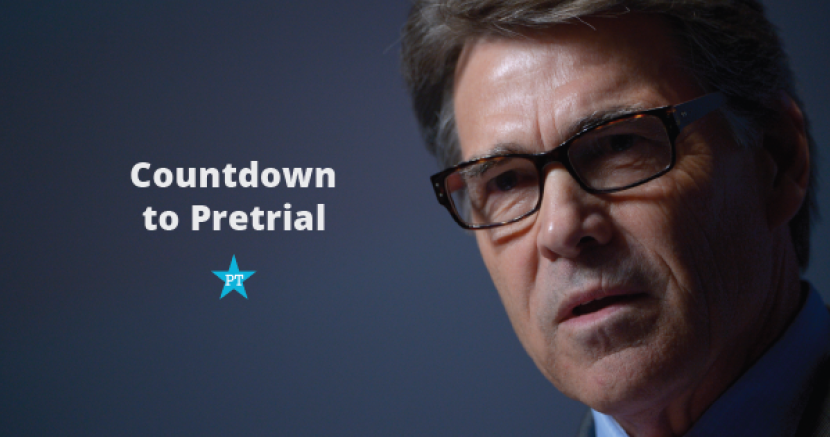 On August 15, 2014, Governor Rick Perry was indicted on two felony charges: abuse of office and coercion. The two-count felony indictment stems from Perry's use of his veto power to coerce the resignation of Travis County District Attorney Rosemary Lehmberg.  After her conviction of driving while intoxicated, Perry threatened to veto $7.4 million in state funds for the Travis County DA's Public Integrity Unit (PIU)—the office charged with investigating government corruption—if she did not step down. Lehmberg refused—she is an elected Democratic official, and, had she resigned, Perry would have appointed her replacement—and Perry made good on the veto. At the time of his veto, PIU was actively investigating donors associated with the officials overseeing one of Perry's signature projects, the Cancer Prevention Research Institute of Texas (CPRIT).
Progress Texas Coverage:
Progress Texas has taken the lead in consistently and reliably covering developments surrounding the investigation since the initial criminal complaint against Rick Perry was filed. We were ahead of the curve in pulling together a widely circulated, top ten list that connects all the dots: Ten Facts About #Briberygate and the Cancer Research Center Scandal
Grand Jury Investigation of Rick Perry Bribery Case Continues, 10.9.13
Rick Perry to be Investigated for "Political Blackmail", 4.11.14
You're Paying for Rick Perry's Criminal Defense Lawyers, 4.18.14
UPDATE: Rick Perry and Briberygate, 4.23.14
With Staffers Testifying, Is GOP Wary of Perry?, 6.9.14
After news broke of Perry's two-count felony indictment, Progress Texas again led the way in broadcasting the facts and pushing back against the false narrative spun by Rick Perry's defense team.
BREAKING: Rick Perry Indicted on Two Criminal Charges, 8.15.14
Rick Perry's Theatrics Ignore Reality, 8.16.14
Rick Perry Has $5 Million in Political Funds, Yet Charges Taxpayers for Private Legal Defense, 8.17.14
Fact: Democrats Did Not Lead Perry's Grand Jury Investigation, 8.18.14
Rick Perry's Inconvenient History with Republicans Charged with Drunk Driving, 8.18.14
Rick Perry's Legal Team: High-Priced Lawyers and Cheap Excuses, 8.21.14
An Affidavit About Nothing, 8.21.14
Rick Perry Deciding About Paying Back $80,000 to Taxpayers, 8.27.14
News Coverage:

Editorial: Rick Perry's Indictment Damages Governor and the State
8.15.14 

Five Things to Know About Perry Indictment 
Jay Root, 8.16.14

Why Rick Perry Will Be Convicted
James Moore, 8.17.14 

Perry Case Built with Staffers, Lawmakers
Peggy Fikac, 8.17.14
What the Pundits Don't Get About the Rick Perry Indictment
Forrest Wilder, 8.18.14

Glenn Smith, 8.18.14

Nobody Died and Made Rick Perry King
Jason Stanford, 8.18.14

Grand Jurors Deny Politics Played Role in Perry Indictment
Brian Rosenthal and Patrick Svitek, 8.19.14

Why the Conventional Wisdom in the Rick Perry Indictment Story Might Be Incomplete
Wayne Slater, 8.20.14

Texas Journalists Urge National Press To Take Perry Case More Seriously
Joe Strupp, 8.21.14

Rick Perry Might Go Away for a Long, Long Time: What Even the Liberal Media Isn't Reporting About his Indictment
Paul Rosenberg, 9.3.14