Republican Briscoe Cain is in over his head
The third-term Republican is redefining incompetence as chair of the House Elections Committee.
Editor's Note: This blog was updated on April 30, 2021 and May 11, 2021 to include more of Briscoe Cain's most recent antics. 
The Texas Legislature has always been known for harboring some pretty shameful Republicans. But every so often, there comes a legislator that is so incompetent, so unhelpful, and so uninformed that you have to stop and take note of their utter lack of empathy or intelligence. 
At the 87th Texas Legislature, that man is Briscoe Cain.
May 11 Update: Called out by Rep. Rafael Anchía for racist language in his voter suppression bill
Briscoe Cain is a sponsor of SB 7, voter suppression legislation that restricts the voting rights of Texans of color. As someone pushing forward this anti-democracy legislation, you'd think he would actually know what's in the bill. But in a brutal history lesson on the House floor, Rep. Rafael Anchía schooled Cain on the racist history of the phrase "purity of the ballot box."
"Purity of the ballot box" was a term drafted specifically to disenfranchise Black voters following the Civil War. This justification was used again during the Jim Crow Era. And today, this lie was resurrected in the #txlege to justify #SB7. Full clip: https://t.co/aYq4bHcNG7 pic.twitter.com/l9rEAThIkz

— Rafael Anchía (@RafaelAnchia) May 7, 2021
After Rep. Anchía pointed out the phrase's use during the segregation era, the language was stripped from the bill. But this just goes to show that SB 7 is a modern-day Jim Crow law, meant to disenfranchise Black and brown voters across the state.
April 30 Update: Cain snuck through voter suppression bill SB 7, without notice, testimony, or debate
In a complete mockery of the legislative process, Briscoe Cain stooped to a new low as chair of the Elections Committee by pushing through voter suppression bill SB 7 under the cover of darkness. During a regular Elections Committee hearing, Cain shocked his fellow legislators by calling a motion to replace SB 7, which has already passed the Senate, with the language from HB 6, the voter suppression bill he authored.
"Absolute crap"
Rep. Michelle Beckley called the move "absolute crap," while Vice Chair Jessica Gonzalez said it was "total bullshit."
As the Democrats on the Elections Committee shouted their objections, Cain falsely claimed that there were no objections at all and moved to adopt the language. While his first attempt in the morning failed, Cain successfully passed the legislation with a party-line vote at 9 p.m. on April 29. Cain's sneak attack on our democracy means Texans had no chance to testify and legislators were not given the opportunity to debate.
The move sets up a battle between Republicans, where legislative leaders will decide how much voter suppression they'll keep in the final bill language. It goes without saying that this move is a blatant power grab and attempt to stop Texans from making their voices heard, at the State Capitol and at the ballot box. Now is the time for all of us to stand up against this racist, anti-voter legislation that makes a sham of our democracy.
WATCH: Here's video from the House Elections Committee meeting when @BriscoeCain tried to bring up anti-voting #SB7.

Our favorite part is when @ForHD65 says "This is absolute crap!"

We completely agree. This is not how the legislative process is supposed to work. #txlege pic.twitter.com/smjbl2cVCp

— Progress Texas (@ProgressTX) April 29, 2021
Named "Worst Legislator" by Texas Monthly
Since he stepped foot in the Texas Capitol, the third-term Republican has made a name for himself — and not a good one. After his first session, Texas Monthly named Cain one of the Worst Legislators of 2017, even though the magazine usually excludes freshmen from the list but when the magazine asked legislators to name their worst - there was bipartisan consensus on Cain. The (dis)honor cited Cain as the sole vote against excusing a legislator's absence for a serious illness, and after that, he almost eliminated funding for terminally ill Texans because he thought  "palliative care" meant "death panels."
Suspended from Twitter for making public threats, tagged along to Pennsvlvania to support Trump's "Big Lie"
Since then, Cain has made national news for his repeated political blunders. In 2019, he was suspended from Twitter after tweeting threats at Beto O'Rourke. The offending text left little to the imagination: "My AR is ready for you." And just last year, he found himself in hot water when he flew to Pennsylvania to help Trump challenge the 2020 election.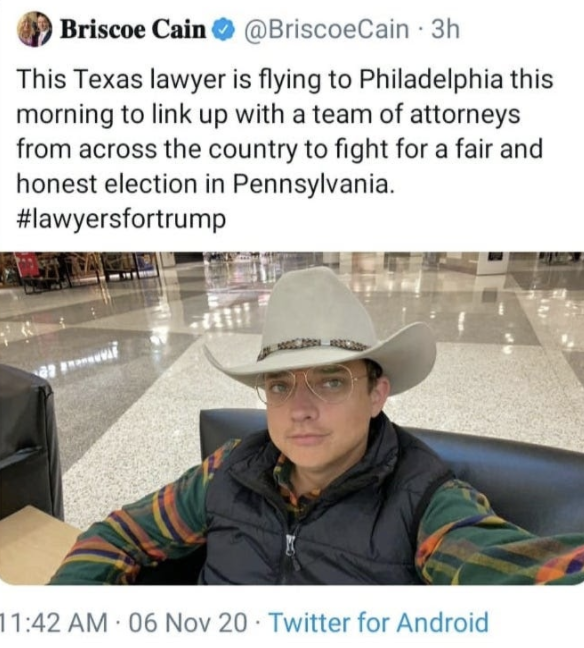 Although Cain has since deleted that tweet, he's proudly carried Trump's Big Lie into the Texas Legislature.
Proving that the Texas Legislature has a low bar, these questionable credentials were enough to land Briscoe Cain as Chair of the Elections Committee. 
This session he authored House Bill 6, a dangerous voter suppression bill that largely targets Texans of color. It criminalizes sending unsolicited mail-in ballot applications and puts up more obstacles to the ballot box — all based on Trump's voter fraud lie. 
For reasons unclear to even the most experienced #txlege veterans, Cain was named the chair of the House Elections Committee. But to no one's surprise, he's decided that his leadership style is one of total and utter mismanagement. Despite his self-appointed nickname of "parliamentary guru", he hasn't been able to figure out the rules of his own committee. 
In over his head: At the hearing for House Bill 6, Cain screwed up the proceedings in more ways than one. 
When legislators present a bill in their own committee, they usually let the Vice-Chair run the hearing. And while Cain did hand over control to Vice-Chair Jessica González, he broke procedure and took back control after she tried to recognize Rep. Nicole Collier, Chair of the Legislative Black Caucus, for questions. In other words, Cain shut down the voices of two women of color because he didn't like the questions they were asking about his voter suppression bill.
Immediately after, Cain recessed the hearing to stop his peers from questioning him further. Except he forgot to recess to a specific time, so under parliamentary rules, the hearing was terminated instead of recessed - everything had to be rescheduled for another day. That meant that over 200 Texans who had travelled across the state to testify against HB 6 were forced to leave.
And that "parliamentary guru" nickname? Cain removed it from his Twitter bio after Texans pointed out his total lack of any leadership skills during the hearing.
Update: He changed it. LOL #txlege https://t.co/zT0be2aT2r pic.twitter.com/FuecQIJBI8

— Progress Texas (@ProgressTX) March 26, 2021
Briscoe Cain isn't up for reelection until next year, but we can work to defeat his dangerous bills now. House Bill 6 was passed out of committee and may be up for a full vote in the House soon. Sign our petition, write your legislators, and put pressure on businesses to come out against voter suppression.
Together, we can defeat Briscoe Cain's anti-democracy agenda — if his own incompetence doesn't beat us there first.
DONATE
Your donation supports our media and helps us keep it free of ads and paywalls.