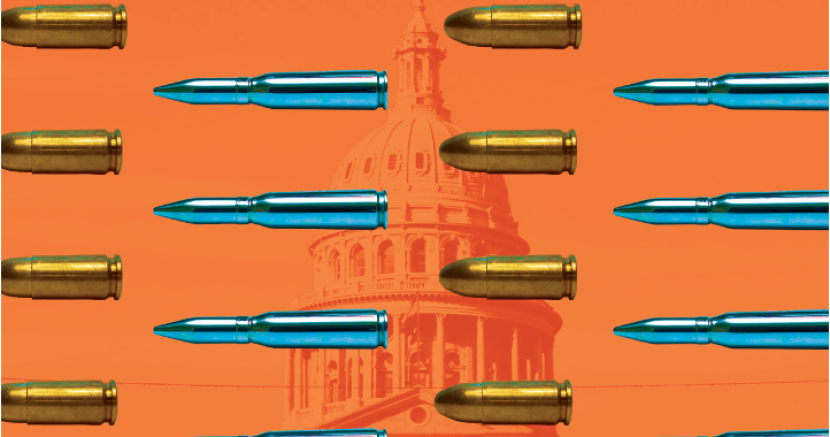 Gun Rights Extremists Push to Repeal Mandatory Gun Licensing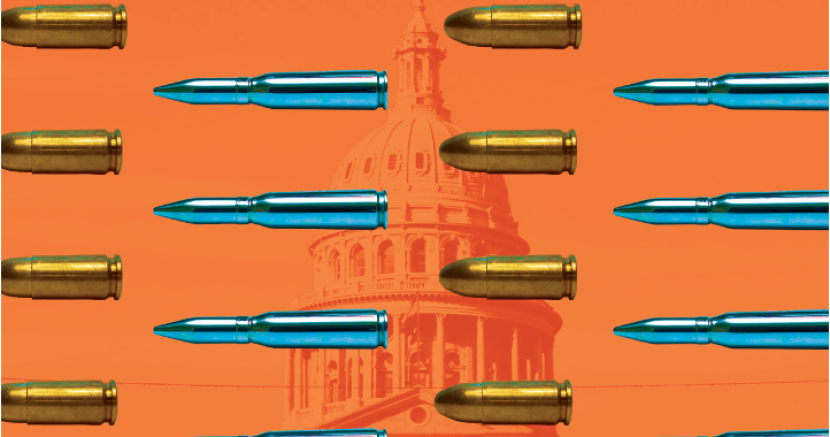 GOP legislators focus on unlicensed carry, ignoring law enforcement.
In 2015, there were over 3,200 gun deaths in Texas. Despite this very real public safety issue, lawmakers this legislative session are choosing to focus their efforts on eliminating mandatory licensing to carry a handgun - threatening, instead of enhancing, public safety.
Repeal of License to Carry
There is a push in Texas to eliminate the requirement for gun owners who want to carry in public to have a license.
Rep. James White (R-Hillister) has filed HB 1911, which would allow anyone who is legally allowed to own a gun, to carry it in public without any state-issued licensing or training - though he admits that "for the most part Texans are satisfied with the current carry laws we have now." This push for unlicensed carry would also remove churches and places of worship as banning places to carry a gun unless sites posted signs banning guns independently. HB 1911 passed out of the House Committee on Homeland Security & Public Safety and is currently working its way through the legislature.
Other Gun Bills Seek to Enhance Public Safety
Despite being largely ignored by Republican legislators, bills have been filed that would enhance public safety by directly addressing some of the most pressing gun violence issues - issues like background checks, protecting individuals with mental illnesses, and suicide by firearms. These bills are an opportunity for Texas legislators to acknowledge gun violence data and improve public safety in our state.
Background Checks
Experts estimate 22 percent of all guns purchased are made without a background check through private sellers. Without background checks, individuals prohibited from buying guns due to criminal records, domestic abuse, or high-risk mental illness can still get a gun in their hands.  HB 259 by Representative Rafael Anchia (D-Dallas) provide common sense policy that all sales at gun shows require a background check. It would also authorize the gun seller to charge a fee to pay the cost to acquire the required background check. HB 2034 by Representative César Blanco (D-El Paso) would require someone selling a gun via the internet to do a national instant criminal background check to ensure the person they are selling to is legally allowed to own a firearm.
Status: HB 2034 Scheduled for Public Hearing on 04/25/17 in House Homeland Security & Public Safty Committee
Mental Illness
Most Texans with mental illness are not at risk for violent behavior, and a very small percentage of violence is attributable to mental illness. However, families at high risk need tools to help keep themselves and their communities safe. HB 866 by Rep. Joe Moody (D- El Paso) and SB 434 by Senator José Rodríguez's (D-El Paso) would establish a Lethal Violence Protective Order. If a loved one or law enforcement can provide clear and convincing evidence that an individual poses a risk of imminent personal injury to self or others, a LVPO would be issued and temporarily suspend a person's right to purchase or possess a firearm until a mental health evaluation is completed.
Firearm Suicides
Firearms are the most lethal and most common method of suicide in the U.S.  Suicides by firearms are higher in Texas compared to the rest of the country - and suicide attempts with a firearm are almost always fatal. SB 3340 by Representative Senfronia Thompson (D-Houston) will be heard in House Homeland Security and Public Safety on Tuesday the 25th, and SB 1778 by Senator Sylvia Garcia (D-Houston) has also been filed. These bills direct the Department of Public Safety to include a message about Texas' high suicide rate and the importance of securing access to firearms when a family member is at high risk of harming themselves or others in the License to Carry training curriculum that is already required in our state.
Status: SB 3340 Scheduled for Public Hearing on 04/25/17 in House Homeland Security & Public Safety Committee
Data shows that gun violence is the cause of death for thousands of Texans each year, yet many legislators are working to loosen public carry laws with no urgency for common sense legislation that could save lives.  It's important that legislators recognize that gun violence is a matter worthy of discussion and action.
These bills could strengthen public safety while still protecting Second Amendment rights - Woo! A win for all Texans!
Visit Texas Gun Sense for more information on safety and gun violence prevention.