Forever Governor
Governor Rick Perry's still got game. A poll released by the University of Texas and Texas Tribune shows that Texans support Perry over Attorney General Greg Abbott for governor in 2014.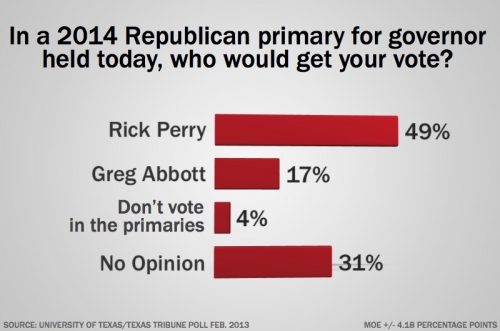 Perry has said that he has a deal with Abbott: the attorney general won't run unless the governor steps down. Speculation has pointed to Perry making that move, but will these new numbers convince him to stay?
In Texas Monthly's BurkaBlog, Paul Burka wrote,
Well, Perry has convinced me: He really could be governor for life. He appears unbeatable in Texas. That he is at 49% today in the University of Texas/Texas Tribune poll versus a serious Republican challenger after "oops!" is phenomenal. This has to mean that he has repaired his standing with the tea party as well as Republicans in general. Jeremy Bird of Battleground Texas might as well go home. The only question now is, Is this the kind of poll number that Perry wants so that he can declare victory, announce that he's not running in 2014, and look ahead to another national race in 2016?
Progressives need Abbott to run over Perry. A progressive candidate could potentially beat the less well-known attorney general, but it's unlikely that incumbent Perry will go home with his tail between his legs in a gubernatorial campaign. Apparently Tea Partiers have a short term memory (not that that's surprising) so here's hoping that this is the boost of confidence Perry needs to run for president again and remind America just how much of a bafoon he is.