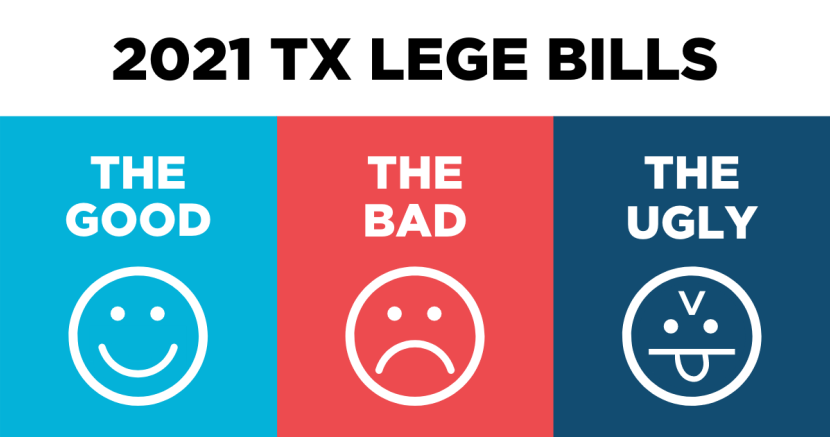 Bills We're Watching in the 2021 Texas Legislative Session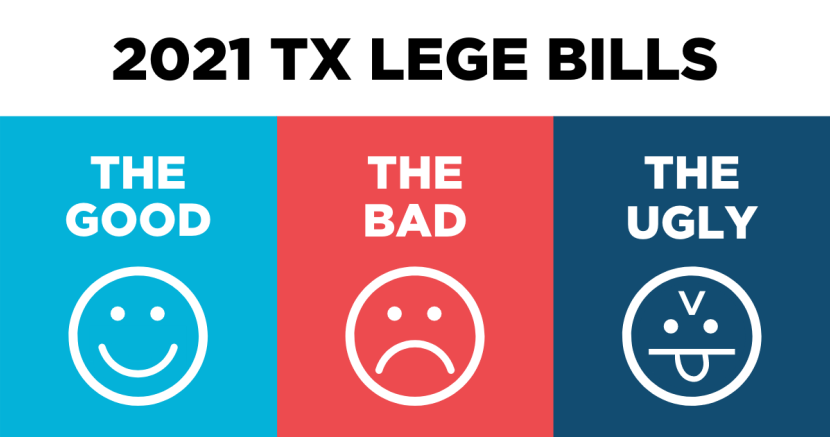 Here at Progress Texas, we're going through every bill filled in the 2021 Texas Legislative Session. Some are good, some are bad, and others are downright ugly.
Every two years, the Texas Legislature convenes for session. This 2021 legislative session is already vastly different as the coronavirus continues to change the everyday lives of Texans. While the session doesn't officially start until January, pre-filing began in November.
We read the bills so you don't have to! Even though how the session convenes may change due to COVID, it's still expected that thousands of bills will be filed. Here at Progress Texas, we're tracking them ALL for you. We're focusing on bills we feel are the most relevant to the progressive movement. Some of these bills can help build a stronger Texas, while others pose threats to many of the rights we hold dear.
The deadline for legislators to file bills is March 12, 2021. As the session begins and filing comes to a close, we'll continue to update this list.
KEY:
Good - 😀
Bad - 😟
Ugly - 😡
Reproductive Health Care - 💕
Economic Opportunity - 💸
Elections - 🗳
Health Care - 🏥
LGBTQIA+ - 🌈
Immigration - 🦋
Racial Justice - ✊
Education - 🎓
Marijuana - 🌿
Criminal Justice - ⚖
Guns - 💥
Religion - 🛐
Environment - 🌎
COVID-19 - 😷
Bill is Dead - 💀
Bill is Awaiting Governor's Signature - 🖋
The Good 😀
Progressive issues are mainstream issues — even in Texas. And as our state's population grows, the progressive wave has been growing with it. Here are some of the bills filed so far that will bring us closer to a more equitable and just Texas. The bills have been divided by key issues.
Elections
House Bill 350 😀 🗳
This bill, filed by Rep. Celia Israel, would allow Texans to be able to complete a voter registration application online through a state official website. This would allow applicants to print, sign, and mail their application to the registrar.
House Bill 400 😀 🗳
Rep. John Bucy's bill would expand early voting by mail for any qualified voter who fills out an application.
House Bill 478 😀 🗳
Filed by Rep. Jessica González, this bill would help accommodate voters who are unable to enter a polling place by creating a designated parking space, where voters who are physically unable to enter an early voting poll place can be assisted by a clerk.
House Bills 479, 481, 482 😀 🗳
All filed by Rep. Jessica González, these bills would help expand the accessibility of early voting and voting by mail. HB 479 would allow for the electronic submission of applications to early vote by mail. HB 481 would expand the number of counties that must have early voting for at least 12 hours on each weekday during the last week of the early voting period. HB 482 would change the deadline for returning a ballot by mail to no later than the fifth day after the election.
House Bill 596 😀 🗳
With Rep. Carl Sherman's bill, certain election days would be designated as state holidays. This could allow for greater polling access for Texans.
House Bill 1174 😀 🗳
This bill filed by newcomer Rep. Jasmine Crockett would create the option to register to vote online through the official state website.
Racial Justice
House Bill 36 and Senate Bill 121 😀 ✊
These bills, filed by Rep. Jarvis Johnson and Sen. Nathan Johnson, would abolish Confederate Heroes Day as a state holiday.
Criminal Justice
House Bill 54 and Senate Bill 223 😀 ⚖
Rep. James Talarico has named this bill after Javier Ambler, who died last year after being tased by Williamson County deputies multiple times. His death was recorded and filmed for a now-cancelled reality TV show, "Live PD." The bill would forbid any future contracts between reality TV shows and police. A similar bill was also filed by Sen. John Whitmire.
House Bill 88 and Senate Bill 161 😀 ⚖ ✊
These two bills would be known as the George Floyd Act if enacted. The bills are a sweeping police reform proposal that would ban chokeholds across the state and require law enforcement officers to intervene or render aid if another officer is using excessive force while on the job.
House Bill 302 😀 ⚖
This bill, filed by Rep. Nicole Collier, would expand the definition of legal sexual assault without consent. This expanded definition would help give more power to survivors if they choose to pursue prosecution.
House Bill 312 😀 ⚖ ✊
Also filed by Rep. Nicole Collier, this bill would require peace officers to undergo implicit bias training. The goal of this training would be for peace officers to "critically examine common stereotypes and cultural assumptions often held by communities and the officers who serve those communities."
House Bill 354 and Senate Bill 188 😀 ⚖
Rep. Harold Dutton and Sen. Eddie Lucio's bills seek to end the use of capital punishment in Texas and abolish the death penalty.
House Bill 492 😀 ⚖
Rep. Gene Wu's bill would ban no-knock warrants in Texas. The practice came under fire last year when a drug raid caused the deaths of two residents in Houston and a police officer being charged with murder.
House Bill 496 😀 ⚖
This bill filed by Rep. Gene Wu would create a criminal offense for police officers who fail to display their name and identification number while on duty.
House Bill 561 😀 ⚖ ✊
Filed by Rep. Celia Israel, this bill aims to ban juvenile curfews. The effect of these curfews falls disproportionately on BIPOC youth in Texas, so banning them could help ensure more equitable criminal justice practices.
Marijuana
House Bill 43 😀 🌿 🏥
This bill authorizes the issuance, possession and cultivation of cannabis for medical purposes.
House Bill 441 😀 🌿 ⚖
This bill, filed by Erin Zwiener, would help the marijuana decriminalization effort. Possession of small amounts would result in a ticket and small fine rather than an arrest or other more serious criminal offenses.
House Bill 447 😀 🌿 💸
Rep. Joe Moody's bill is so far the most progressive marijuana legislation filed. It legalizes the use, transport, and growing of marijuana for Texans over the age of 21. It also provides a framework for the cannabis business in Texas, by creating licensure and distribution procedures.
Education
House Bills 38 and 392 😀 🎓 ✊
These bills, filed by Rep. Ron Reynolds and Rep. Rhetta Bowers, would prevent racial discrimination based on hair texture or protective styles associated with race in the workplace or schools.
House Bill 62 😀 🎓 ✊
This bill filed by Rep. James Talarico would create a 'restorative justice coordinating council' in schools as a disciplinary alternative to suspension. Students of color are disproportionately affected by school suspensions across Texas.
House Bill 332 😀 🎓
With Rep. James Talarico's bill, funding for social-emotional learning programs would increase by expanding the compensatory education allotment. These funds would also be used to help provide child-care for students at risk of dropping out.
House Bill 403 😀 🎓
Under Rep. Ana Hernandez's bill, certain individuals who are homeless would be exempt from paying tuition and fees at public institutions of higher education.
Health Care
House Bill 40 😀 🏥
This bill, filed by Rep. James Talarico, would work toward placing a monthly cap on the price of insulin and insulin supplies.
House Bill 320 😀 🏥
Filed by Rep. Donna Howard, this bill would create a women's health advisory committee which could focus on helping women's health programs across the state.
House Bill 326 😀 🏥
Rep. Donna Howard's bill would help to prevent workplace violence in certain health care facilities. Under this bill, a committee will create, adopt, and enforce a workplace violence prevention plan, including a way to protect those who come forward with information.
House Bill 389, House Bill 398, HJR 23, HJR 24, Senate Bill 188 😀 🏥
Under Rep. Celia Israel's, Rep. John Bucy's and Sen. Nathan Johnson's bills, the eligibility for Medicaid would expand by providing medical assistance to all persons who apply for the assistance and who are eligible under the Patient Protection and Affordable Care Act, with certain exceptions. This would be estimated to expand eligibility to over 2.2 million Texans.
House Bill 396 😀 🏥 😷
This bill, filed by Rep. Joe Moody, would allow workers' compensation benefits for nurses who suffer from coronavirus, which results in death or disability, and are presumed to have contracted it during the course and scope of their employment.
House Bill 602 😀 🏥
Rep. Gina Hinojosa filed this bill to establish a single-payer health care program, known as the Healthy Texas Act. This would ensure comprehensive health care coverage through a single publicly funded program.
Reproductive Health Care
House Bill 321, HB 388, HB 490, Senate Bill 148 😀 💕 🏥
These bills, filed by Rep. Donna Howard, Rep. Leo Pacheco, Rep. Gene Wu, and Senator Beverly Powell, would ban taxes on feminine hygiene products, meaning things like tampons and pads would no longer face the discriminatory tampon tax.
House Bil 414 and Senate Bill 121 😀 💕 🏥
HB 414, filed by Armando Walle, would help extend Medicaid eligibility for women after their pregnancy and help women continue to get medical assistance for no less than 24 after their last month of pregnancy. Similarly, Sen. Nathan Johnson's bill would extend Medicaid eligibility for women after a miscarriage.
House Bill 420 😀 💕 🏥 ✊
Rep. Carl Sherman's bill would create a task force to focus on maternal mortality in African American women.
Economic Opportunity
House Bill 344 😀 💸
With Rep. Terry Canales' bill, employers would be prevented from collecting or receiving "any portion of a gratuity paid to or left for a tipped employee." It would make the gratuity left the property of the employee who was tipped.
House Bill 383 😀 💸
With Rep. Leo Pacheco's bill, the minimum wage in Texas would be raised to $12 an hour.
House Bill 391 😀 💸 😷
Certain state employees would be given the opportunity to work flexible hours, from home, or other authorized alternative work sites, under Rep. Celia Israel's bill.
LGBTQIA+
House Bill 73 😀 🌈 ⚖
This bill filed by Rep. Gina Hinojosa would prevent a victim's gender identity or sexual orientation to be used as a basis for defense in the trial of a criminal offense.
House Bill 407 😀 🌈
Filed by Rep. Celia Israel, this bill would deem attempts to change the sexual orientation of a child by mental health professionals as unprofessional conduct.
House Bill 560 😀 🌈
Also filed by Rep. Celia Israel, this bill would protect young LGBTQIA+ Texans from harmful so-called "conversion therapy" practices. The bill would prevent "mental health care providers" from trying to change a child's sexual orientation.
Senate Bill 121 😀 🌈
This bill, filed by Sen. Nathan Johnson, would eliminate gender-specific terminology in statutes related to the rights and duties of spouses or parents. The bill would help ensure same-sex marriages and parental relationships would be included in family code provisions.
The Bad 😟
Unfortunately, the Texas legislature isn't always a place for progress. Historically, the Texas Capitol has seen and passed bills with regressive policies that don't always serve in the best interests of our vastly diverse populous of 29 million. Here are bills that threaten to pull us back instead of push us forward.
This bill limits the amount of time a person can report sexual harassment in the workplace to 300 days since the incident.
House Bill 25 and Senate Bill 208 😟 🗳
These bills, filed by and backed by multiple Republican representatives, would prohibit the distribution of an application form for an early voting ballot. It would prevent officials from giving mail-in ballot applications if voters didn't submit a request.
House Bill 463 😟 🗳
Filed by Rep. Matt Shaheen, this bill would prevent those who have been convicted of a felony offense from being a poll watcher.
House Bill 299 and House Bill 304 😟 💥
Both filed by Rep. Drew Springer, these bills would expand places where those who are permitless, but eligible to have a License to Carry permit, can carry handguns. It would also expand where those with a License to Carry permit can carry their handguns.
House Bill 311 😟 ✊
Rep. Drew Springer's bill set guidelines for the removal, relocation, alteration, or construction of historical monuments and sets civil penalties for violations. It seeks to have these changes approved only by the legislature, even for alterations for historical accuracy. This bill is likely a result of the debate over confederate monuments in our state and the goal of the bill is to make it harder to have them removed.
House Bill 446 😟 ✊
This bill, filed by Steve Allison, would increase the criminal penalty for damaging or destruction of public monuments.
House Bill 525 😟 😷 🛐
Also filed by Rep. Matt Shaheen, this bill aims to make places of worship and religious activity "essential," meaning they could not be shut down due to COVID precautions or other future states of disaster.
The Ugly 😡
Some of the most notorious bills in America come from the Texas Lege. If you can remember the bathroom bill, the "sanctuary cities" law, or the sonogram law, then you know what we're talking about. Texas conservatives have a history of misplaced priorities to say the least.
While we're hopeful that this year will be different, we're already seeing bills filed that show cause for concern. And that's why it's crucial that Texans stay informed and pay attention to what's happening in the upcoming session.
House Bill 29 😡 💥
This bill would allow state-owned public buildings, that would otherwise prohibit firearms and weapons on the premises, to allow for the storage of self-service weapons and firearm lockers.
House Bill 55 😡 💥
This bill introduced by Rep. Swanson would amend the education code from saying school marshals could be in possession of a handgun as long as it is locked and concealed in a safe space, to saying school marshals can carry a concealed handgun on them and be loaded with "frangible duty ammunition." This bill would also remove the language in the code that states if the marshal is in constant contact with the students, they cannot carry a concealed handgun.
House Bill 68 😡 🌈
Rep. Steve Toth's bill seeks to change the definition of child abuse to include contain blatantly transphobic language. Roth's bill seeks to add "acts by a medical professional or mental health professional for the purpose of attempting to change or affirm a child's perception of the child's sex, if that perception is inconsistent with the child's biological sex" to the legal definition of child abuse. This would prevent children from getting the gender-affirming care they deserve.
House Bill 69 😡 💕 🏥
This bill would effectively ban abortions at 12 weeks of pregnancy, revising the current state law which prohibits abortions after 20 weeks.
House Bill 92 😡 💕 🏥 ⚖
This bill attempts to create civil and criminal penalties in regards to performing abortions. If it were to go into effect, a person involved with what the bill considers to be a "criminal" abortion could be subject to a lawsuit by the Texas Attorney General for a $30,000 civil penalty fee for each "violation."
House Bills 229, 330, 335 😡 🗳
All these bills were filed by Rep. Briscoe Cain, under the guise of preventing nonexistent "voter fraud." They include creating criminal offenses, increasing criminal offenses, and creating a database of non-citizens in Texas. Yet, there has been no evidence of widespread voter fraud in Texas or any evidence to suggest that non-citizens have been voting in elections. It's clear to us that these bills are the latest in a series of Texas conservatives' attempts to spread misinformation and disenfranchise voters. Texas is already the hardest state to vote in, and these bills would make it even harder.
House Bill 1165 😡 💕 🏥
Filed by Rep. Shelby Slawson, this bill would effectively ban abortion by preventing physicians from performing an abortion if a fetal heartbeat is detected, which can be as early as the 6 week mark, before most people know they are pregnant.
-------
Stay tuned for our coverage of the 2021 legislative session. We will be closely following these bills and helping to keep you informed on what exactly is happening inside the Texas lege.
To look at an updated list of bills filed for the 87th Legislature, go to the Texas Legislature Online at capitol.texas.gov.
Think we missed a bill? Let us know at wesley@progresstexas.org.