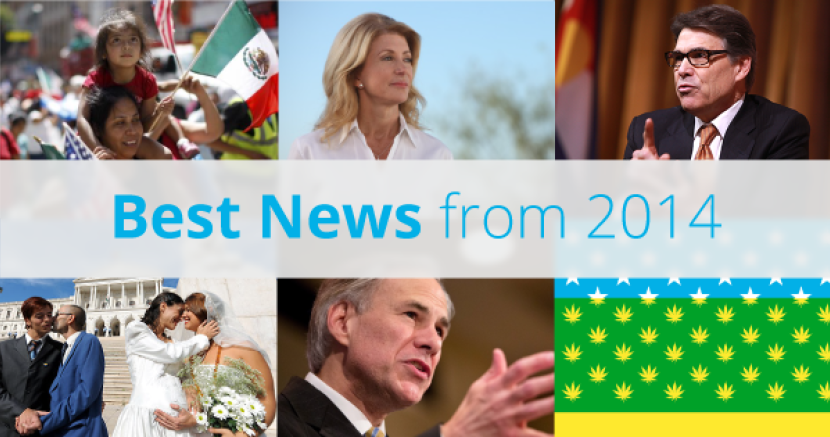 The Best News Stories from 2014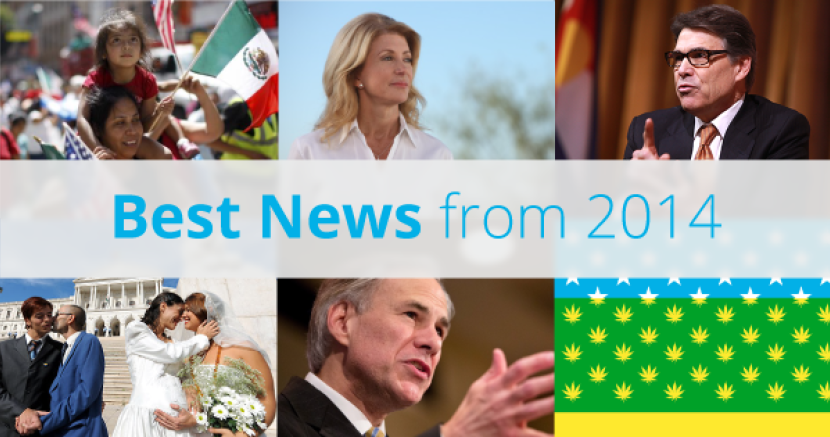 Not all news is good news, but these Top 10 stories from 2014 are definitely big news. Check out the stories our staff enjoyed the most, and make sure you like us on Facebook and follow us on Twitter to get our latest work.
Republican Scandals 

It's no wonder that Texas voters were so turned off as to produce the lowest voter turnout in decades.

Momentum for Marijuana Policy Blazes Across America 

With state victories across the country and a bipartisan decision by Congress to end federal prohibition of medical marijuana, the momentum for marijuana policy reform is sweeping the nation. We're working with a great coalition to bring that momentum to Texas in 2015.

It's time for a thoughtful conversation on reform in Texas. You can read our full blog archive on the subject here.

SCOTUS Stops Texas Abortion Clinics from Closing

We've been deeply involved with abortion rights work for a long time now, culminating in our oral history project of the June 2013 special session fight. So it was a surprising but welcome ruling from the U.S. Supreme Court that prevented all but eight of Texas' abortion clinics from closing while the issue is settled in courts. After a long year with a lot of unpleasant news, the decision is a victory for every Texan that supports women and their right to keep government out of decisions that belong between them and their doctor.

President Obama Acts on Immigration While Republicans Do Nothing

After a year when conservatives decided to "stand tough" to children fleeing horrible violence in other countries, it was welcome to see President Obama exercise his authority and support - as best he could - immigration policy reforms.

Ted Cruz and Greg Abbott cannot stop Marriage Momentum


The Texas constitutional ban on same-sex marriage was struck down. Though Greg Abbott has vowed to fight it in court, and Ted Cruz says court rulings supporting the freedom to marry are "tragic and indefensible," they can't stop momentum for the freedom to marry. Our subscribers generated a protest petition with signatures exceeding the number of delegates at the Republican state convention, and America saw 50 legal victories for the freedom to marry in 2014!

US Court Rules Voter ID Is Poll Tax, Violates Voting Rights Act

In October, a United States federal district court judge ruled that Texas' voter ID law is unconstitutional because it violates the Voting Rights Act. Furthermore, the court found that the costs required to follow the law constitute a poll tax. The 147-page ruling was built to last, and was a thorough smack-down of Abbott's legal defense of the unnecessary law. While the 5th Circuit Court allowed voter ID to continue this election season, the case seems destined for the U.S. Supreme Court - yet another reminder why courts matter.

The Republican Hoax of the Texas Miracle

The 2014 election came and went. Greg Abbott won, Rick Perry is gone for now, and their policies remain a total disaster. In a long feature, we explored Greg Abbott's beautiful disaster - and put out a warning about what to expect when the Legislature reconvenes in 2015.

Wendy Davis Shares Her Abortion Story

In September, Wendy Davis spoke out and shared a deeply personal story about her decision to have an abortion — to terminate a wanted pregnancy after learning that her unborn daughter suffered from a severe brain abnormality. Nearly one in three women, most of whom are already mothers, will have an abortion by the age of 45. In sharing her story, Davis took a brave and public step towards ending the stigma and shame women are made to feel about abortion while building support for access to safe and legal abortion care.  That same month, State Representative Dawnna Dukes courageously revealed her own abortion story while speaking on a panel at the Texas Tribune Festival.

Affordable Care Act Helps 734,000 Texans


With what is possibly the largest increase in healthcare access in recent history, the ACA is a clear success for our state. The Affordable Care Act has done more in 14 months to help Texans without healthcare than Rick Perry has done in 14 years. And Ted Cruz remains committed to repealing the law. SMH.

Rick Perry Indicted

The biggest story of the year, of course - Rick Perry's indictment. On August 15, 2014, Governor Rick Perry was indicted on two felony charges: abuse of office and coercion. The two-count felony indictment stems from Perry's use of his veto power to coerce the resignation of Travis County District Attorney Rosemary Lehmberg. 

Rick Perry was using taxpayer funds for his private legal defense, and Progress Texas launched a "Pay Your Bills" effort that generated backlash against the governor from citizens and media alike. Perry eventually changed course, saying he would use campaign funds to pay his legal fees "to keep from having folks grouse about it."

We took the lead in consistently and reliably covering developments surrounding the investigation since the initial criminal complaint against Rick Perry was filed. For a complete list of what happened, and a collection of the best mainstream media stories that covered the case, check out our resources & updates page.