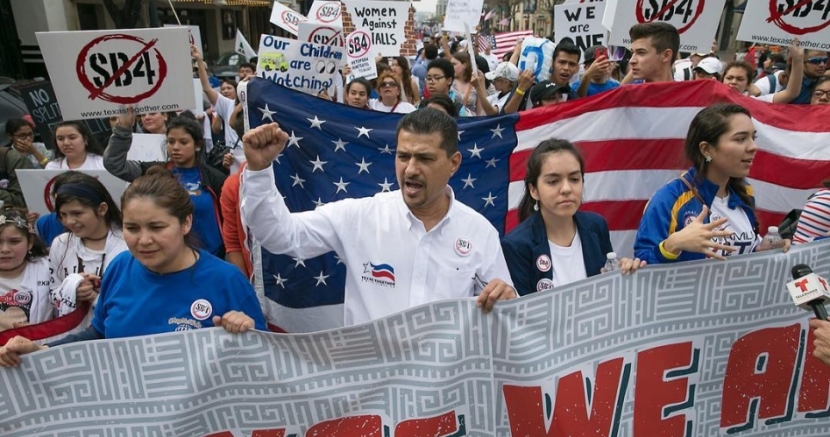 ACLU Fights Back Against Texas GOP's Racist 'Papers Please' Law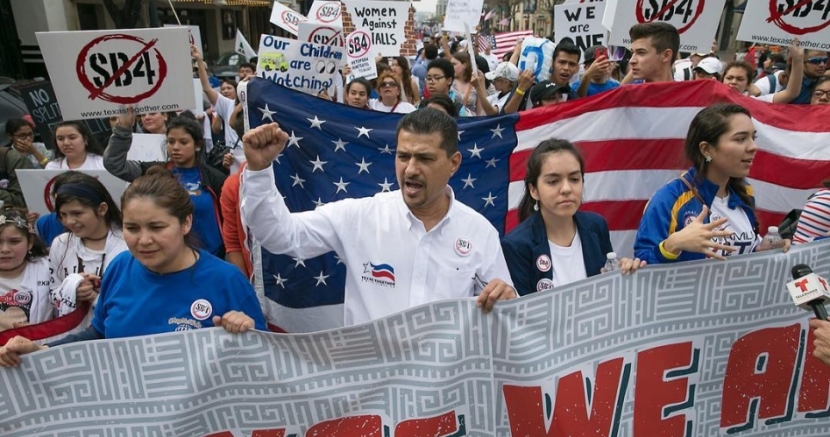 The ACLU issued a "travel advisory", warning Americans across the country that their constitutional rights may be violated in Texas.
Two days after Governor Greg Abbott signed Senate Bill 4, Texas' anti-immigrant "show me your papers" bill, into law — Texans are fighting back. In addition to the legal challenges that are expected to be — and already have been —  filed against this likely unconstitutional  law, the ACLU issued a Texas Travel Advisory.
The advisory was released in Texas and 17 additional states. According to the ACLU,
"The alert comes amid the passing of a Texas law known as SB4. The law gives a green light to police officers in the state to investigate a person's immigration status during a routine traffic stop, leading to widespread racial profiling, baseless scrutiny, and illegal arrests of citizens and non-citizens alike presumed to be "foreign" based on how they look or sound.  The travel alert applies to all travelers to Texas, including U.S. travelers from other states and U.S. citizens.  In addition, this alert applies to all encounters with federal, state, county law enforcement including local police and sheriffs."
Terri Burke, the executive director of the ACLU of Texas released the following statement:
"We plan to fight this racist and wrongheaded law in the courts and in the streets. Until we defeat it, everyone traveling in or to Texas needs to be aware of what's in store for them. The Lone Star State will become a 'show me your papers' state, where every interaction with law enforcement can become a citizenship interrogation and potentially an illegal arrest."
On day after Abbott signed SB4, Attorney General Ken Paxton filed a lawsuit against Austin officials and advocacy organizations, preemptively combatting constitutionality challenges to the law. As Paxton anticipated, the first of many expected lawsuits has already been filed. The League of United Latin American Citizens (LULAC) filed on behalf of a Texas border town, El Cenizo, which has maintained a city ordinance preventing city employees from asking immigration status since 1999.
If you believe your rights have been violated because of SB4, please contact the ACLU of Texas at 1-888-507-2970.
ACLU "Know Your Rights" materials are available in a variety of languages here: www.aclu.org/know-your-rights