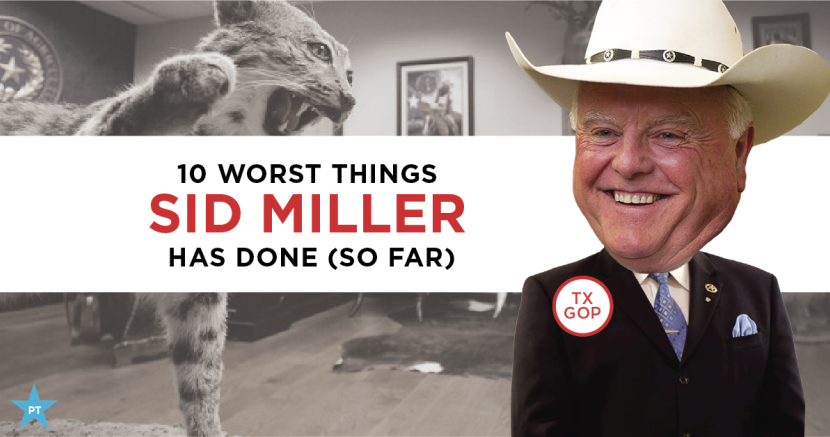 Top 10 Worst Things Sid Miller Has Done (So Far)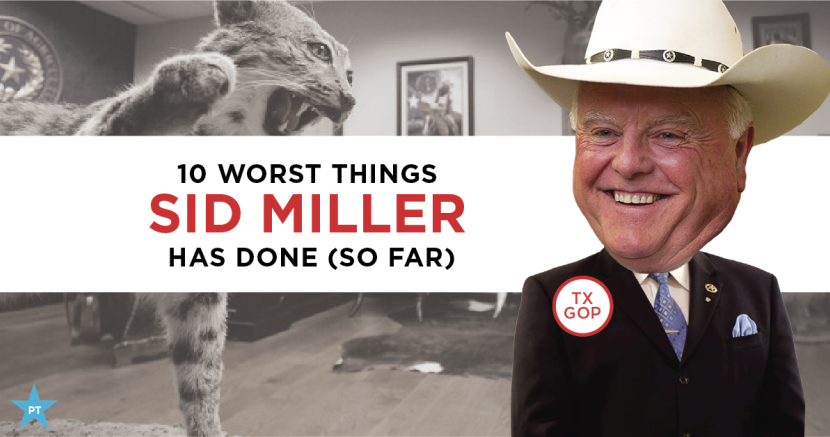 In a state full of offensive, law-breaking Republicans, Sid Miller somehow stands out from the field.
Miller is the Republican Agriculture Commissioner for the State of Texas and a former State Representative who once passed a law that lets you shoot feral hogs from helicopters.
Elected to statewide office in 2014, Sid Miller prides himself on being a professional calf roper. But taking a look at what he's done with his time in office, "rodeo clown" is the title that probably fits him best.
Without further ado, here's the ten worst things Sid Miller has done in office - so far.
Sid Miller Spent $55,000 on Taxidermy for His State Office

It's one way to make sure no one wants to go into his office. Get the full story over at the Texas Observer.


He Wanted to Slap People for Saying "Happy Holidays"

He made a big deal about the War on Christmas...so we sent him holiday cards like this one:

Suggested There Is No Difference Between a Refguee and a Rattlesnake

The xenophobic post to Facebook during the Syrian refugee crisis reflects the worst attitudes of Republican officials.


His First Official Act as a Statewide Official: Declare Amensty for Cupcakes

Check out the Texas Observe to enjoy all the amazing nonsense about this story. Our favorite: "the 'repeal' characterized by Mr. Miller as somehow courageously bucking restrictive regulations was actually a show of appropriate deference by our state to the federal government." It should be noted that his office is supposed to ensure healthy living and fighting obesity, per the department's own website.


Gave $413,700 in "Bonuses" to 144 Staffers in His First Nine Months

According to the San Antonio Express-News, the bonuses were more than "his predecessor awarded in his first two and a half years on the job" and more than "the total given by Gov. Greg Abbott, Attorney General Ken Paxton and Comptroller Glenn Hegar combined."


Used Taxpayer and Campaign Funds to Travel to Mississippi for a Rodeo Competition

Miller didn't schedule or go to any meetings or events outside the rodeo - so we filed a complaint with the Texas Ethics Commission alleging he misused campaign funds for personal purposes, and filed another complaint with the Texas Rangers asking them to investigate the trip.


Gave $180,000-a-year Jobs to Two Political Allies - Who Forgave $116,000 in Campaign Payments Miller Owed Them

Read this story from the Austin American-Statesman if you don't believe us. One of the hirings was a position to run Miller's government relations team. The person Miller hired for $180,000 a year has a felony conviction for campaign fraud.


Joked About Making Peace With the Muslim World by Dropping an Atomic Bomb on Them

There's literally nothing redeeming about him.


Used taxpayer money to fly to Oklahoma to get a "Jesus Shot" - then lied about it to the press

We filed a criminal complaint against Miller for using state funds to pay for a February 2015 trip to Oklahoma to obtain a controversial pain injection known as a "Jesus Shot." The bizarre trip and the botched attempt to cover up the trip's real purpose were detailed by a report in the Houston Chronicle - and is now under investigation by the Texas Rangers.

Authored and passed the transvaginal ultrasound law in 2011

Yes, he's the one who wrote that bill - the one that "says women seeking an abortion must have a sonogram done 24 hours prior, and their doctor must play audio of the fetal heartbeat and describe what's on the screen." Sid Miller is the worst.