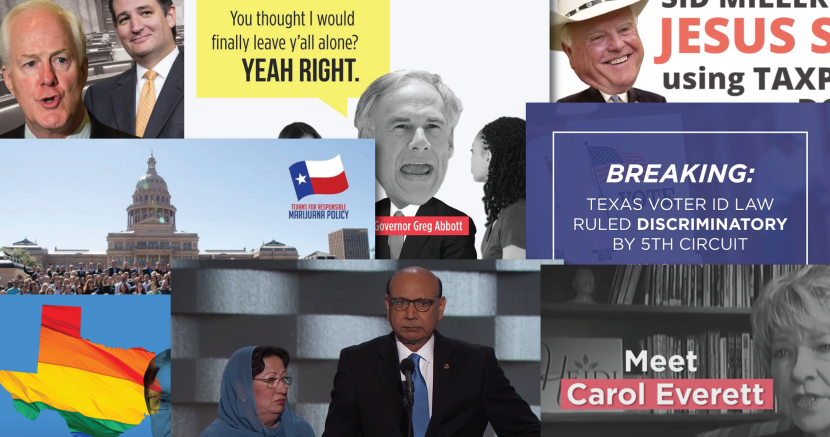 Top 10 Stories of the Summer of 2016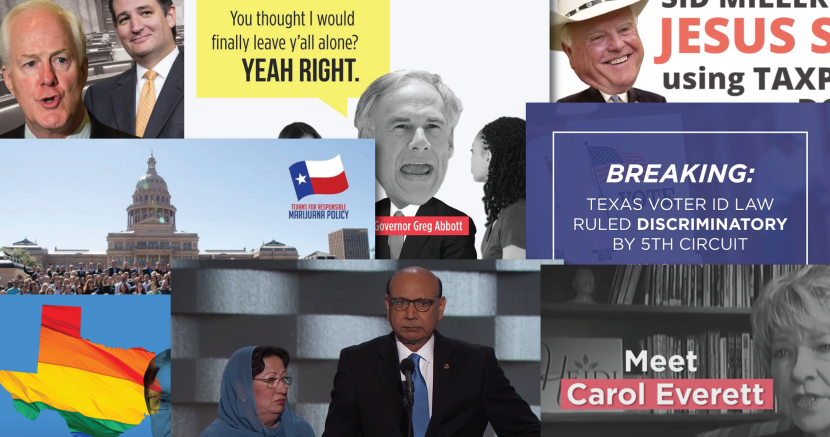 A round up of the biggest stories we covered this summer.
It may not feel like it yet outside, but summer is nearly over. And what a summer it's been.
Can't remember everything that happened but want to reminisce? No problem, that's what we're here for. We've rounded up the biggest stories we covered this summer.
So crank up the AC, sit back, and take a look back at the top ten stories from a long Texas summer.
A big win for abortion access at the Supreme Court, but the fight for reproductive rights isn't over.

In a landmark victory for the reproductive rights and justice movement, the U.S. Supreme Court struck down two Texas abortion restrictions and shut down Texas Republicans' bogus "women's health and safety" justification. But Governor Greg Abbott didn't waste any time proving that Republicans weren't finished going after Texas women's constitutional right to access abortion care. Within days of the decision, Texas officials proposed a new sham rule on the burial of fetal tissue and added more lies to the booklet women seeking abortion care must receive.

A federal appeals court struck down Texas' voter ID law as discriminatory.

The 5th Circuit Court – widely considered the most conservative court in the country – rejected Texas' voter ID law, calling it out as racially discriminatory. As a result, this November Texans who don't have Republican-approved forms of identification can now sign an affidavit and cast a ballot.



Democrats host an inspiring convention, with too many highlights to count.

Before Hillary Clinton made history by accepting the nomination at the Democratic National Convention in Philadelphia, Democrats showed us what "stronger together" really means with an impressive line-up of inspirational speakers. Michelle Obama opened the week with her incredible "when they go low, we go high" speech. In another defining moment at the close the convention, Khzir Kahn moved the country with a tribute to his son, asking Donald Trump if he'd read the constitution and offering him his copy. Coming out of the convention, the contrast between the Democrats' positive message and the doom and gloom of Trump's Republican Party Convention couldn't have been clearer.



The Black Lives Matter movement and the national dialogue around race, policing, and reform continue in the wake of the Dallas tragedy.

Within the span on one week, the country was rocked by a series of tragedies: the police shootings of Alton Sterling and Philando Castile, and the murder of officers Lorne Ahrens, Michael Krol, Michael J. Smith, Brent Thompson, and Patrick Zamarripa in Dallas.

 

A complaint filed by Progress Texas prompted a criminal investigation into Agriculture Commissioner's shady use of tax dollars.

In response to a complaint filed by Progress Texas with the Texas Rangers , a criminal investigation into Texas Ag Commissioner Sid Miller is underway by the Travis County District Attorney. The investigation concerns two illegal trips Sid Miller took using your tax dollars…remember the "Jesus Shot"?



Texas' immigrant families win federal suit, can obtain birth certificates.

Texas families won a major immigration settlement, ensuring Texas-born children can get into school and receive basic vaccinations.



Democrats embrace marijuana policy reform in state and national platforms.

The DNC platform calls for a "pathway" for legalization. And the Texas Democratic Party platform is even bolder.



Texas Republicans continue to attack transgender people.

Republicans — namely our criminally indicted Attorney General Ken Paxton, with the backing of Governor Greg Abbott and Lieutenant Governor Dan Patrick — spent the summer filing costly legal challenges to anti-discrimination protections for transgender people. One aimed at discriminating against transgender kids and another at denying health care to transgender people.



When the Texas Health Commission gave a $1.6 million grant to Carol Everett and her anti-abortion group, we demanded an investigation.

The state's health commission is giving $1.6 million of your tax dollars — the second largest grant — to an anti-abortion group to provide women's health and family planning services. The catch is: the Heidi Group provides zero health care services. And the anti-abortion activist leading this group has a long history of making outrageously false statements about public health and basic science.

A new study showing the maternal mortality rate in Texas nearly doubled after Texas Republicans drastically defunded the state's women's health program in 2011 underscores just how dangerous this grant is.



Senate will finally act to confirm five federal judicial nominees and address the judicial vacancy crisis in Texas.

After months and months of pressure, rallies, and hearing from constituents, Sen. John Cornyn finally agreed to hold a hearing on five nominees to fill vacancies in Texas' federal courts.