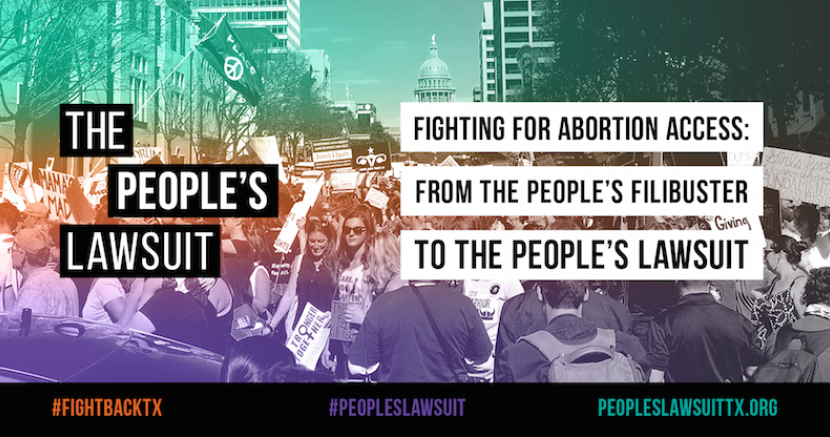 Texas Reproductive Health & Justice Groups File Historic Lawsuit to Dismantle Web of Abortion Restrictions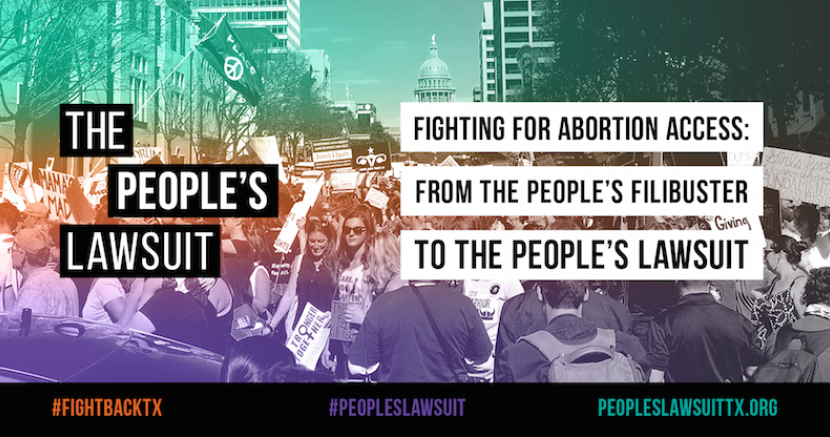 Five years after the historic People's Filibuster, the reproductive health, rights, and justice movement in Texas is taking the fight to anti-abortion politicians with a groundbreaking legal challenge - the People's Lawsuit.
Whole Woman's Health Alliance, the Afiya Center, Fund Texas Choice, Lilith Fund, Texas Equal Access Fund, West Fund, and Dr. Bhavik Kumar filed a lawsuit in federal court challenging a web of long-standing and burdensome Texas laws that restrict access to abortion care.
Anti-abortion politicians in Texas passed these laws to force everyone seeking abortion care in Texas to navigate unnecessary obstacles —  but low income people, people of color, immigrants, and others who are marginalized face the harshest impacts.
Click here to join the historic movement — The People's Lawsuit — that is fighting back against Texas' web of unjust abortion restrictions.
The Plaintiffs:
"For years, Texas politicians have done everything in their power to push abortion out of reach for Texans. Today, we join communities and advocates across the state to send the message that we have had enough."
Amy Hagstrom Miller, President of Whole Woman's Health Alliance
"We have joined our colleagues in solidarity as a revolutionary act today because we need you to Trust Black Women.  Black women's reproductive choices have historically been under attack and we stand here today on our historical experiences for the right to choose."
Marsha Jones, Executive Director of the Afiya Center
"The egregious laws that unnecessarily extend the length of abortion appointments, burden abortion providers, or deny Texans the best medical information and care make accessing safe abortion nearly impossible for Texans, actively endangering their well-being and inhibiting their autonomy."
Natalie St. Clair, Operations Manager at Fund Texas Choice
"These anti-abortion laws specifically target the communities the Lilith Fund serves in Texas—the majority of whom are low-income communities of color—further stripping them of autonomy and economic security by placing unnecessary and dangerous obstacles to abortion and other health care in their path."
Amanda Williams, Executive Director of the Lilith Fund
"The group of laws being challenged may seem on the surface to be a hodgepodge of random requirements, but together they weave a huge barrier to abortion access for thousands of people in Texas, especially low-income people, people of color, and people in our vast rural areas."
Nan Little Kirkpatrick, Executive Director of the Texas Equal Access Fund
"Our state government has consistently ignored the rights, needs, and experiences of people on the border. Texas has displayed a pattern of hurting our health and families, especially when it decreases funding for colonias, sanctions the discrimination of LGBTQ parents, and restricts access to safe and legal abortion. This happens while at the same time, targeting border and immigrant communities, and militarizing our homes."
Lili Gomez, Director of Outreach for the West Fund
The Restrictions:
Over the past 35 years, Texas anti-abortion politicians have continued to pass laws that have turned the right to access abortion care into a theoretical right, but not one in practice. The laws being challenged in the People's Lawsuit fall within these five categories:
Targeted regulation of abortion provider (TRAP) laws, which single out abortion providers for regulatory requirements that are different and more burdensome than those governing other healthcare providers;

Laws that deny abortion patients the benefits of scientific progress, including those that limit advancements in the use of medication abortion and those that prohibit the use of telemedicine in abortion care;

Restrictions that shame and punish those seeking abortion, forcing patients to delay care and forcing doctors to lie to patients and to provide state-mandated information about abortion that is biased, misleading, or medically inaccurate;

Forced parental involvement laws that require minors to obtain approval from a parent or judge and navigate a labyrinth of procedural requirements before having an abortion, including in cases where the minor's parents are estranged, deceased, negligent, or abusive; and

Laws that threaten abortion providers with arrest or jail for providing care subject abortion providers to special criminal liability.