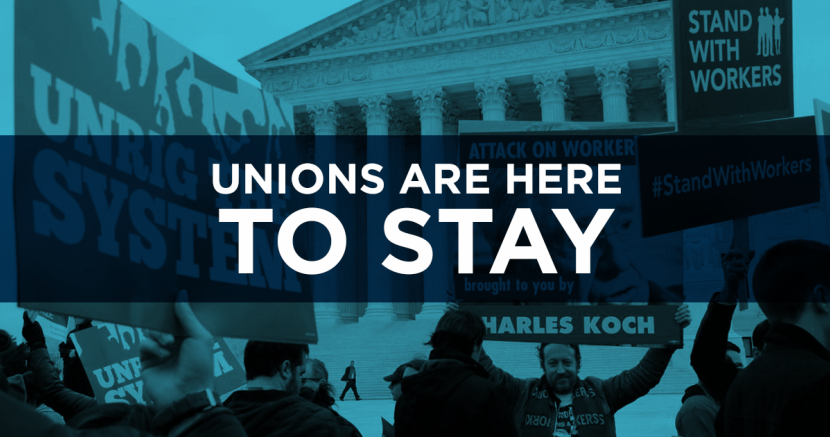 Texas Is Proof Unions and Organized Labor Are Here to Stay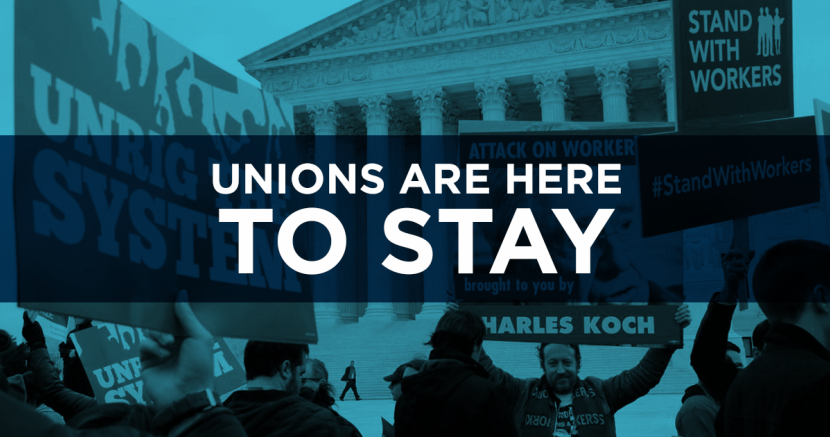 Although the Supreme Court's conservative justices turned their backs on working families in their Janus ruling, Texas has had a "right-to-work" law on the books for decades. We know from experience that unions and organized labor are here to stay.
The primary question in the Janus v AFSCME case was whether public sector unions can charge non-member workers who benefit from collective bargaining "fair-share" fees.
Watch the video below for a better explanation on how union "fair share" fees work.
In their eighteenth 5-4 ruling of this term, the US Supreme Court decided that requiring non members of public-sector unions to pay fees to cover collective-bargaining activities violates the First Amendment, overruling a long standing precedent and dealing a great blow to unions and working families.
Once again, the Court's conservative justices turned their backs on American workers — educators, nurses, firefighters, police officers, and public servants — in a ruling decided on ideological lines instead of logic.
What does this mean for Texas?
Public sector unions are the backbone of the labor movement. The Janus decision essentially makes all public unions "right-to-work," which will almost certainly reduce their revenue and membership. This decision puts another roadblock in the way of working people organizing in unions to fight for better wages, improve their working conditions, and make their communities stronger.
That being said, Texas has had a "right-to-work" law on the books for decades, meaning virtually all union members were already required to join voluntarily. While the ruling was not what we hoped for, unions in Texas have survived and are here to stay, just as unions across the country will survive and continue to fight for better wages, safer jobs, opportunities for working families and benefits like paid sick leave.
Texas unions represent teachers, firefighters, police, nurses, correctional officers and other occupations among federal, state, and local employees. These unions do everything in their power to provide value to members, who are able to achieve more when they speak up together. Despite that, during the last legislative session, Texas lawmakers introduced SB 7, a "union-busting" bill that would strip state employees and other Texas public servants of their right to join a union through payroll deduction. The bill did not pass during the normal or special sessions, but will inevitably be reintroduced in the next session.
Unions have made notable progress in recent years. According to the Bureau of Labor Statistics, organizing is on the rise in Texas and across the nation. Public approval of unions has also increased.
Working people will continue to harness their collective organizing power and join unions to speak up together for a better life. And unions will keep fighting for the freedom of working people to organize.
Mark Janus wasn't the real plaintiff; it was conservative donors and activists.
As the New York Times uncovered, the network targeting these unions is made of well-coordinated, deep-pocketed conservative donors and activists.
Labor unions lead to a fair shot for working families. Corporate interests, funded by billionaires like the Koch brothers, don't like that and have worked for decades to undermine unions. Their end goal is to destroy public-sector unions, but they forget that the will of the people is stronger than the will of their checkbooks.
The Guardian obtained documents revealing a network of radical conservative thinktanks spanning all 50 states that have planned direct marketing campaigns targeting union members to encourage them to quit. According to the AFL-CIO, here in Texas, the Texas Public Policy Foundation has a key role in this program aimed at convincing union members to leave.