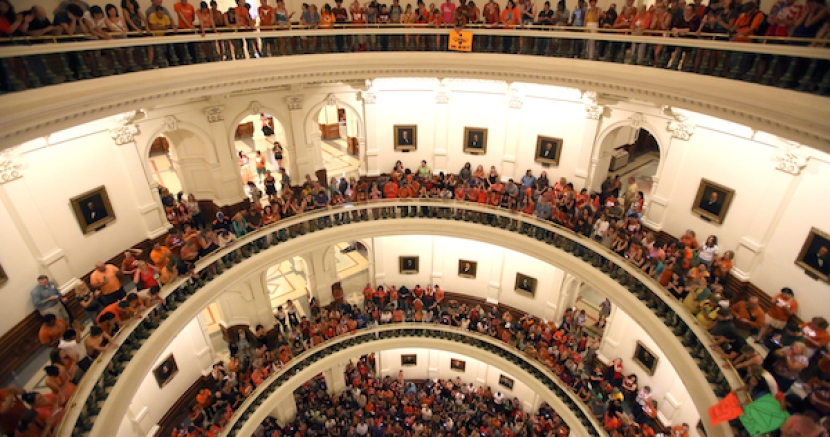 Texas Lawmakers Still on Mission to Restrict Abortion Access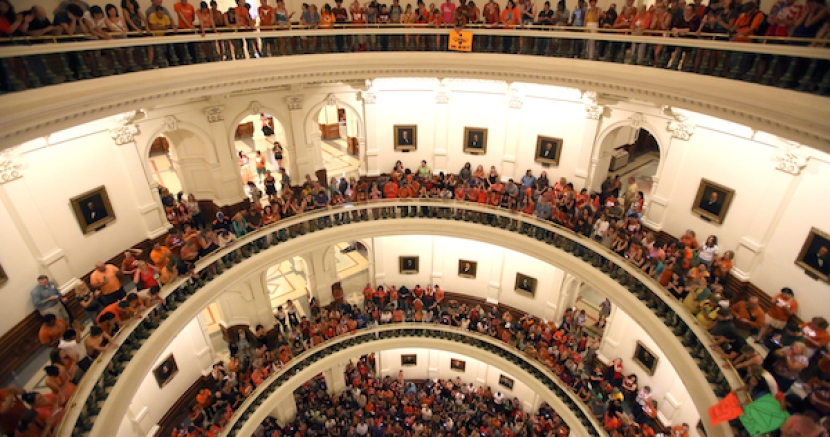 Apparently passing the most draconian anti-abortion law in the country last session wasn't enough. Anti-abortion radicals in the Texas Legislature were back at it this week, trying to pass laws that would further restrict access to abortion care. The anti-abortion bills heard this week make one thing absolutely clear: these extremists aren't going to stop until they've eliminated access to safe, legal abortion care for all Texas women.
On Tuesday, the House Judiciary & Civil Jurisprudence heard testimony on HB 723 by Rep. Phil King (R-Weatherford), a bill that would effectively ban abortion access for anyone under the age of 18 who is unable to involve a parent.
#HB723 targets one of TX's most vulnerable populations: abused and neglected teenagers #TrustTX #txlege

— ProgressTexas (@ProgressTX) April 14, 2015
HB 723 would change the requirements for what a teenager would have to prove in order to get a judicial bypass for an abortion. Minors would have to prove all three grounds, rather than just one as is required by current law: that they are mature and well-informed, that notifying a parent would not be in their best interest and that there is a likelihood of abuse if a parent is notified.
.@hayslaw testifying against #HB723: "Bypass is very effective as a safety net" for teens who've been let down by families. #txlege #trusttx

— NARAL Pro-Choice TX (@naraltx) April 14, 2015
.@JFarrarDist148: our role is to keep teens safe after their parents have abandoned them #HB723 #txlege #trusttx

— ProgressTexas (@ProgressTX) April 14, 2015
According to Jane's Due Process, it is rare for a teenager to need to access the judicial bypass process. In 2013, over half of the teenagers who obtained a judicial bypass through Jane's Due Process were abused at home or feared they would be kicked out of the home for being pregnant.
"I find it ridiculous that you think a teen girl is mature enough to become a parent but not mature enough to decide not to be one." #HB723

— Jane's Due Process (@JanesDueProcess) April 14, 2015
.@JFarrarDist148 says that there are 90 people opposed to #HB723. Smithee: "It feels like more than that." #trusttx #txlege

— NARAL Pro-Choice TX (@naraltx) April 14, 2015
On Wednesday, the House State Affairs Committee heard testimony on three more anti-abortion bills. Two bills by Rep. Jodie Laubenberg, HB 3446 and HB 3765, would place more practically and legally unnecessary restrictions on those seeking and providing abortion care in Texas.
Ana Defrates @NLIRH: A young woman will know what's best for her own body moreso than any member of this body #TrustTX #txlege #HB3765

— ProgressTexas (@ProgressTX) April 16, 2015
HB 3765—which would require minors wanting an abortion to get their consent forms notarized—further perpetuates the myth of coerced abortion, is unnecessary regulation and unfairly targets abortion providers for regulation.
Rep. Giddings: #HB3765 is just another disguised attempt to limit abortion access. Let's just call it what it is: Deception #txlege

— ProgressTexas (@ProgressTX) April 16, 2015
"#HB3765 perpetuates the myth of abortion corrosion. Clinics already have safeguards in place." Our VP Andrea Ferrigno #TrustTX

— Whole Woman's Health (@WholeWomans) April 16, 2015
Under current informed consent law, minors and their parents must already sign a consent form. Requiring that the minor's consent be notarized would disproportionately impact low income and rural Texans and jeopardize confidentiality.
#HB3765 would disproportionately affect rural and low-income Texans. Rural communities may have limited options for notary.

— Lilith Fund (@lilithfund) April 16, 2015
Dude is basically saying an advantage of #HB3765 is notaries in small towns would know the minors and be aware of their abortions. #txlege

— Andrea Grimes (@andreagrimes) April 16, 2015
HB 3446 would require abortion clinics to display signs with information about sex trafficking, child support, adoption and coercion.
For second time today, Rep. Laubenberg not there to present her own anti-abortion bill #HB3446 #txlege #TrustTX

— ProgressTexas (@ProgressTX) April 16, 2015
The bill singles out abortion providers and is not only a targeted attempt to over-regulate these health care providers, but also represents a lack of understanding about the populations the bill purports to help.
B Cushing, med student, against #HB3446: This is a targeted regulation of abortion providers & in no way enhances safety #trusttx #txlege

— ProgressTexas (@ProgressTX) April 16, 2015
Hayes w @naraltx and the Trust Respect Access Coalition testifying against this bill. "You'll find victims in ER, not ab clinics" #HB3446

— Amanda Williams (@fullfrontalfem) April 16, 2015
Shorter Susan Hays: Maybe, like, consult actual sex trafficking experts in crafting this bill. #txlege

— Forrest Wilder (@Forrest4Trees) April 16, 2015
Another bill heard on Wednesday, HB 3374, would prohibit providers from giving out information about a woman's legal right to terminate a pregnancy "when a prenatal test indicates that the unborn child has Down Syndrome or any other health condition."
Unfortunately, these aren't the only bills Texas lawmakers have introduced aimed at restricting Texas women's access to safe, legal and timely abortion care.
Take a stand and join the movement to restore trust in Texans to make their own reproductive health care decisions, respect for health care professionals, and access to the full range of reproductive health care in our state.