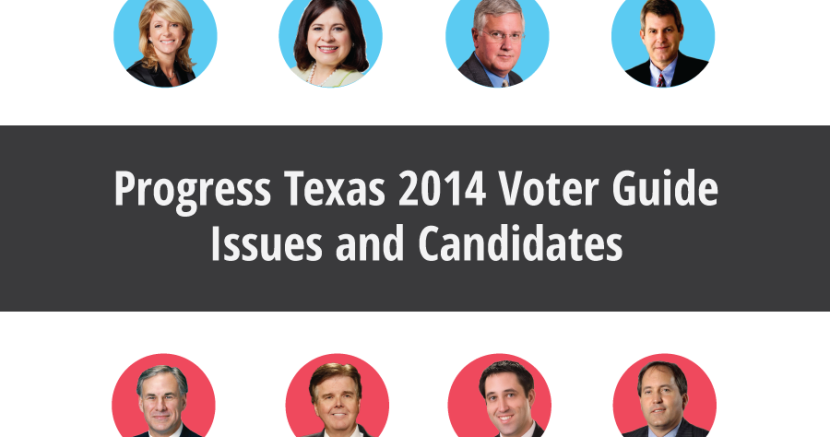 Progress Texas 2014 Voter Guide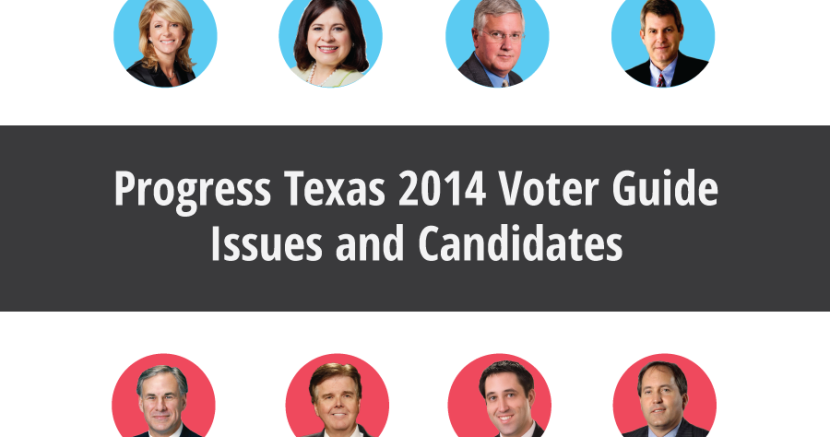 Your vote can make a difference!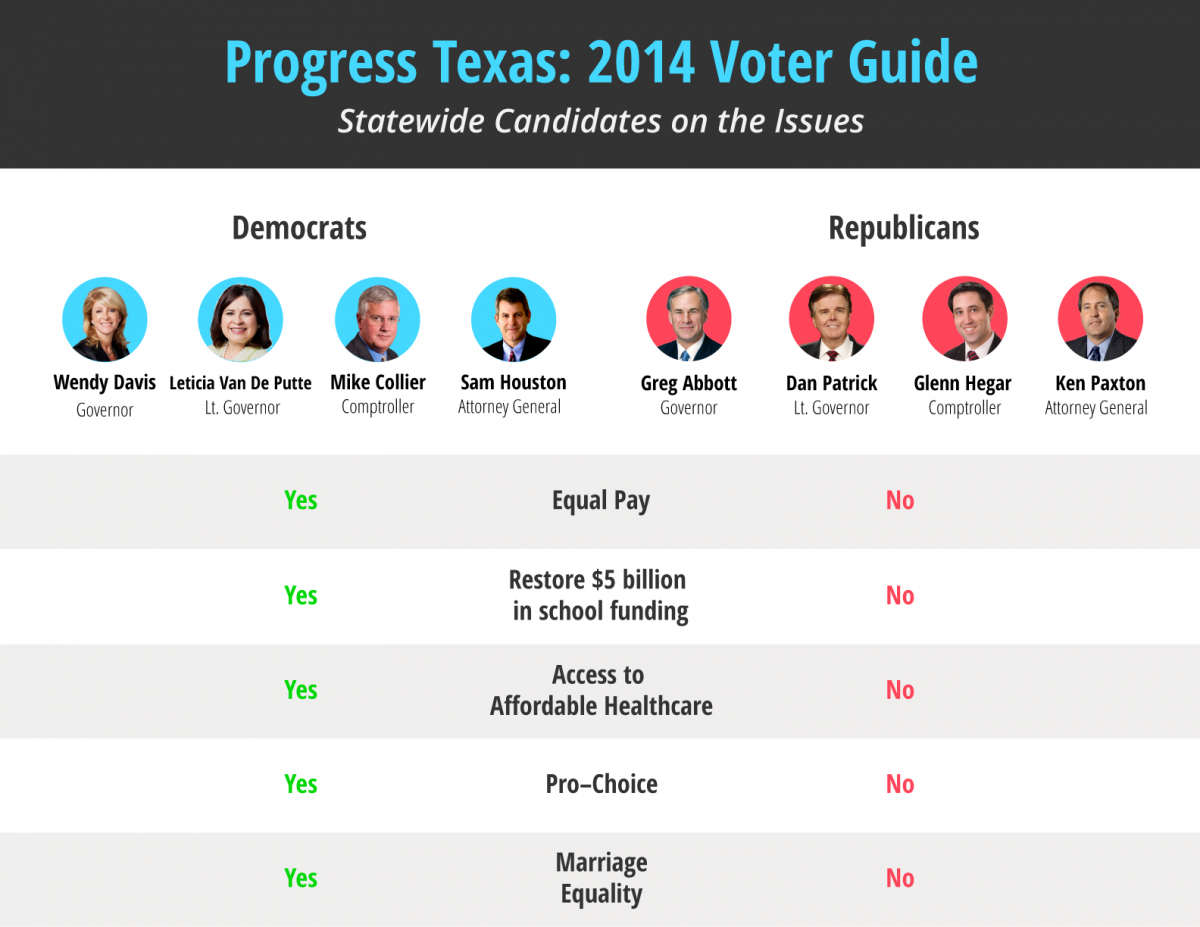 Simply put, Republicans are against all of the issues that we care about. See 46 more reasons not to vote for them by checking out our recent Progress Texas Anti-Endorsement post.
Below are more specific rundowns for key down-ballot races across Texas:
Tarrant County Voter Guide
Dallas County Voter Guide
Bexar County Voter Guide
Harris / Galveston County Voter Guide
San Patricio County Voter Guide
Travis County Guide (Austin's Local Prop 1)
Early vote starts Monday, October 20 and runs through Friday, October 31. Click here to find our polling place. You will need an ID to vote this election. Visit www.GotIDTexas.org to learn what you need and how to get it.
gotid.png
---
Senate District 10
Libby Willis, Democrat
In the race to replace Wendy Davis, progressives have found a sensible, strong candidate in Libby Willis. Like Davis before her, Willis' primary commitment to her Fort Worth district will be education. She wants to restore all the funding from the $5 billion in Tea Party cuts that passed in 2011 so teachers may be paid the national average and we can cut the size of Texas classrooms. An ardent supporter of the Texas Equal Pay Act and increased access to affordable health care, Willis is running what may be the most important down-ballot race in Texas.
Konni Burton, Republican
Konni Burton is a former wedding planner turned Tea Party activist who, with the endorsement of Ted Cruz, is attempting to replace Davis' sensible leadership with extreme positions on almost every issue. On equal pay, Burton believes the real war on women is being waged by the government. She thinks 734,000 enrolled through the Affordable Care Act is "crippling" for the state, and wants the law completely overturned. Burton has also taken over $16,000 from the predatory lender industry throughout her campaign. A proponent of charter schools and a staunch opponent of a woman's access to abortion, Burton is a Ted Cruz-style extremist who is dramatically out-of-touch with the needs of Senate District 10.
 
House District 94
Cole Ballweg, Democrat
Ballweg favors restoring the $5 billion in education funds that the Tea Party cut in 2011 and wants to prioritize attracting and retaining talented teachers. As a healthcare professional, Ballweg has good insight into patient need and has researched every aspect of the ACA's economic impact for big and small companies, and he wants to find a workable solution for Texas.
Tony Tinderholt, Republican
Tinderholt has said he would not allow for any additional investment in education, and would not vote to restore school funding cuts. He's fervently anti-choice, and has said he will do everything in his power to make sure Texans do not receive the healthcare that most of the nation now does.
---
House District 105
Susan Motley, Democrat
Motley offers a clear plan for education vowing to "focus on looking for ways to make our current spending more effective and efficient." She supports restoring the $5 billion in school funding that was cut by the Tea Party, and investing in full day pre-K for our students by using a portion of the Rainy Day Fund. She's taken an interest in regulating predatory payday lenders, and supports equal pay for equal work.
Rodney Anderson, Republican
If there is a right-wing talking point being passed around, Anderson will regurgitate it. His views on the issues aren't derived from what's best for Texans, they're all pledges to his party affiliation. He offers no clear plan for education, thinks that access to affordable healthcare is a government overreach, yet wants to tell women what they can and cannot do with their bodies. He supports payday lenders and refers to them as valuable resources.
 
House District 107
Carol Donovan, Democrat
Donovan supports restoring the $5 billion in school funds that were cut by the Tea Party in 2011, calling out her Republican opponent Kenneth Sheets for his role in voting for them: "Texas now ranks 49th in the nation in education. In graduation rates, Texas ranks 25th with a 78.9 % completion rate." She also vows to work toward making college education more accessible and finding a Texas solution for expanding access to affordable care, taking Sheets to task by pointing out the damaging effects his party has had on healthcare. Donovan has a clear plan for regulating predatory payday lenders. She is endorsed by Planned Parenthood, supports equal pay, and supports every Texan's freedom to marry.
Rep. Kenneth Sheets, Republican
Tea Party incumbent Sheets voted to cut $5 billion in school funds in 2011. Sheets is opposed to expanding Medicaid to 2 million uninsured Texans, claiming that expansion will hurt the Texas economy, a Tea Party argument which has been proven false. He makes the outrageous and equally false claim that predatory payday lenders, because of a toothless bill that he pushed in 2011, are now fairly and adequately regulated. Sheets voted for HB2, the bill designed to eliminate abortion access in Texas, didn't even show up to vote on last session's equal pay bill, and opposes same-sex marriage.
 
House District 108
Leigh Bailey, Democrat
Bailey seeks to restore the $5 billion in education funds that were cut by the Tea Party in 2011, and wants to see it distributed equally based on classroom size. Her plan involves looking at other state revenue sources to identify new funds and thus reduce the burden of property taxes. Bailey has taken a serious interest in accountability and will work to ensure that public officials are kept honest. She favors a woman's right to choose, equal pay, and supports every Texans freedom to marry.
Morgan Meyer, Republican
This is a candidate who is opposed to abortion in any instance, advocates for charter schools over funding for public schools, fights against providing healthcare to those most in need, is against marriage equality, and thinks supporting equal pay is unnecessary. To top it all off, he thinks there should be less government regulation of predatory payday lenders. Wonder how much they pay him to say that
House District 113
Milton Whitley, Democrat
Whitley—a true progressive—would work for total restoration of the $5 billion in school funds that were cut by the Tea Party in 2011, supports Medicaid expansion to cover 2 million uninsured Texans, and advocates for a woman's right to equal pay for equal work and access to abortion care. And his stance on predatory lenders stands in stark contrast to Burkett's: "Payday lenders prey on poor people…The fact that we don't have such laws is a clear example of special interest control of the Legislature."
Rep. Cindy Burkett, Republican
Though Burkett voted to restore funding for some cuts to public education, she doesn't support restoring full funding to underfunded schools. Most appalling, Burkett voted against the equal pay law that would make it easier for women to fight back against pay discrimination and opposes abortion even in the case of rape and incest. She also opposes Medicaid expansion, which would provide health insurance for 2 million uninsured Texans, and has argued predatory payday lenders do more good than harm.
---
Congressional District 23
Rep. Pete Gallego, Democrat
Congressman Gallego is running for re-election in the toughest congressional race in Texas - which stretches from Bexar County all the way west to El Paso. From his beginning as a Texas State Representative to his time in Congress, Gallego has been a consistent champion for people and families. He is a long-time champion for kids and classrooms, and supports more funding for teachers and more grant money for those seeking a higher education. He's a strong supporter of the Affordable Care Act, he's pro-choice, and he's a fighter for equal pay. On the issue of immigration, Congressman Gallego supports comprehensive immigration reform that includes improved border security and a path to citienship for Texas' undocumented immigrants. 
Will Hurd, Republican
Tea Party newcomer candidate Will Hurd is running as far from common sense as he can in his race to unseat Gallego. Hurd champions charter schools over public schools, calling on privatized charter schools to "multiply" across the state. Hurd is 100% opposed to a pathway to citizenship, and refuses to answer questions about whether or not he would support the DREAM Act. Anti-choice and thoroughly opposed to the Affordable Care Act, Will Hurd stands firmly against health care opportunities and improvements Democrats like Gallego fight for on a regular basis. Given the current make-up of the federal government, one more do-nothing Tea Party obstructionist who is not qualified to represent the people in Texas' 23rd Congressional District.
House District 117
Rep. Philip Cortez, Democrat
Cortez fought to restore $5 billion in public school funding, lower the reliance on high stakes testing, and ensured that state funding would be available for students who look to earn college credits while still in high school. He co-authored last years equal pay bill, and voted against the HB2 anti-abortion bill. He's also vowed to help push legislation toward medicaid expansion if re-elected, and he stands in support of same-sex couples across Texas
Rick Galindo, Republican
Galindo believes in expanding charter schools at the expense of public schools. When asked about issue like healthcare and higher education, he said those issues are ones where he'd need to "look more into." Based on these positions it's clear that he would need to do some serious homework if he were elected. He does, however, take a strong stance for denying women their right to reproductive healthcare,
---
Harris & Galveston County Voter Guide
House District 23
Susan Criss, Democrat
Criss has a clear and logical plan for fixing education issues. She favors restoring the $5 billion in school funds that was cut by the Tea Party in 2011, proposing a short term solution to "tap into the Rainy Day Fund to help equalize per-pupil funding." She recognizes that paying teachers appropriately is a major factor in education and says she'll propose measures to index teacher pay to inflation so their yearly salaries do not stagnate. She wants to push for a bipartisan solution to the healthcare problem in Texas, and there's no doubt she'll work hard to ensure that same-sex couples, and women aren't denied their rights.
Wayne Faircloth, Republican
Faircloth is new to Texas politics, and his stance on the issues show it. Despite legitimate issues in education being a major factor in the upcoming election, he thinks that public education is a privilege, not a right. Beyond this ridiculous stance,  Faircloth is also endorsed by Texas Right to Life PAC for his dangerous and extreme anti-abortion with no exceptions position. He also promises to fight against the Affordable Care Act, meaning he wants 734,000 Texans to lose health insurance.
 
House District 134
Sarah Davis, Republican
In the 2013 legislative session, Sarah Davis demonstrated independence as the lone Republican to vote against the house bill seeking to restrict abortion access in Texas. In standing up against the bill, she also stood up to her own Party. She supported the bipartisan Equal Pay law before it was vetoed by Rick Perry. And she has been endorsed by our allies at Planned Parenthood and Equality Texas. We don't agree with Sarah Davis on all of the issues - she is still a conservative - but on two of our biggest issues she demonstrated an ability to transcend partisanship and exude leadership.
 
House District 144
Mary Ann Perez, Democrat
Perez is hands down the more qualified candidate in this race, with a voting record to back it up. She voted for equal pay legislation, is a strong advocate for increasing funding for public school children, and fights for the expansion of Medicaid to provide health insurance for 2 million uninsured Texans. NARAL Pro-Choice Texas gave her a 100% rating for supporting a woman's right to access safe and legal abortion care.
Gilbert Pena, Republican
Pena—described as a perennial candidate because he has run and lost so many times—is woefully unqualified. He claims to be pro-family, yet he is shamefully anti-woman, dangerously anti-abortion with no exceptions, and opposes the freedom to marry and Houston's Equal Rights Ordinance. Most disturbing though are his views on education, he proposes cutting per pupil spending. Yes, that's more cuts on top of the $5 billion in school funds that were cut by the Tea Party in 2011.
---
San Patricio County Voter Guide
House District 43
Kim Gonzalez, Democrat
While Gonzalez's experience as an attorney has given her much needed experience to advocate for Texans. She's a strong supporter of women's rights, and would push for Texas to work with the federal government and bring healthcare to the most vulnerable Texans. Her education plan includes restoring funding, raising pay for teachers, and reforming accountability to ensure each student has a fair and equal chance.
Rep. J.M. Lozano, Republican
Once a Democrat, Lozano made the political move to switch parties after heavy lobbying from the Tea Party in order to attract more voters - which makes him a bit of a wildcard on the issues. He is firmly pro-life, but he voted to expand medicaid. Ultimately, it becomes an issue of trust - if he's willing to run towards and embrace a party of extremists like Greg Abbott and Dan Patrick, what might he do next
---
Travis County Voter Guide (Austin's Local Prop 1)
Austin's Prop 1 - Approving the Transit Plan
To borrow a line from our favorite movie about Austin: "I get older, but the roads stay the same age."
We love our city, but if we don't do something about the traffic, we're going to out-grow all the reasons we love to live here.
Progress Texas is endorsing Austin's Prop. 1 for rail transit because it is a strong first step towards solving our long-term traffic solutions. Proposition 1 will put Austin on a smoother path to easing traffic congestion.
And we are not paying for this alone - federal funds will match every dollar we invest in transit. Austin's Proposition 1 will help us improve a transit system that will keep Austin moving for years to come.
The Austin Chronicle has also endorsed Proposition 1. For more information, visit LetsGoAustin.org