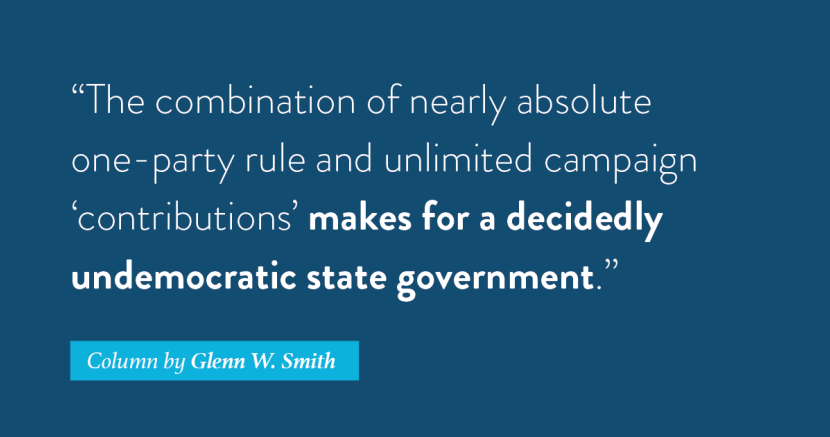 Political Dollars and Dangling Participles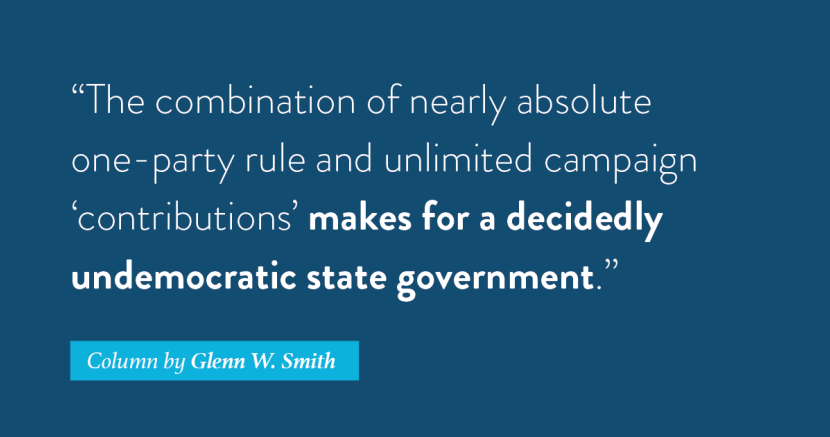 The enormous sums donors give state Republican officeholders raise especially disturbing questions in a one-party state like Texas.
Wealthy Texans are contributing extraordinary sums of money to Texas Republican officials these days. The sums are so large it's a wonder that a candidate hasn't surfaced with the message, "Elect me and I'll grant your wishes for half the price." Government favors at a discount.
It has a certain appeal.
Looking at Lt. Gov. Dan Patrick's recent campaign finance report, former Houston Astros owner Drayton McLane gave Patrick $150,000 in June. Highway contractor James Pitcock matched McLane with another $150,000 to Patrick. Apparently not to be outdone, H. Ross Perot gave Patrick $150,000 on June 28 and another $75,000 on June 30.
It's almost like pitiful little $50,000 contributors will have a hard time getting beneficiaries of their largess to return their phone calls these days.
Gov. Greg Abbott is hardly a bargain in the Sotheby's auction house once known as the Texas Capitol. While hotel magnate Bob Rowling gave Patrick a sweet $100,000 June 30, he gave Abbott $250,000 four days earlier.
And, a retired Gillespie County couple, Michael and Mary Porter, contributed a cool $1 million to Gov. Abbott's campaign this summer. That has to be a record of some sort.
I can't find another instance in Texas history of a one-time $1 million contribution, although some wealthy collectors of politicians have given more than that over time to hang their favorite political objects d'art in their private galleries.
While we might complain about the crassness and corruption of the Sotheby's on Congress Avenue, we should in fairness note that Sotheby's was founded in 1744, 101 years before Texas became a state. So there.
The U.S. Supreme Court is fine with all this, ruling that the dollar is a kind of political dangling participle. Those paid and those paying for a government action are missing from the law, as the Court sees it. "Paying for votes, the bill passed easily." The bill, of course, did no such thing. Still, the Court asks, how can there be an appearance of corruption if the allegedly corrupt make no appearance in the transaction?
No one can doubt that a significant number of dollars are being dangled in front of Texas politicians these days, especially Republican politicians because they hold the power.
In a one-party state like Texas, donor investments in a politician belonging to the dominant party are as close to a sure thing as there is. A bookie wouldn't take such a bet. The outcome is too predictable.
Contributors usually get exactly what they pay for.
For instance, according to Texans for Public Justice, a well-respected watchdog group, construction and developer interests gave Abbott $10.7 million from 2013 through 2016. Sure enough, six of Abbott's 20-item special session agenda are from the construction and developer wish list.
Most involve undermining the authority of local voters to make decisions about their own communities: limiting annexation powers, taking away revenue management from local governments, more or less prohibiting local tree ordinances (which vex developers), accelerating developer permitting.
Ride-sharing giants Uber and Lyft really figured out the power of the dangling participle and worked to keep their money and lawmakers is separate clauses, so to speak. They just paid 40 lobbyists up to $2.3 million to entertain enough votes over dinner and drinks that local ride sharing ordinances were eliminated in favor of a toothless state law.
There are some exceptions. Backers of school vouchers have lost their bets for years because rural Republicans understand that the voucher effort is really a disguised effort to destroy public schools, and public schools are often the center of small-town life. But it's just an exception that proves the rule.
The combination of nearly absolute one-party rule and unlimited campaign "contributions" makes for a decidedly undemocratic state government. We focus on Texas Republicans today because they hold all the power. While I'd hope one-party rule by Democrats would be less, uh, dangling, history makes one cautious about such a hope.
Many voters, marginalized and made cynical by it all, believe their votes are no match for the millions paid by the wealthy for specific government actions. In a way, however, the corrupt system is maintained as much by voters' hopeless belief than it is by the cash. When that changes, and it will change, the game will change as well.