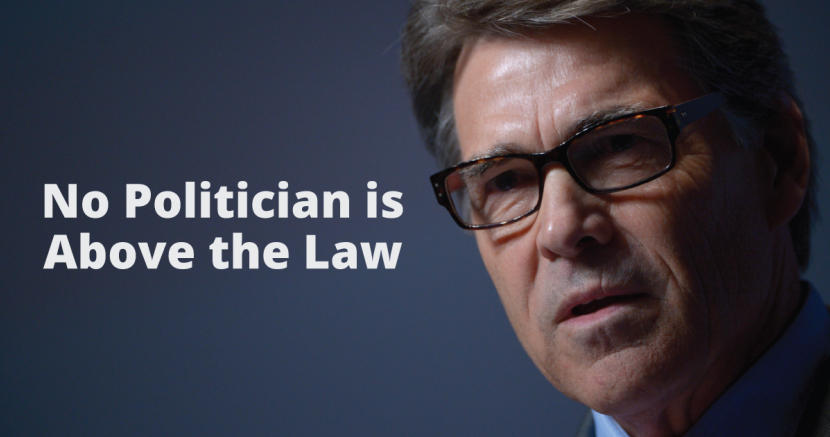 Perry Indictment: It's All About That Bribe (No Veto)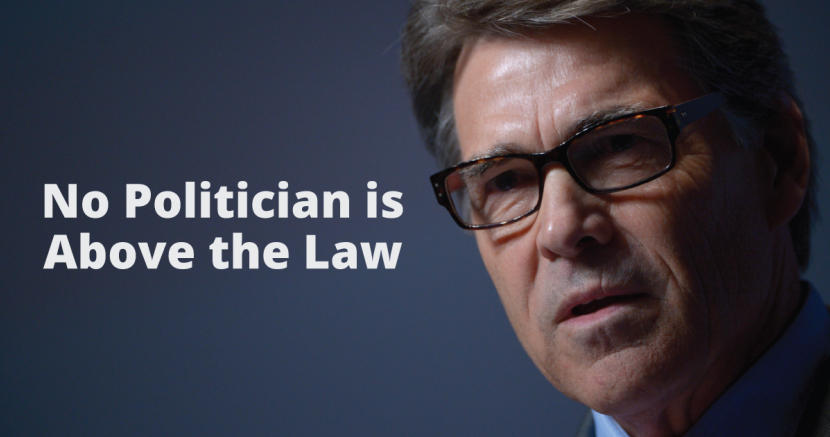 So with a little help from singer Meghan Trainor, we remind Rick Perry why he got indicted: "It's all about that bribe, 'bout that bribe (no veto)!" 
This week a judge denied Rick Perry's challenge to an indictment stemming from abuse of power and bribery charges. So in response, Rick Perry went down to the Omni Hotel in Austin to talk to the press and defend a veto he issued.
That's right, the charge is for bribery and abuse of office, but Rick Perry thinks it's about a veto. Maybe that's why he keeps losing these legal challenges.
The Rick Perry indictment can be summed up in one sentence: it's not about the veto, it's about the bribe.
A quick summary on how we got here: In June of 2013, Rick Perry effectively offered public funds to an office in exchange for the resignation of an elected official - this is why he was indicted. The veto wasn't the crime, that was the retribution he delivered when the official did not meet Perry's resignation demand. There are no Democrats involved in the prosecution; all of the judges that have heard the case are Republicans, and the special prosecutor has Republican ties.
The veto messaging is being used to sway public opinion and even some non-Texas journalists. Unfortunately, what works in the court of public opinion isn't working in an actual court.
You can't bribe, coerce or threaten a public official - not even in Texas.
Here is a summary of our responses to cliams by Rick Perry and his high-priced lawyers.

Democratic groups piled on Perry, with Edward Espinoza of Progress Texas saying the judge's message is, "Rick Perry might be out of the governor's mansion, but he's still in hot water."
- "Indictment stands against Perry"
Jan. 27, 2015

"Glenn Smith, director of the Democratic-aligned Progress Texas, said that governors' authority to veto does not grant them the power to coerce public officials by giving or withholding money. He compared it to arguing that a governor, who can grant pardons, could not be charged with bribery if he took money for awarding a pardon.
"Constitutional authority does not grant immunity for the criminal misuse of that authority," Smith said.
- "Rick Perry says judge's refusal to toss abuse-of-office case isn't slowing him" 
January 29, 2015

"This case is not about the veto, it's about the bribe. Perry offered money in exchange for the resignation of a local official," said Ed Espinoza, Executive Director of the liberal Progress Texas. "The veto was simply his retribution for her not accepting the bribe," he said. "Perry's best option is to seek a plea deal and get on down the road."
- "Perry legal team says there is still hope for a swift resolution to his felony case"
Jan. 28, 2015

"He's trying to win over the court of public opinion," Espinoza said. "But what he needs to do is win over an actual court — and he hasn't been able to do that yet."
- "Perry: Ongoing abuse-of-power case won't delay 2016 preparations"
Jan. 28, 2015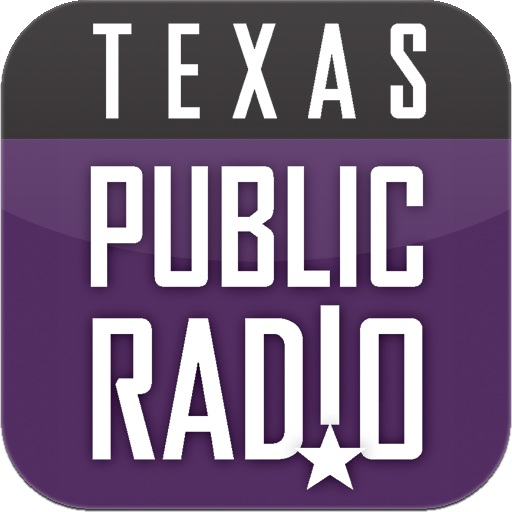 But critics like Ed Espinoza, Executive Director of the political not-for-profit, Progress Texas, said the fight wasn't about partisanship. "They can fix language but what they haven't fixed is charges. He still has charges against him, one felony and now one misdemeanor. He still needs to own up to it," said Espinoza.
- "Perry: Charges Won't Affect White House run"
Jan. 28, 2015

"The real rule of law states that constitutional authority does not grant immunity for the criminal misuse of that authority," said Glenn Smith, director of the liberal Progress Texas PAC. "If Perry's defense argument was true, no official could ever be prosecuted for any action involving the authority of the office."
- "Shadowed by indictment, Perry leaves no doubt on running for president"
Jan. 28, 2015