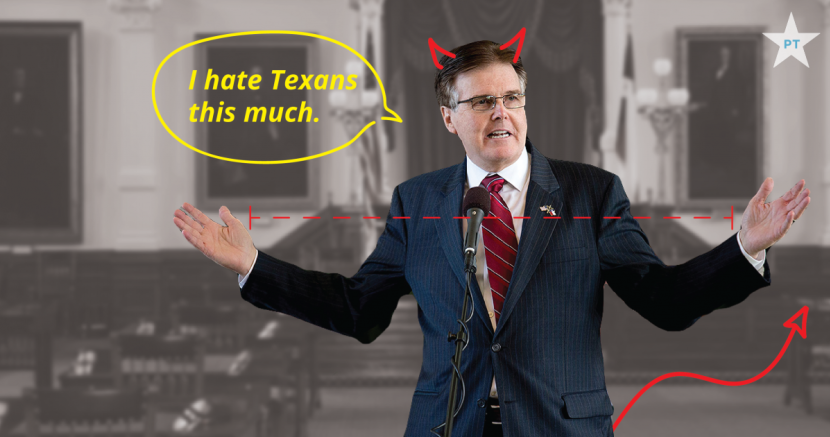 Here Are All the Awful Bills Texas Lt. Governor Dan Patrick Passed in a Week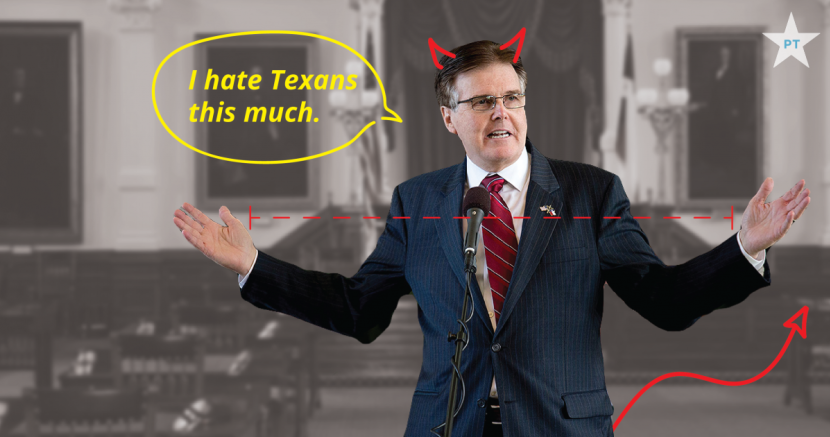 Lt. Governor Dan Patrick, at Governor Abbott's behest, orchestrated a cruel act of political theater with very real and devastating consequences on Texans' lives.
In the first week of Greg Abbott's special session, Dan Patrick and Republicans in the Texas Senate passed more than a dozen bills aimed striping Texans of their rights. With the goal of scoring political points, Patrick suspended rules in place to protect the democratic process and limited meaningful public input to fast track Abbott's discriminatory and hateful agenda.
After passing the one must-pass item on Abbott's agenda — two Sunset bills that would keep the Texas Medical Board and other agencies open — Patrick launched a head-spinning, week-long attack on the rights and lives of Texans.
The fight against these awful bills will continue in the Texas House over the next few weeks.
LGBTQ equality
The most high-profile of these attacks is the anti-transgender, "bathroom bill" — Senate Bill 3 by Lois Kolkhorst (R- Brenham).
SB 3 — a priority item for Lt. Gov Patrick during the regular session — would do two grossly discriminatory things:
ban transgender people and kids from using the bathrooms that match their gender identity in public buildings and schools.

strike down local laws that protect transgender people from discrimination
The author of the bill Senator Kolkhorst pushed SB 3 through the Senate under the cynical and distorted guise of being a "women's rights issue." When in reality, this bill would put the lives and safety of trans women and girls in danger and target all trans people for discrimination.
Despite Patrick's attempt to limit Texans' participation, hundreds of civil rights advocates, business leaders, transgender people, families, and allies came out to the Capitol to testify against the bill: parents who are scared for their transgender children, transgender people who recounted their experience living as targets for discrimination, and concerned Texans who oppose state-sanctioned discrimination in any form.
Reproductive health, rights & justice
During the regular legislative session, Texas Republicans passed and Gov. Abbott signed a sweeping, anti-abortion bill that forces fetal burial and effectively bans abortion after 13 weeks. And yet — despite an ongoing women's health crisis in Texas — Gov. Abbott put more reckless and politically-motivated abortion restrictions on his agenda — and of course, Patrick passed them all out of the Senate.
Senate Bill 4 by Charles Schwernter (R- Bryan): This bill would prohibit local government entities from contracting with Planned Parenthood, taking to the city level the defunding that has taken place at the state level and decimated access to reproductive health care.
Senate Bill 8 by Brandon Creighton (R- Beaumont): This bill would restrict coverage of abortion in all insurance plans in Texas, forcing women to buy supplemental plans or pay out of pocket. Restricting insurance coverage of abortion jeopardizes Texans' health and disproportionately impacts low-income Texans, immigrants, people of color and their families, young people, and people in rural communities.
Senate Bill 10 by Donna Campbell (R- New Braunfels) and Senate Bill 73 by Bryan Hughes (R- Mineola): These bills increase reporting requirements imposed on abortion providers in an effort to target providers and women seeking care and to further stigmatize abortion and push the procedure out of reach.
Click here to take action on these bill — tell your representatives to stop playing politics with women's lives.
During the regular legislative session, Texas lawmakers largely ignored Texas' shamefully high maternal death rate. Texas has the highest maternal mortality rate in the developed world. Yet instead of truly working to save women's lives and improve women's health outcomes, Patrick and Senate Republicans passed a bill that would extend the Maternal Mortality Task Force, allowing the state to continue to study why Texas women are dying and what can be done to save mothers' lives — Senate Bill 17 by Lois Kolkhorst (R- Brenham).
While SB 17 is an important step to ensuring safe and respectful maternal care, there is much more that can be done — including enacting the policies the task force already recommended.
Public education
Instead of passing a real school finance bill with meaningful reforms, Patrick and Senate Republicans passed a bill that creates a private school voucher program. Senate Bill 2 by Larry Taylor (R- Pearland) diverts funding for special needs students in public school into private schools, causing a whole host of problems and undermining quality public education in Texas.
Instead of starting to do the work to fix our broken school finance system, Senate Bill 16 by Larry Taylor (R- Pearland) would create a commission to study school finance.
The Senate did pass a bill to give teachers a much deserved bonus — Senate Bill 19 by Jane Nelson (R- Grapevine) — but in typical lip-service fashion, they did not put more state money into the system to actually pay for it.
Union rights
After senators spend debate on #SB19 praising teachers, #txlege Senate chooses to pivot to #SB7, which specifically targets educators. https://t.co/BukvVmBhEQ

— Kate Kuhlmann (@ATPE_KateK) July 26, 2017
Senate Bill 7 by Bryan Hughes (R- Mineola): The bill would ban union payroll deductions for teachers and other public employees, undermining their right to organize and participate in the democratic process. Interestingly, public employees that tend to vote Republican are exempted from the ban.
Local control
In addition to the anti-trans and anti-reproductive rights assaults on local control, Patrick and Senate Republicans passed a whole slew of bills that seize control away from local governments.
Senate Bill 1 by Paul Bettencourt (R-Houston): SB 1 is pitched as a property taxation reform bill, however meaningful school finance reform is the state policy to actually impact property tax. Under this bill, any local government that looked to increase property taxes by 4 percent or more would require an automatic election to approve the taxation.
Senate Bill 5 by Kelly Hancock (R- North Richland Hills): Voter fraud has long been a boogie man used by the right to enact voter suppression regimes. SB 5 would create criminal offenses and increase criminal penalties for those who "abuse" mail in ballots. Those against the bill are concerned that these new penalties would deter eligible Texas voters from voting by mail.
Senate Bill 6 by Donna Campbell (R- New Braunfels): SB 6 would create the requirement for an election to be held in cities with a population of over 500,000 citizens that want to annex.
Senate Bill 9 by Kelly Hancock (R- North Richland Hills): SB 9 would create a limiting cap on the growth of state spending, despite already being a low-spending state.
Senate Bill 13 by Konni Burton (R- Fort Worth): SB 13 would override local government permitting processes.
Senate Bill 15 by Don Huffines (R- Dallas): Currently across the state, dozens of cities have passed "hands-free" ordinances to curb drivers from using their phones while driving. SB 15 would ban city governments from enacting more stringent "hands-free" ordinances.
Senate Bill 14 by Bob Hall (R- Rockwall): SB 14 would outlaw local tree ordinances that help the environment and preserve historic landmarks. Gov. Abbott's personal problem with the trees prompted this one.
One more thing
Senate Bill 11 by Charles Perry (R-Lubbock): SB 11 would limit physicians ability to issue do-not-resuscitate orders, ensuring that consent given before a DNR order.