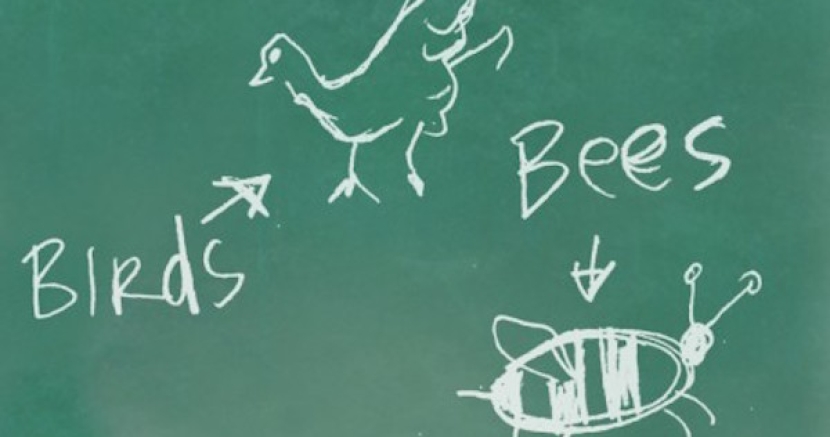 Further Proof Texas Republicans Don't Know a Thing About Sex Ed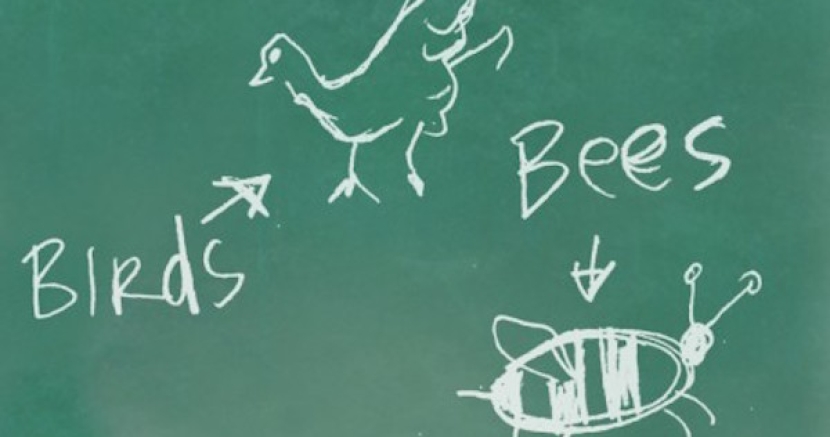 During the Texas House debate over the state's budget bill, members considered multiple amendments related to reproductive health services and sex education programs. Though Texas has the nation's fifth highest rate of teen birth, highest rate of repeat teen births and third highest HIV rate, Republicans voted to cut the state's HIV prevention funding and boost abstinence-only sex education.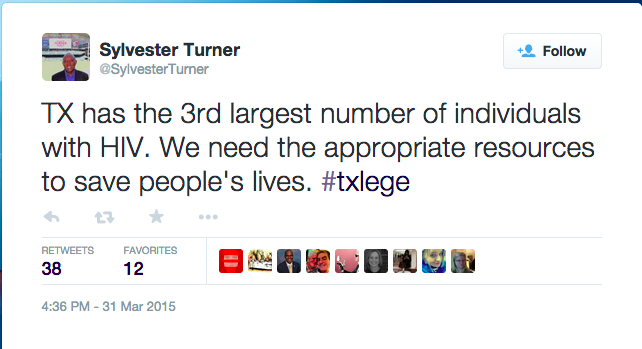 Despite a robust opposition effort mounted by House Democrats, lawmakers, by a largely party-line vote of 97-47, passed an amendment—offered by Republican Rep. Stuart Spitzer—that defunds $3 million for HIV/STD prevention programs, diverting it to abstinence-only sex education programs.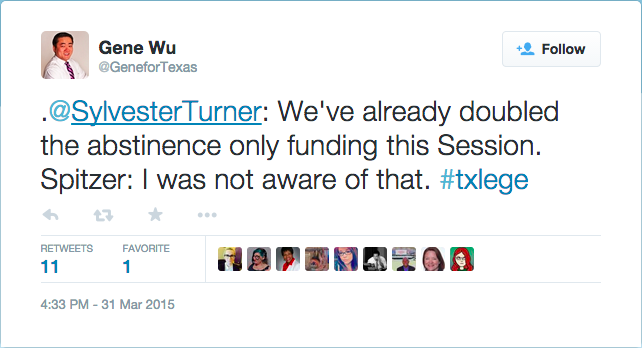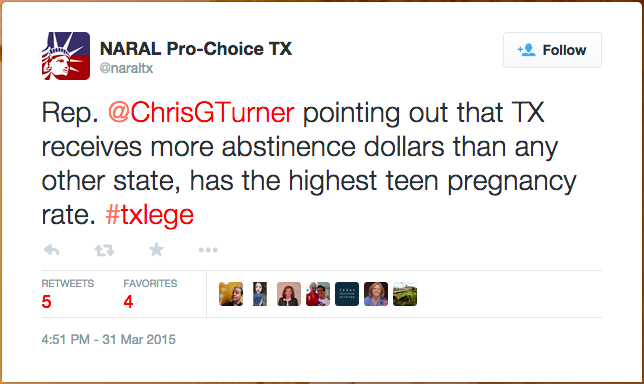 After being confronted by these statistics, Spitzer, who is a doctor, confoundingly responded: "It may not be working well. But abstinence education is HIV prevention. They are essentially the same thing." When told that STDs could be spread without having sex, Spitzer, again, a doctor by trade, replied: "You can, but it's awful hard through your clothes."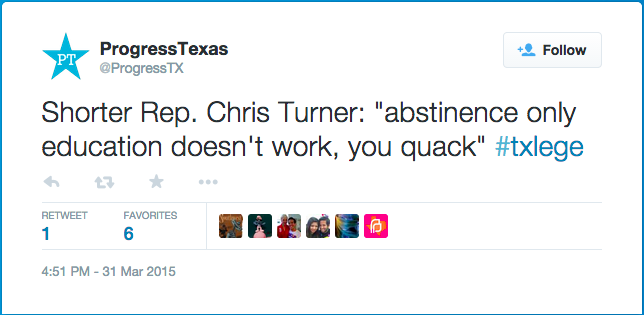 The Spitzer amendment debate concluded with a notably pointed and entertaining, albeit rather awkward, exchange. In response to Democratic Rep. Harold Dutton Jr. asking Spitzer whether he was taught abstinence education and whether it worked, Spitzer replied that he was a virgin until he married when he was 29. Spitzer then declined to answer Dutton's question as to whether his wife was the first person he propositioned.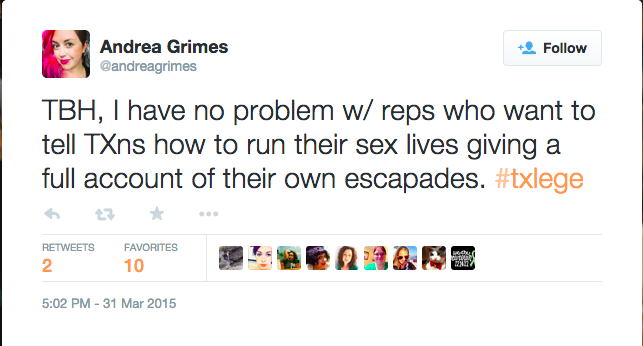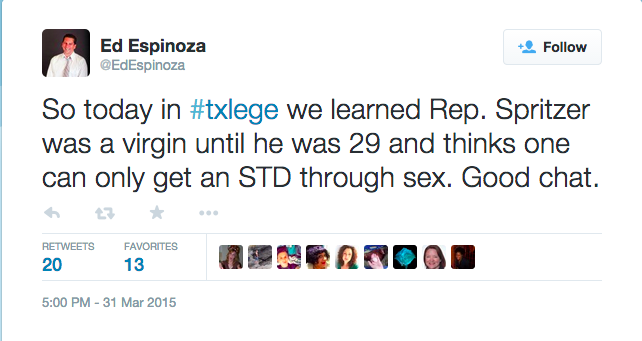 Earlier in the day, lawmakers considered another set of amendments aimed at reforming sex education in Texas. While Republican Rep. Jeff Leach won approval of an amendment that would exclude Planned Parenthood from providing sex education in schools, unfortunately but not unsurprisingly, an amendment offered by Democrat Rep. Chris Turner that would require abstinence-only, sex ed programs to be medically accurate was voted down.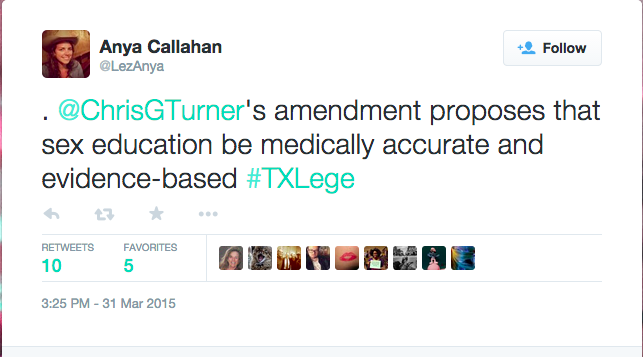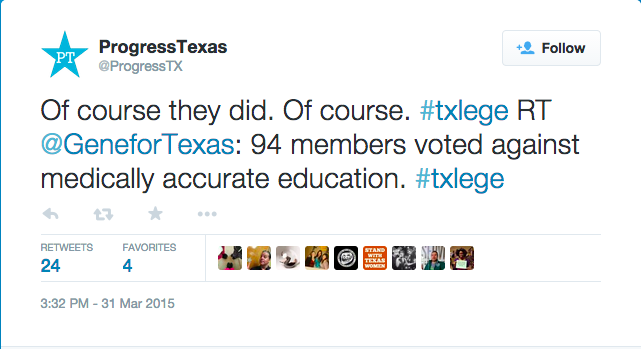 According to a report released by the Texas Freedom Network Education Fund, during the 2010-2011 school year, 74.6% of Texas schools used abstinence-only sex education. But that didn't stop freshman Republican Molly White from proposing an amendment that would further promote abstinence-only sex ed.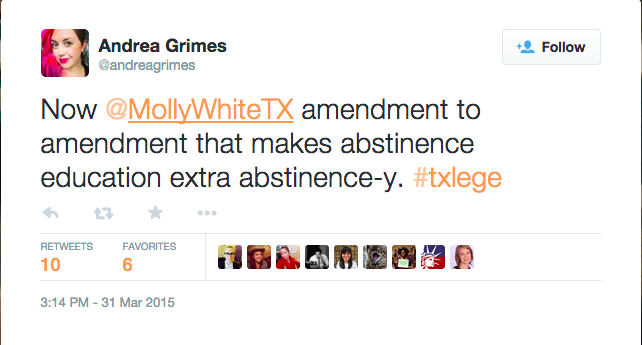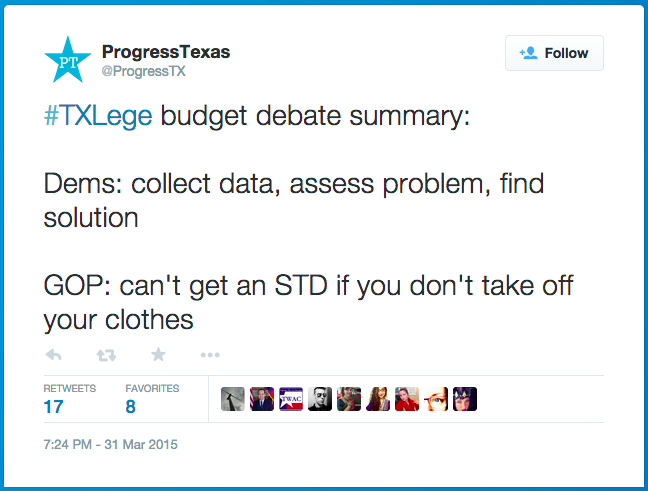 In response the House budget debate, Progress Texas' educational arm, Texas Research Institute, along with our Trust. Respect. Access. partners, ACLU of Texas, NARAL Pro-Choice Texas, National Latina Institute for Reproductive Health (NLIRH), Planned Parenthood Texas Votes, Texas Freedom Network and Whole Woman's Health issued the following statement:                
"If there was any uncertainty left, the Texas House budget debate was yet another example as to why Texas lawmakers should not play politics with the health and rights of Texans. Once again lawmakers refuse to trust Texans with their own education and health care decisions and to respect healthcare providers in making good decisions for the Texans they serve.  Instead, they prioritized politics over best practices for the health and well being of Texans and their families, including a blatant denial of access to evidence based HIV/STD prevention strategies in favor of failed abstinence-only sex education. It's time we move past such political posturing and start focusing on policies that will keep Texans healthy."