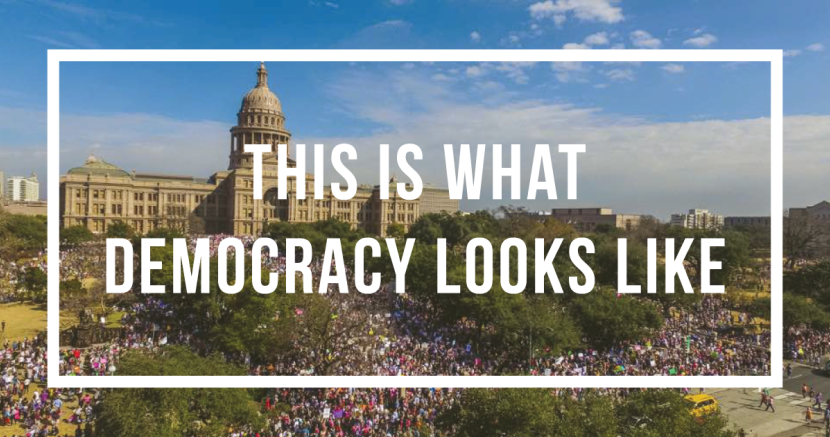 Advocacy and Resistance Events at the Texas State Capitol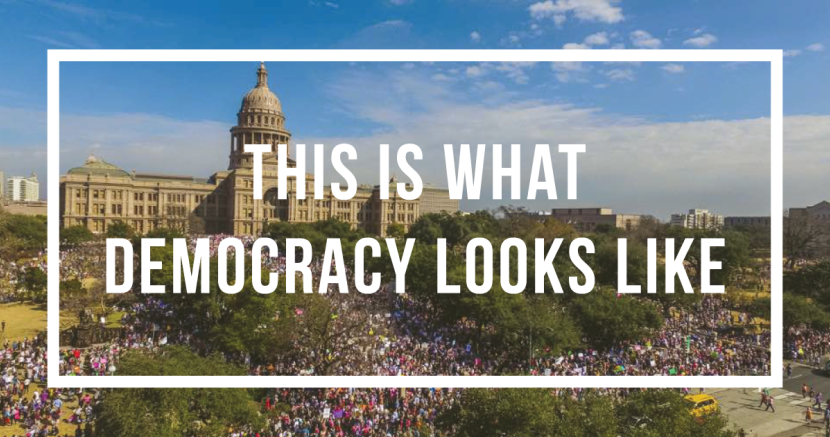 Since Trump has taken office, Texans across the state have taken action to stand up to his politics or fear and hate — we have come together as the resistance.
But Trump isn't alone in pushing for policies that divide and discriminate — Texas Republicans in our state legislature have pursued the very same backwards agenda for years. The legislature is in session until the end of May, and Texas Republicans — including Gov. Greg Abbott and Lt. Gov Dan Patrick — are more emboldened than ever by Trump in the White House.
Join the resistance and show the GOP in our Capitol that they do not represent our values. Find an issue that's important to you and register for an advocacy and resistance event:
Reproductive Rights and Justice
TX Black Women Rise Up Advocacy Day
Monday, February 27 at 11 AM - 5 PM
Texas Rising Advocacy Day (for millennials)
Thursday, February 23 at 9 AM - 5 PM
Texas Abortion Funds Advocacy Day
Tuesday, March 7 at 10 AM - 6 PM
Wednesday, March 8 at 9 AM- 12 PM
Planned Parenthood Texas Lobby Day 2017
Wednesday, April 5 at 9 AM- 9 PM
Criminal Justice
Monday, February 13 at 1:00 PM
Education
Save Texas Schools Rally at the Capitol 2017
Saturday, March 25 at 10 AM - 12 PM
Environment
Austin People's Climate March and Rally
Saturday, April 29 at 1 AM - 3 PM
Family Violence and Sexual Assault
Tuesday, February 14 at 9 AM - 1 PM
Health Care
Cover Texas Now Advocacy Day 2017
Monday, March 6 at 11:00 AM
Mental Health Capitol Day Rally and Advocacy Training
Wednesday, February 8 at 10 AM - 4 PM
Immigration and Refugee Rights
Stand with Immigrant Families & Stop SB4
Thursday, February 2 at 8 AM - 8 PM
No Ban, No Wall Rally at Texas State Capitol
Saturday, February 25 at 2:00 PM - 5:00 PM
We are all Texans: Day of Action for Immigrant and Refugee Rights
Tuesday, February 28 at 9 AM - 4 PM
Thursday, February 23 at 6:30 PM - 8:30 PM
LGBTQ Equality
Texas Rising Advocacy Day (for millennials)
Thursday, February 23 at 9 AM - 5 PM
Transgender Advocacy Day at Texas Capitol
Monday, March 6 at 7 AM -7 PM
All In For Equality Advocacy Day in Austin
Monday, March 20 at 7 AM - 7 PM
Marijuana Policy Reform
Marijuana Policy Constituent Advocacy Day
Wednesday, February 8 at 10 AM - 3 PM
Science
Saturday, April 22 at 10 AM - 1 PM
Women & Girls
Monday, April 10 at 8:30 AM - 6 PM
Monday, March 13 at 9 AM - 1 PM
Workers' Rights
Wednesday, March 1 at 10 AM - 6:00 PM
Not seeing your advocacy event? Email us a link at info@progresstexas.org