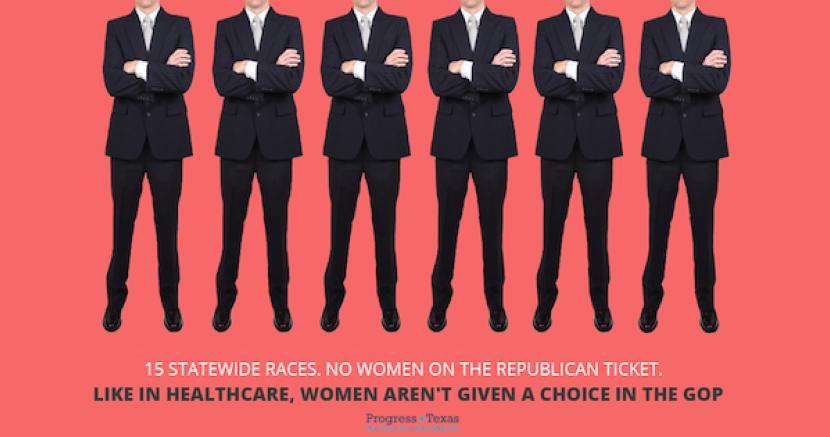 The 2014 Republican Ticket, Men: 15, Women: 0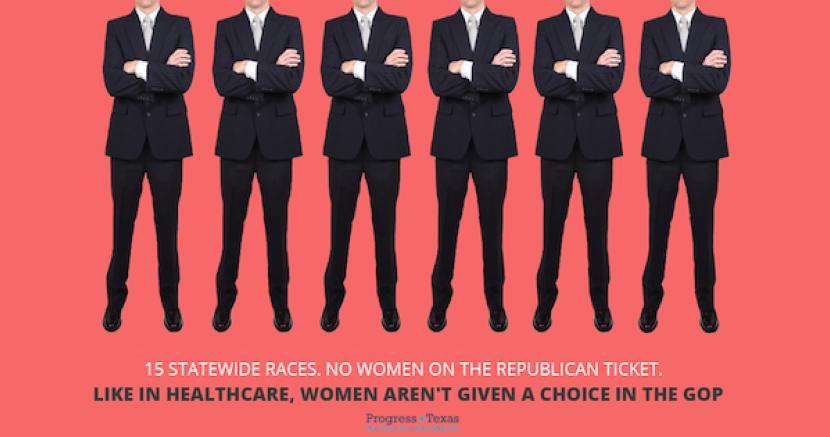 You—like us here at Progress Texas—might have noticed something distinct missing from the statewide Republican ticket. Greg, Dan, Ken, Glenn, Sid… but not a single woman.
Women make up more than 50% of our state's population, but you'd never know it by skimming the GOP roster of good ol' boy nominees.
To say these men don't represent the interests of Texas women is a wild understatement. And after spending 2013 fighting against women's rights, they are doubling-down on it in 2014.
Greg Abbott has already been caught in a pattern of paying women less than men, endorsing dangerous anti-woman rhetoric, and making controversial campaign appearances with Ted Nugent.
Dan Patrick, the newly-minted Republican nominee for lieutenant governor, is just as out of touch. This guy has vowed to obstruct equal pay legislation and authored the bill requiring doctors to perform medically-unnecessary transvaginal ultrasounds for women to get an abortion (so much for limited government). For his efforts, he was named a 2013 worst legislator by Texas Monthly.
Ken Paxton, the Republican nominee for attorney general, supported House Bill 2—the devastating anti-choice bill that has drastically reduced the number of abortion clinics across the state and created a healthcare crisis for Texas women. And if his voting record isn't bad enough, Paxton has also admitted to several felony violations of the Texas Securities Act and faces possible disbarment. 
Republican comptroller nominee Glenn Hager and agriculture commissioner nominee Sid Miller are so against abortion, they made it a central theme while campaigning for offices charged with managing finances and protecting crops.
Just like in healthcare, women don't get a choice in the Texas GOP.