Texans made a lasting impact on the virtual event.
Here are some of our favorite Texas-focused highlights from throughout the 2020 Democratic National Convention. 
1. The 2020 Democratic National Convention began with archival video footage of House Representative Barbara Jordan's famous speech at the July 12, 1976 DNC. 
Jordan was the first African American woman to deliver a DNC keynote speech. "We are a people in a quandary about the present," she said. "We are a people in search of our future. We are attempting to fulfill our national purpose to create and sustain a society in which all of us are equal."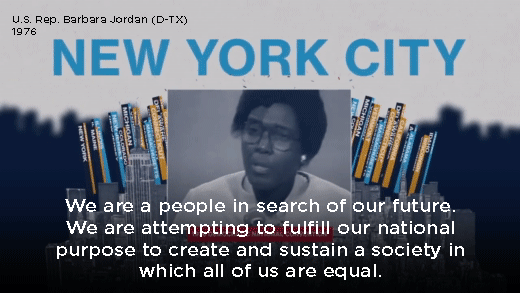 2. Eva Longoria Bastón repped Corpus Christi & San Antonio, TX while hosting the event. 
"Every four years we come together to reaffirm our democracy, this year we come to save it. Tonight we stand together, united by the values we cherish; decency, respect, justice and the opportunity to rise up."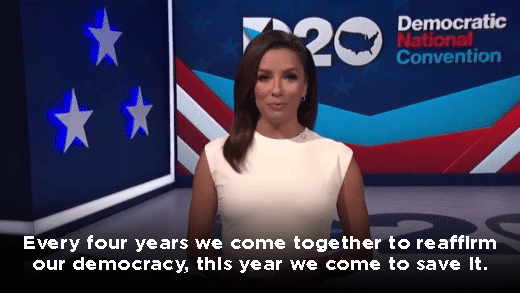 3. Harris County Judge Lina Hidalgo, a progressive leader in the state, read a portion of the preamble to open up the 2020 convention.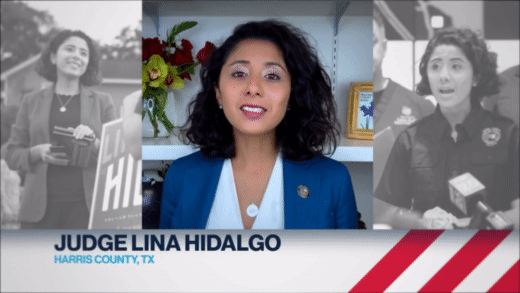 4. Michele Beebe, a school nurse in the Ysleta Independent School District (YISD) in El Paso, TX, talked about the real concerns of Texas parents.
"All I can think about is keeping our kids safe. It's a little scary to take my kids back to school with the uprising of COVID-19 cases. I will do whatever it takes to ensure we bring our kids back to school safely. I know Joe Biden will be the one to take us there."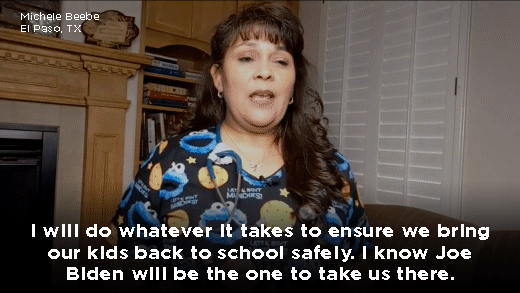 5. Philonse and Rodney Floyd, brothers of George Floyd and Houston natives, spoke out for those we've lost at the hands of police. 
"Our brother George was selfless. He always made sacrifices for his family, friends and even complete strangers. George had a giving spirit. A spirit that has shown up on streets around our nation and around the world. People of all races, all ages, all genders, all backgrounds peacefully protesting in the name of love and unity. George should be alive today, Brionna Taylor should be alive today, Ahmaud Arbery should be alive, Eric Garner should be alive today, Stephan Clark or Tatiana Jefferson, Sandra Bland, they should all be alive today.  So it is up to us to carry on their fight for justice. Our actions will be their legacies. We must all find ourselves in what John Lewis calls, 'good trouble.'"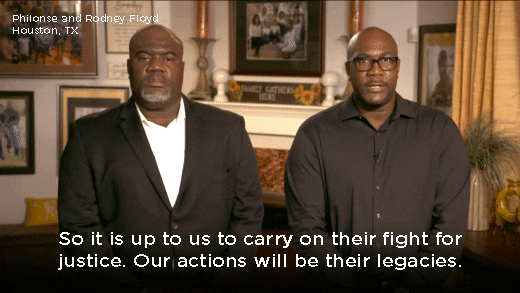 6. Fort Worth native Leon Bridges performed his song "Sweetener". 
"Why do I fear with skin dark as night?
Can't feel peace with those judging eyes
Hoping for a life more sweeter"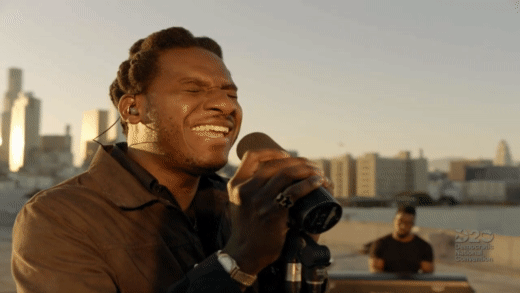 7. El Pasoan Beto O'Rourke spoke near the end of the night along with the rest of the former Democratic presidential candidates who all rallied around to voice their support for Joe Biden. 
"There are no sidelines. There's no sitting this one out. There's no hoping that someone else is gonna come in and save the day. There is no cavalry! We are the cavalry."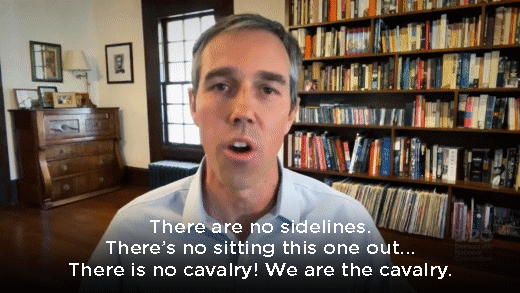 8. The second night of the DNC began with a dynamic keynote address made up of different elected officials across the country, including Texas' own State Rep. Victoria Neave and U.S. Rep. Colin Allred.
Texas. Rep. Victoria Neave (HD-107)
"In Texas we're standing up for fierce women like my mom and my tias who raised us to never back down."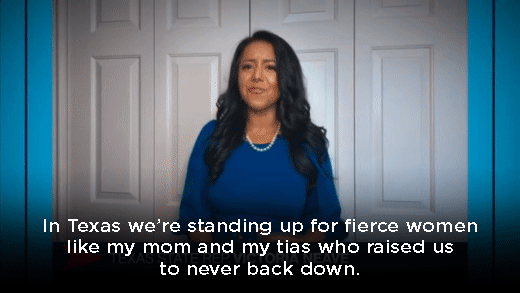 U.S. Rep. Colin Allred (TX-32)
"I look around in my district, in North Texas, and I see the people who built this country. The educators like the single mom who raised me. The men and women on the front lines of our healthcare system. You built this country."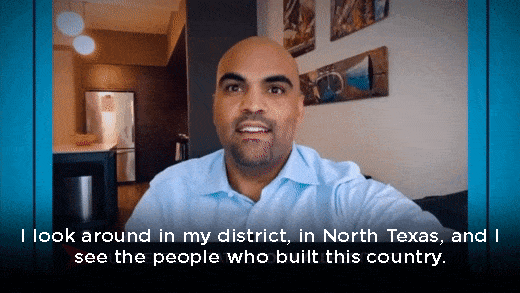 9. A big fixture of the night was the national roll call of states and territories to officially cast their votes for Joe Biden. El Paso Rep. Veronica Escobar (TX-16) brought us all back to the tragic El Paso shooting last year and also reminded us of our great state's resilience. 
"A year ago, my safe community of El Paso was targeted by a domestic terrorist who murdered 23 innocent people, injured 23 more and devastated all of us. His motive was racism and xenophobia. In the face of hate we choose love. Siempre lo hemos hecho y siempre lo haremos. And in the face of continued gun violence in America, we demand change. the time has come to act. With one abstention the great state of Texas casts 98 votes for Bernie Sanders and 161 votes for our next president Joe Biden."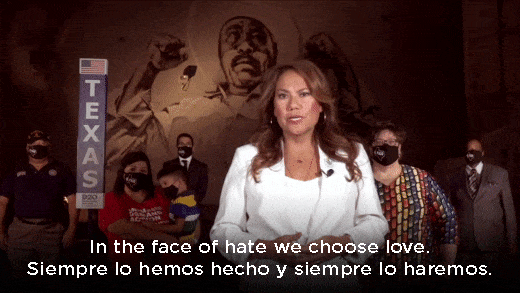 10. Texas Democrats held their own Democratic Convention pre-show, packed with guests talking about the path to flipping Texas. 
Special guests included the founder of Fair Fight Action Stacey Abrams, our U.S. Senate candidate MJ Hegar, former U.S. Presidential & U.S. Senate candidate Beto O'Rourke, former U.S. Presidential candidate & Secretary of Housing & Urban Development Julián Castro, DNC Chair Tom Perez, and actress Connie Britton.
Texas Democrats' Democratic National Convention Pre-Show

Join us this Thursday for our Democratic National Convention Pre-Show with special guests Stacey Abrams, MJ Hegar, Beto O'Rourke, Julián Castro, Tom Perez, and Connie Britton!

Posted by Texas Democratic Party on Thursday, August 20, 2020
11. Harris County Judge Lina Hidalgo joined a cohort of progressive leaders from across the country to talk about where we'll be a year from now. 
"The promise of America will be restored for all our communities, all our families, for all of us. And when I say, 'All of us,' quiero decir todas, nuestras familias."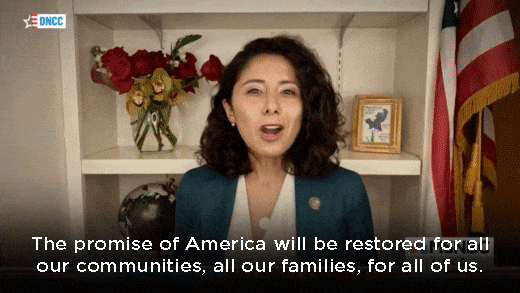 12. Texas' own The Chicks performed the National Anthem.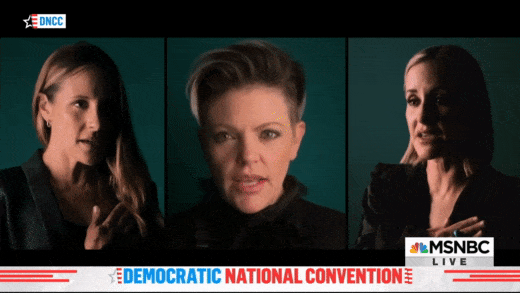 13. Beto O'Rourke joined other former Democratic Presidential candidates in support of our nominee Joe Biden.
Notably missing from the lineup was former Secretary of Housing and Urban Development Julián Castro.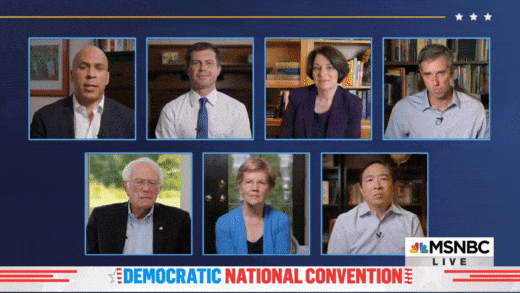 As we work to support Democratic candidates up and down the ballot this November, the message that Texas is the biggest battleground state will ring true across the nation. We're ready to flip Texas, and hope you'll join us in this fight. 
DONATE
Your donation supports our media and helps us keep it free of ads and paywalls.