You're Not Welcome Here: How book bans alienate Texas students
Aside from a slew of primary candidates, public education is also on the ballot this election season.
Toplines and key facts:
This year has seen a major upsurge in book challenges across the state, specifically books that discuss racism and sexuality.

A recent poll found that a vast majority (62%) of Texans oppose efforts to ban books.

Books are a tool for developing critical thinking skills, empathy and self-acceptance.

Assaults on public education by Texas Republicans will have repercussions for years to come.
The bedtime stories your parents read aloud to you, that one book you kept checking out at the library again and again, the book that made you laugh out loud or the one that made you mad—they all expanded your mind and made you the person you are today. Books are integral to free expression, and yet book banning is the most widespread form of censorship in the United States. 
The ACLU of Texas has been tracking book banning since 2001 and while literary censorship is certainly nothing new, the rate of book challenges have spiraled this year with the recent attacks by Texas Republicans on public education. To put it into context, in 2019 Texas schools reported only 17 library book challenges statewide. Twice as many have been filed so far this school year in a single school district, and most of them deal with racism and sexuality. 
These attacks began last year with HB 3979, a bill that limits how teachers can discuss race and current events in social studies courses. Governor Abbott then updated the restrictions to all subjects in grades K-12 with the passage of SB 3 during a special session. Encouraged by the passage of these bills, Republican State Rep. Matt Krause demanded that Texas school districts investigate whether their libraries contained titles from a 16-page list of books he claims make certain 'students feel discomfort'; the first book on the list a non-fiction book on the Black Lives Matter movement. 
Next, Governor Abbott decided that books with sex-positive LGBTQ characters were pornographic so he sent a letter to the TEA Commissioner asking them "to refer any instance of pornography being provided to minors under the age of 18 for prosecution to the fullest extent of the law." And in the latest spectacle, Lt. Governor Dan Patrick stated he wants to end tenure for all new hires at Texas public universities and colleges in an effort to combat the teaching of critical race theory. 
"You should be able to see yourself reflected on the page."
This quote comes from a 17 year old queer student in Texas in response to her favorite LGBTQ books being banned. For her, and for countless other students across the United States, book bans mean much more than just an empty space on a shelf. Books, especially those that feature relatable characters and storylines, can provide students with a 'safe haven' and a healthy avenue to cope with things they may be struggling with. 
Jack of Hearts (and Other Parts) by L.C. Rosen tells readers that not only is their sexuality okay, but something to be proud of. New Kid by Jerry Kraft shows children struggling with racist bullying that they aren't alone. Banning books like these by labeling them as 'pornographic', 'deplorable' or anything else tells students like the aformentioned 17-year-old student that people with identities or experiences like them aren't welcome in Texas. 
The right books challenge worldviews, give insight into the experiences of others and most importantly teach children empathy. The current rise of book bans in Texas will have resounding effects on the wellbeing of K-12 students and beyond.
Texans seem to understand this given that  a recent poll from the Texas Politics Project found that 4a majority of Texans (62%) oppose book banning, with 47% strongly opposing.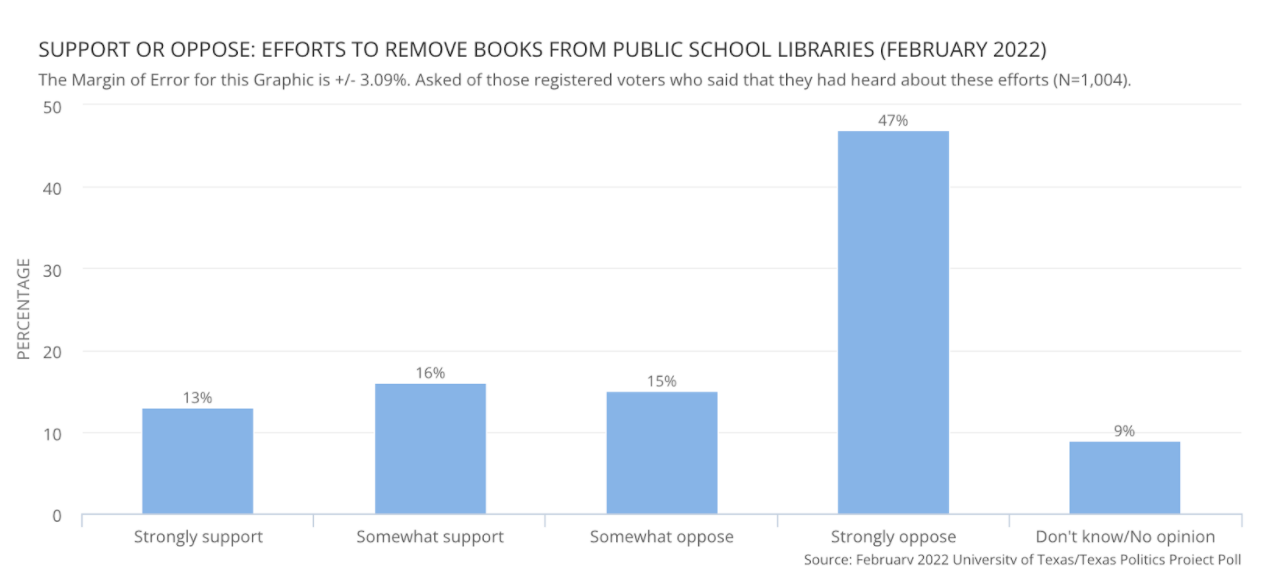 The popularity of challenging books that deal with racism and sexuality is the latest conspiracy on behalf of conservatives to create a false American identity. Critical race theory (CRT) is not taught at the grade school level, but that hasn't stopped Republicans from turning it into an issue to rally their base around. At the university-level, CRT says that racism is built into and perpetuated by our institutions and structures of governance, like the educational system. Can someone tell Governor Abbott and Texas Republicans that their efforts to censor literature and history in public schools through the government is exactly what CRT is talking about? They may lack empathy and critical thinking skills but that doesn't mean that our kids have to as well. 
Education is on the ballot:
Aside from choosing a slate of strong Democratic opponents to take on Abbott and his cronies during this Primary Election season, candidates for Texas' State Board of Education (SBOE) will also appear on the ballot. The SBOE sets policies and standards for Texas public schools. Early voting for the primaries runs through Feb. 25 and Election Day is March 1. Go to the polls and vote to teach the truth.
DONATE
Your donation supports our media and helps us keep it free of ads and paywalls.