Women's Reproductive Rights Thrown Under Bus (Again) in Gov. Abbott's Special Session
In a legislature still dominated by men, women's rights got steamrolled. Three of the 12 bills passed during the special legislative session involve restricting Texas women's right to access abortion.
Though much of Governor Greg Abbott's discriminatory and dangerous special session agenda was defeated — yes, the resistance killed Lt. Governor Dan Patrick's "bathroom bill" for the time being — his attacks targeting Texan's reproductive freedom were not. As has been the case in every regular legislative session over the last two decades, Texas women's — and transgender men and gender nonconforming Texans' — reproductive rights were thrown under the bus to stave off attacks on other progressive issues.
To make matters worse, not only does this latest onslaught of abortion restrictions come at a time when Texas women struggle with the highest maternal mortality rate in the developed world, but also just months after Texas anti-abortion lawmakers passed a sweepingly cruel bill during the regular session. That regular session bill — Senate Bill 8 — forces fetal burial and effectively bans abortion after 13 weeks, and is already facing a formidable legal challenge contesting its constitutionality. The reproductive rights groups currently suing the state over SB 8 scored a major victory just last summer when the US Supreme Court struck down as unconstitutional a 2013 anti-abortion law that shuttered half of the state's abortion clinics. Anti-abortion politicians, however, came into the 2017 legislative sessions undeterred by the Court calling out the lies they used to justify restrictions in previous sessions — and by the Court's ruling that these restrictions placed an undue burden on Texas women.
While much of the focus this legislative session has been on the resistance to the GOP's high-profile "bathroom bill," these no-less insidious, anti-abortion bills made it into law, joining more than a dozen other abortion restrictions currently on the books in Texas.
Ban on insurance coverage of abortion
Anti-abortions politicians who make up the majority in both the Texas House and Senate passed and Governor Abbott signed into law House Bill 214, a bill banning all general health insurance plans in Texas from covering abortion. This ban will force women to buy separate, more expensive coverage or to pay out of pocket for the medical procedure, and does not include exceptions for cases of severe fetal abnormality, rape or incest.
The reality is, however, that in other states that have enacted similar laws, these supplemental abortion plans do not exist. As Rep. Chris Turner (D- Fort Worth) exposed on the House floor the ban runs counter to how insurance actually works: "We have insurance for things we don't plan for. That's what insurance is." Because women don't anticipate the need to have insurance for an unintended pregnancy or a wanted, non-viable pregnancy, insurance companies don't sell it.
Banning insurance coverage of abortion — which is the true intent and impact of the bill — jeopardizes Texans' health and disproportionately impacts low-income Texans, immigrants, people of color, young people, and people in rural communities.
Increased reporting requirements to target providers and women and to further stigmatize abortion
House Bill 13: The lie anti-abortion politicians used to justify their devastating 2013 law — that they were somehow working to protect women's health and safety — was resoundingly rebuked by the Supreme Court just last summer. Relying on data provided by the state's own health agency using the extensive reporting system already in place, the Court confirmed that abortion is a safe medical procedure with an extremely low complication rate in Texas. So naturally, anti-abortion politicians came back in 2017 to abuse the legislative process to bolster their debunked lie. Billed as a benign "abortion complications reporting" bill, HB 13 seeks to to further stigmatize abortion and push the procedure out of reach and to target providers and women seeking care.
House Bill 215: As a follow up to the cruel bill they passed in 2015 restricting abused and neglected young women's access to abortion, HB 215 forces doctor to report unnecessary details about every minor who has an abortion. According to Jane's Due Process, "the intent of this legislation is to intimidate clinics so they stop telling teens about their constitutional rights."
Further defunding of Planned Parenthood was defeated, for now.
Instead of focusing on fixing the state's broken women's health program, Gov. Abbott called lawmakers back into the special session with the goal of further defunding Planned Parenthood — despite overwhelming evidence that women lost access to critical health care services when Planned Parenthood was kicked out of the program in 2011.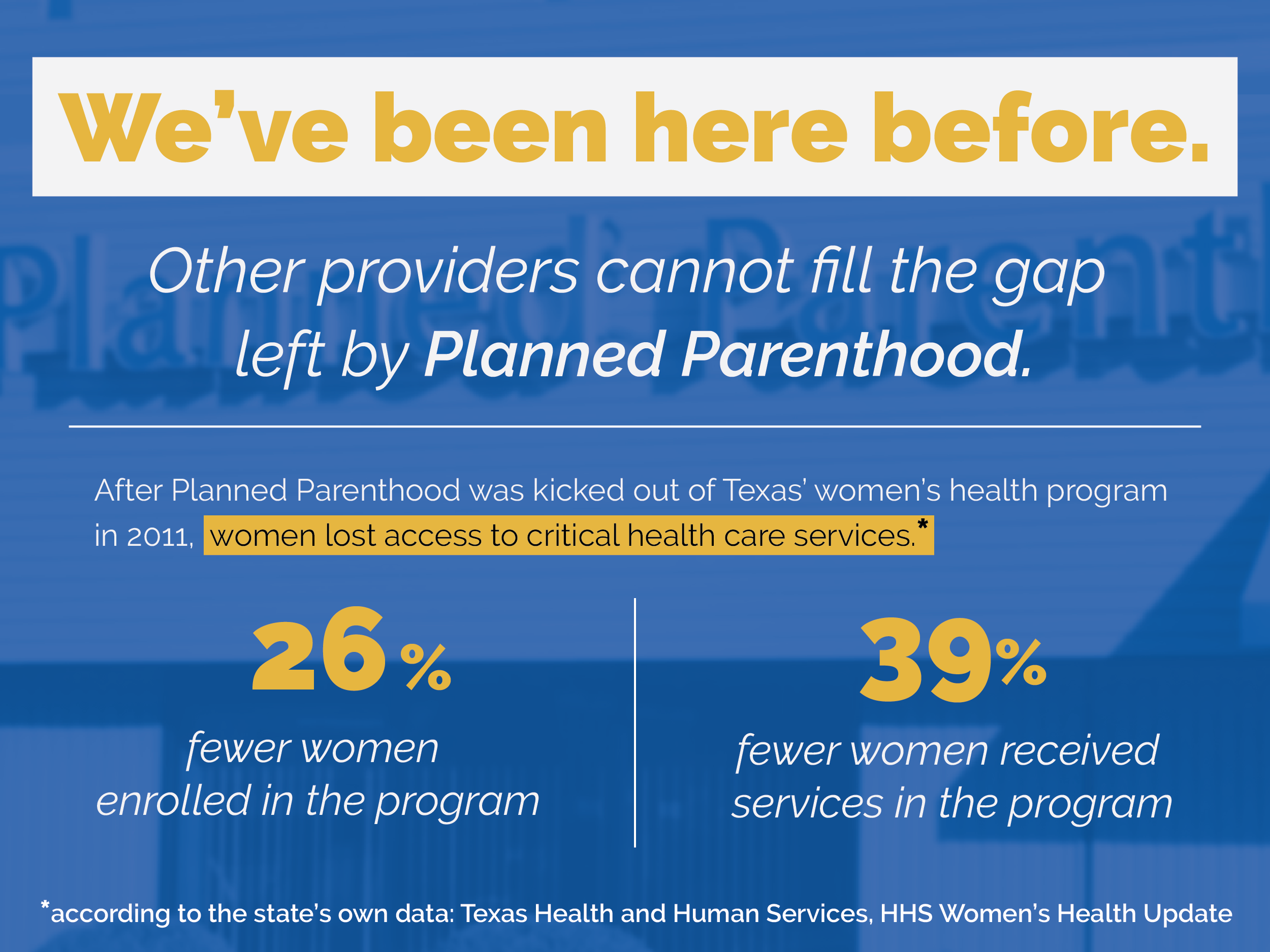 The bills proposed — and defeated — during the regular and special sessions would have barred local governments from partnering with Planned Parenthood to provide health care services to low-income communities. Gov. Abbott, however, did approve a state budget that continues existing prohibitions on Planned Parenthood health centers' participation in the Healthy Texas Women program and includes a broad amendment banning health centers from any and all state funding.
DONATE
Your donation supports our media and helps us keep it free of ads and paywalls.