Trump Administration capitalizes on COVID-19 lockdowns to accelerate land grabs in Texas
Image Credit
Nayda Alvarez' South Texas roof in rural Starr County bears a message to President Trump and anyone else who wants to build a border wall through her property. (Border Report Photo/Sandra Sanchez)
The Trump Administration is forcing Texas border residents to make an impossible choice: protecting their health or their homes.
Instead of focusing on increasing health and safety measures during the COVID-19 pandemic, the Trump Administration has doubled down on its promise to build 450 miles of border wall by the end of the year and in Texas specifically, where most of the land on the border is privately owned, government attorneys are continuing with land acquisitions to build the wall on mostly private property. 
Before the COVID-19 pandemic advocates, like Roberto Lopez with the Texas Civil Rights Project (TCRP), who have been fighting to stop border wall construction altogether were conducting Know Your Rights trainings for border residents, going door-to-door to give residents information, and coordinating wall construction protests. Once the state went into lockdown, advocates were no longer able to conduct their usual in-person tactics to equip people with the information they needed to defend their homes. 
Now, the administration has sued nearly three times the number of people compared to pre-COVID times in order to seize land to build a wall along the southern border of Texas. 
As you can see in the chart below provided by TCRP, as COVID cases skyrocketed, so did the government's eminent domain filings. Nearly half of the cases filed in the past year were filed in the past three months.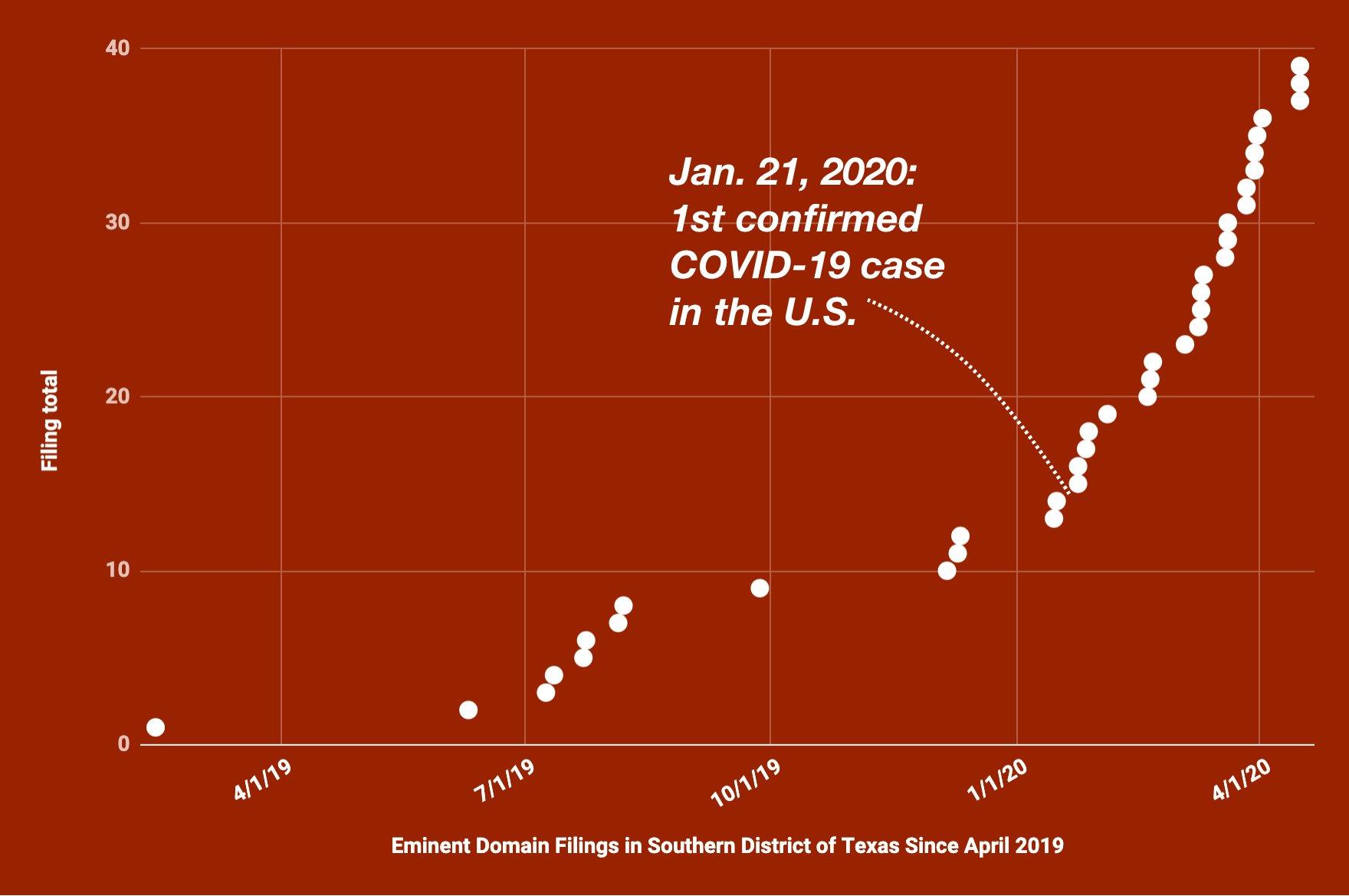 As recently as last week, this administration even sued an orphanage for the purpose of wall construction in the middle of a pandemic. Land surveyors have also been photographed inspecting private property without masks, gloves, or any kind of protective gear. 
Now property owners like Nayda Alvarez, who is being represented by the TCRP and the ACLU, are having to choose between appearing in-person at court and risking contracting the coronavirus, or not showing up at all and relinquishing certain legal rights. 
Not only is this an infuriating choice that no one should have to make, but it's a choice that demonstrates this administration's cruel approach to fulfilling racist and xenophobic campaign promises at the expense of vulnerable populations, and shows how immoral and injurious their priorities are as we contend with a deadly pandemic. 
It is shameful that our state leaders, like Gov. Greg Abbott, have not only refused to stand up for their own residents but have actively supported and enabled the administration in the continued building of this absurd wall. 
We must allocate these same resources to fighting COVID-19 and helping the millions of Texans who are suffering and uncertain about their livelihoods.
_____
Ali Lozano is the Voting Rights Outreach Coordinator at the Texas Civil Rights Project where she develops and implements legal advocacy initiatives in response to shifts in policies affecting voting rights. She has previously worked for the LGBTQ Victory Fund and the Texas Freedom Network and has served on three boards for organizations working to advance LGBTQ equality and reproductive justice. 
DONATE
Your donation supports our media and helps us keep it free of ads and paywalls.