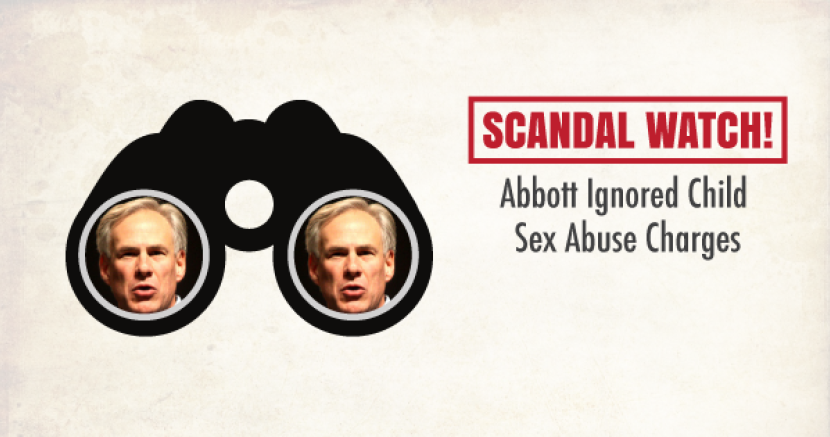 Timeline of Abbott Ignoring Child Sex Abuse Charges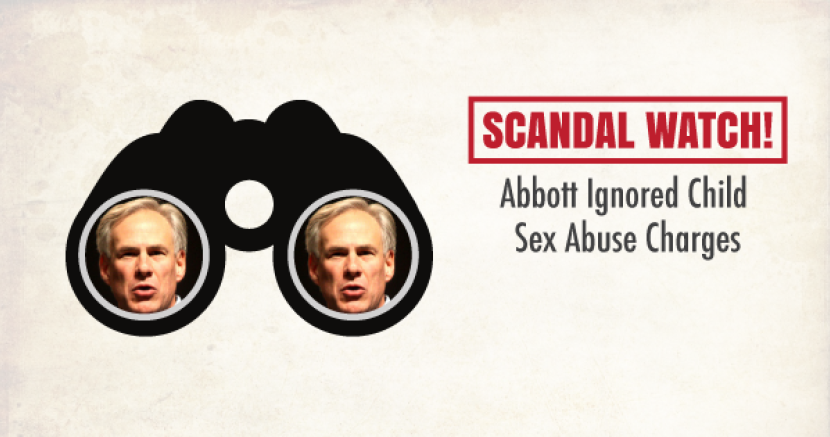 Senator Wendy Davis just released a new ad slamming Attorney General Greg Abbott for covering up a child sex abuse scandal at the Texas Youth Commission.
In 2005, reports of sexual abuse by state officials at the Texas Youth Commission were first reported to Gov. Rick Perry's office. Almost a year later, on February 21, 2006, Attorney General Greg Abbott's office was notified. For eleven months, Abbott did nothing as 16 more instances of child sex abuse and neglect occurred:
A summary of the timeline leading up Greg Abbott's cover-up is below, borrowed from previous research on the story completed in 2010.
The sexual abuse and misconduct at the West Texas State School was brought to the attention of Rick Perry's staff in June 2005. The Houston Chronicle dug into what Perry and his staff knew - and when he knew it - in two major articles:  "TYC shake-up comes 2 years after probe" and "Perry aides aware in '05 that TYC charges not pursued". The recap below combines material from those two articles, unless otherwise specified.
From 2000 to 2007 - Rick Perry's office received written complaints about abuse at TYC facilities from 33 parents, two students, and two staff members. However, none from the Governor's office showed any records from West Texas State School. Yet, according to the Houston Chronicle, a separate open records request sent to the TYC "produced e-mails the commission sent to state leaders about the investigation at the West Texas State School."
 
February 2005 - Perry aides were notified by TYC of the initial investigation. Rick Perry staff member Alfonso Royal said that, though he did not receive the report, he received the "ranger's notes and talked to the ranger about his investigation."
 
March 2005 - TYC Chief of Staff Joy Anderson exchanged three e-mails with Royal, which "showed that TYC was keeping him abreast of the West Texas investigation and at least once gave him a verbal briefing."
 
June 13, 2005 - Royal e-mailed Anderson to ask, "What is going on in the West Texas investigation?" Eighteen mintues later, Anderson replied that "Both the assistant superintendent and the principal resigned in lieu of termination. we aren't aware of any pending criminal changes."
 
June 2005 - October 2006 - Neither Rick Perry nor anyone in his office checked back with TYC for sixteen months.
 
July 28, 2005 - The U.S. Department of Justice reviewed the case at the West Texas State School, but declined to pursue federal prosecution. In their letter of response, they gave conflicting and question reasons about evidence -- which, as outlined above, was clearly sufficient at the time -- and jurisdiction. Seven months later, Ranger Burzynski explained that the DOJ "prepared an indictment but had to pass it up their chain of command for approval to prosecute. In the end, they didn't get that approval." (Source: Burzynski e-mail & DOJ e-mail, courtesy of the Lone Star Project).
 
February 21, 2006 - Ranger Burzynski e-mailed Assistant Attorney General William Tatum, alerting him to the fact that the local prosecutor was "very weak" and seeking assistance for help prosecuting the case. (Source: Burzynski e-mail, courtesy of the Lone Star Project).
 
February 23, 2006 - Burzynski e-mailed Tatum again, repeating his request for assistance. He received no response. (Source: Lone Star Project).
 
October 2006 - State Representative Sylvester Turner's chief of staff, Alison Brock, brought the report to the attention of Royal. At the time, Royal said "he was unaware of the West Texas case when she called" -- despite the documentation and e-mails listed above.
 
January 17, 2007 - After the November election, Royal finally works to get the local DA to "request prosecutorial assistance" to go forward with the case and pressing charges regarding the incidents discussed in Ranger Burzynski's report.
 
February 18, 2007 - The Dallas Morning News and Texas Observer first discover -- and alert the general public -- about the sexual abuse and misconduct at TYC. Perry makes claims saying this is the first he learned about the abuse.