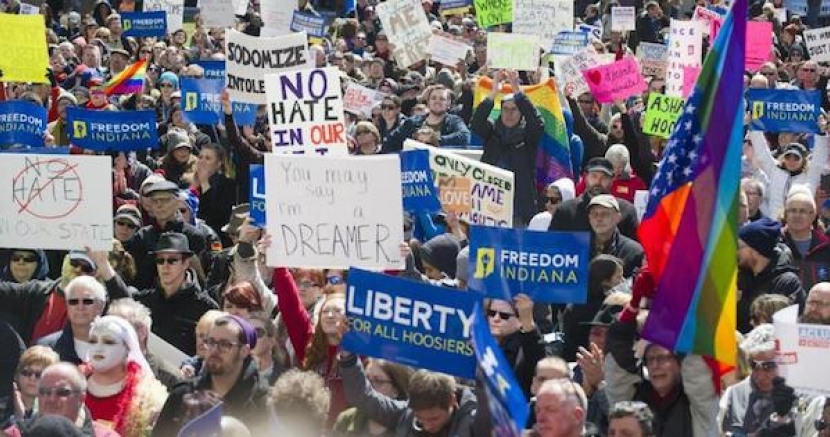 Texas: Take Note of Indiana Religious Discrimination Backlash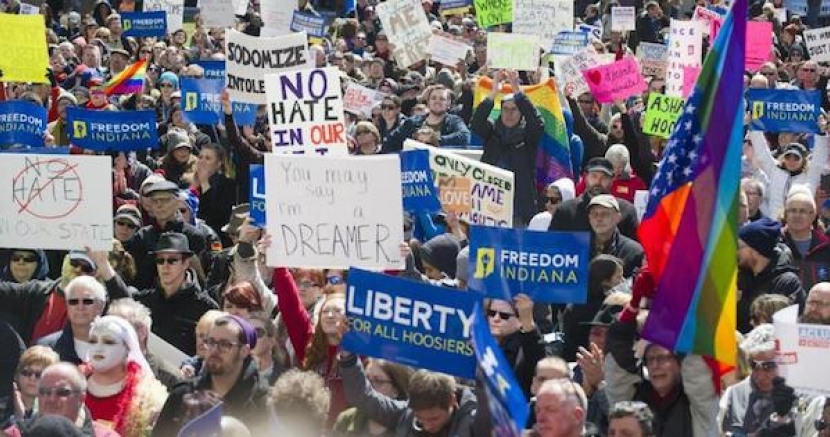 Last week, Indiana's Republican Governor Mike Pence signed a bill known as the "Religious Freedom Restoration Act" into law—a bill strikingly similar to one proposed in Texas this legislative session. In the days since, Indiana's religious discrimination law has sparked intense backlash from businesses, associations, local and state governments, civil liberties groups and LGBT advocates from across the country. Thousands gathered in front of the Indiana Statehouse in Indianapolis on Saturday to protest the new law which could be used by individuals and businesses to discriminate—particularly against lesbian, gay, bisexual and transgender individuals—in the name of religious freedom.
Senator Donna Campbell's SJR 10 is similar in scope to—and even more vague than—Indiana's radically discriminatory bill and would allow individuals and institutions to use religion to fire or turn away LGBT Texans and could also harm women, children and Texans of all faiths. And there is every reason to believe that if Texas lawmakers were to pass such a measure, the same resoundingly negative outcry and costly economic impact would ensue.
Today we are canceling all programs that require our customers/employees to travel to Indiana to face discrimination. http://t.co/SvTwyCHxvE

— Marc Benioff (@Benioff) March 26, 2015
.@GovPenceIN, is it going to be legal for someone to discriminate against me & others when we come to the #FinalFour? http://t.co/uBlKbIf8YK

— Jason Collins (@jasoncollins98) March 23, 2015
Apple is open for everyone. We are deeply disappointed in Indiana's new law and calling on Arkansas Gov. to veto the similar #HB1228.

— Tim Cook (@tim_cook) March 27, 2015
Because of Indiana's new law, later today I will sign an Executive Order regarding state-funded travel. -DM

— Governor Dan Malloy (@GovMalloyOffice) March 30, 2015
When new laws turn back the clock on progress, we can't sit idly by. We are sending a message that discrimination won't be tolerated. -DM

— Governor Dan Malloy (@GovMalloyOffice) March 30, 2015
The Texas Association of Business has already expressed public opposition to the dangerous and unnecessary bills touted by extreme right-wing lawmakers under the guise of "religious freedom."