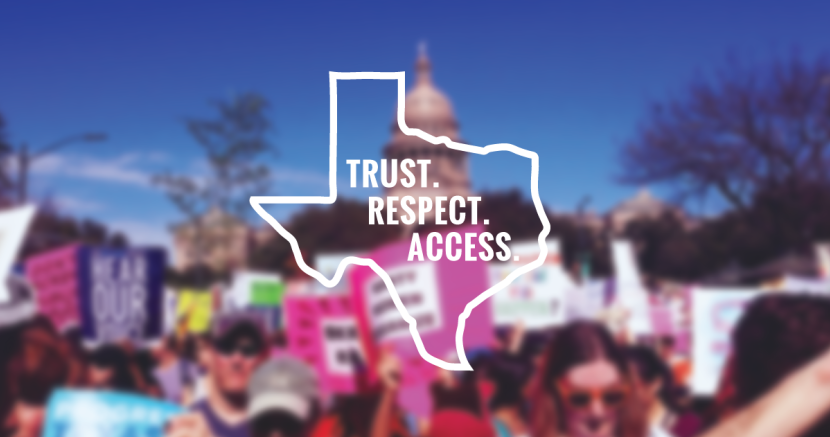 Texas Progressive Groups Bring Fight for Reproductive Rights and Justice to the State Capitol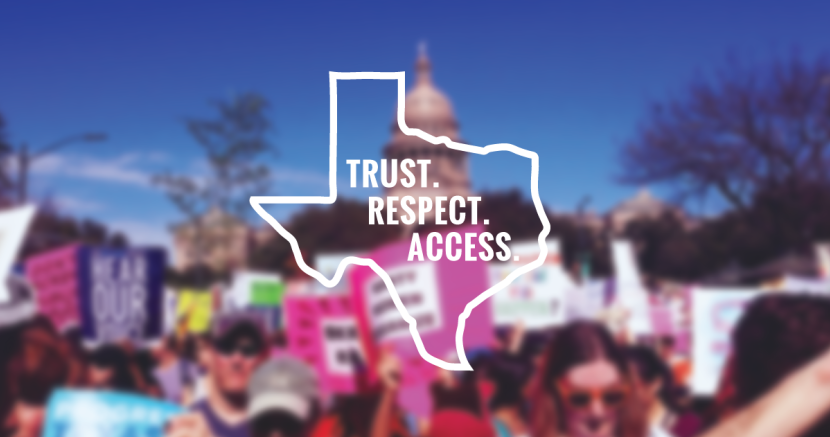 The coalition envisions a Texas where everyone — regardless of their age, income, zip code, gender identity, immigration status, or whether they are incarcerated or detained — has access to all reproductive health care options.
On Wednesday, a broad coalition of organizations representing diverse voices from across the state announced a coordinated, proactive reproductive health, rights, and justice policy campaign for Texas.
The Trust. Respect. Access. campaign aims to promote trust in Texans to make their own reproductive health care decisions, respect for the judgment of medical professionals, and access to abortion and the support all Texas families need to thrive.
In the midst of a sustained legislative attack from anti-abortion lawmakers, Texans across the state have come together in an unprecedented outpouring of activism and organized resistance. 
Click here to join the fight: Ask your representatives in the state legislature to stand with you in the fight for policies like access to birth control, comprehensive sex education, respect for the doctor-patient relationship, abortion access, and economic justice issues, like equal pay and paid family leave.
The coalition partners include: ACLU of Texas, Afiya Center, Jane's Due Process, Lilith Fund for Reproductive Equity, NARAL Pro-Choice Texas, National Latina Institute for Reproductive Health, Planned Parenthood Texas Votes, Progress Texas, Texas Equal Access Fund, Texas Freedom Network, and Whole Woman's Health.
House Representative Jessica Farrar (D- Houston):
"The legislature should focus on improving health care accessibility and supporting the needs of parenting women and families, instead of constructing barriers to care. I urge lawmakers to respect the doctor-patient relationship and support my proposal to strike one of the most egregious lies, a medically refuted correlation between breast cancer and abortion, from the state's so-called "Woman's Right to Know Act." By trusting and respecting the doctor-patient relationship and a woman's ability to access health care services, legislators will ensure Texas women and their families lead happy, healthy, and productive lives."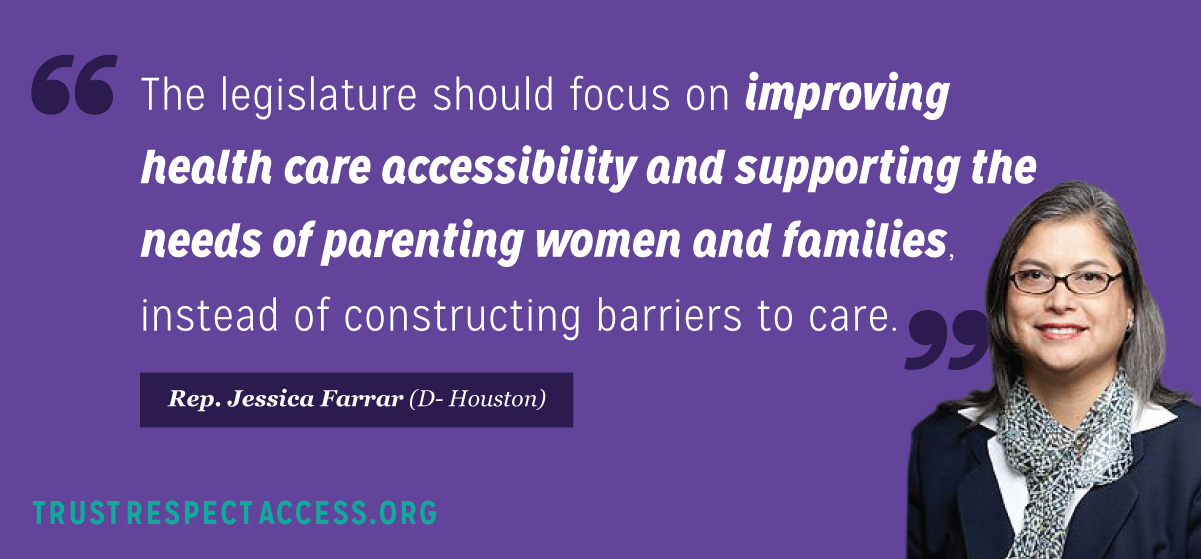 Nan Little Kirkpatrick, Executive Director, Texas Equal Access Fund:
"Every day, Texas Equal Access Fund and abortion funds around the state hear from people who are encountering a variety of barriers to abortion access and true reproductive justice. For us, the conversation is about abortion access, but it's about so much more than that -- it's about economic, racial, and gender justice. When we talk about access, we have to think about all of the forces that lead a person to calling an abortion fund for financial assistance. Coverage bans for abortion at the state and federal level are one factor, but we also know that fair wages, family leave, access to childcare, and economic opportunity are essential for true reproductive freedom."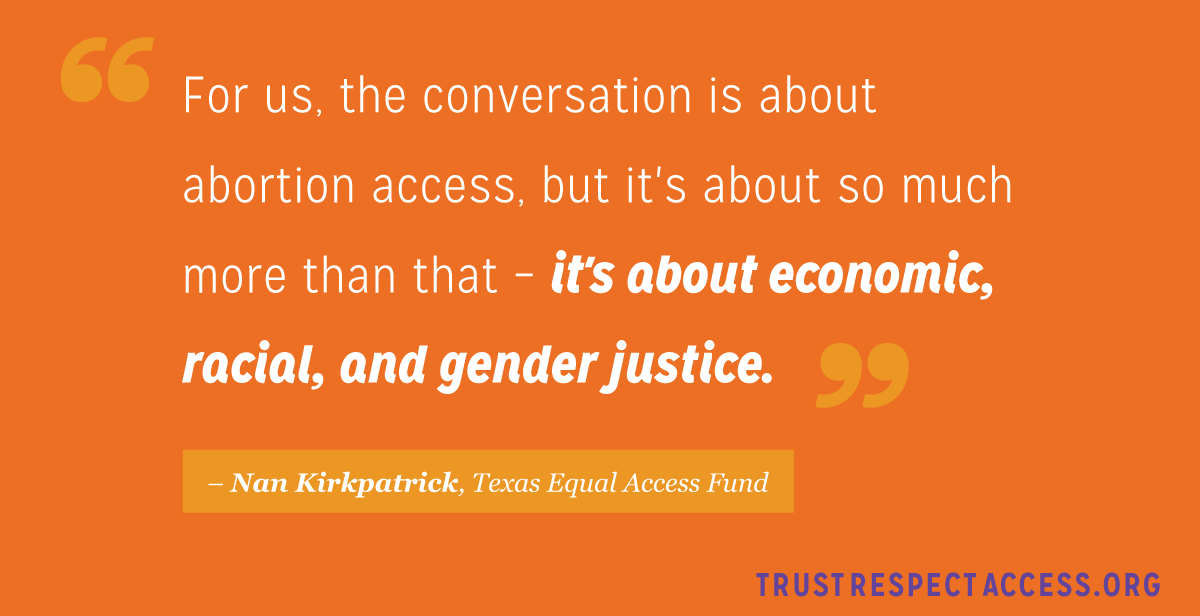 House Representative Ina Minjarez (D- San Antonio):
"Supporting family values means supporting families. Unfortunately, many of the same lawmakers who are against policies that guarantee access to a full range of reproductive healthcare are also not supportive of policies that would make it easier for Texans to care for their families — like paid leave. This session, I urge the Legislature to support House Bill 656 — a proposal that will give Texas workers the opportunity to earn up to 30 days of paid family and medical leave — because Texas families deserve the security that comes with knowing that if they or a loved one falls seriously ill and needs to be cared for or if a woman decides to have a child, they won't lose their paychecks."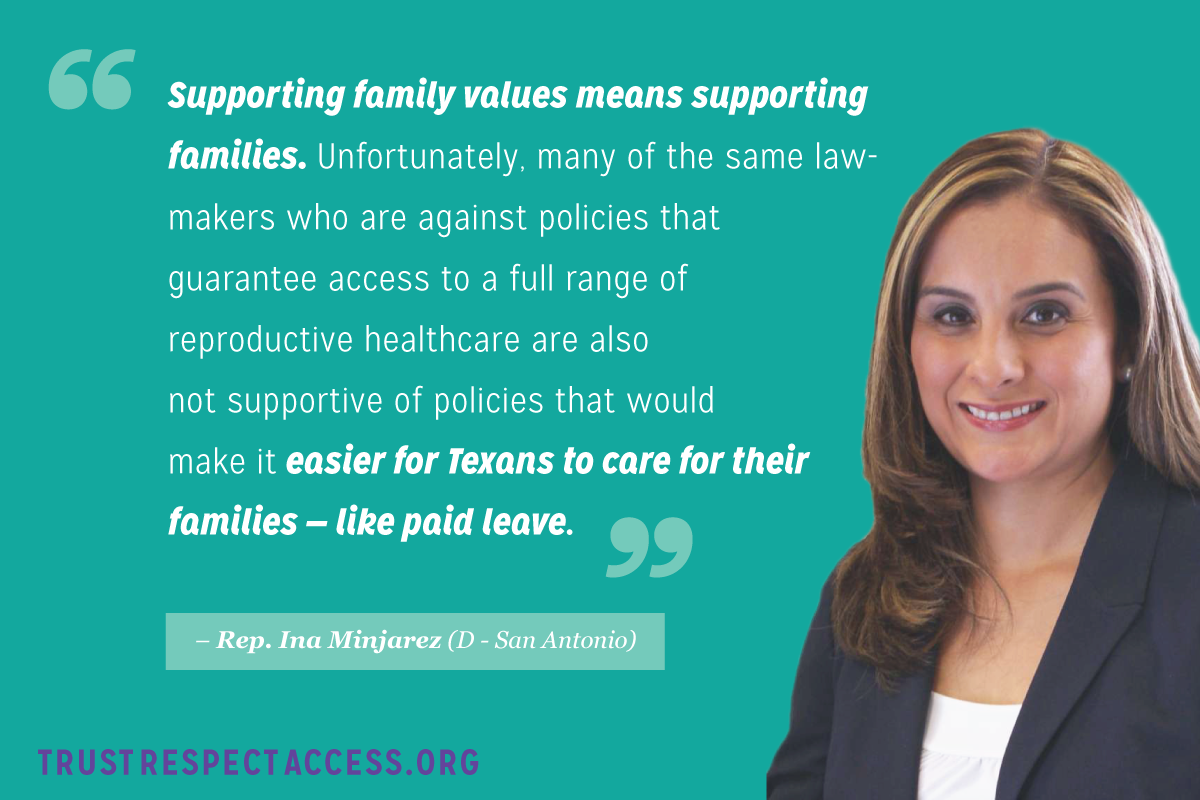 Marva Sadler, Whole Woman's Health:
"At Whole Woman's Health, I have the pleasure of helping provide Texas women from every part of the state, the compassionate care they deserve. These women come to us with their hopes, dreams and goals. But they also come to us with frustration in response to anti-abortion restrictions that place obstacles in their way. I join them in that frustration. No one, especially politicians, should interfere with the personal decision about their family, health and future. So this is why it is so imperative that we continue to fight in the state legislature."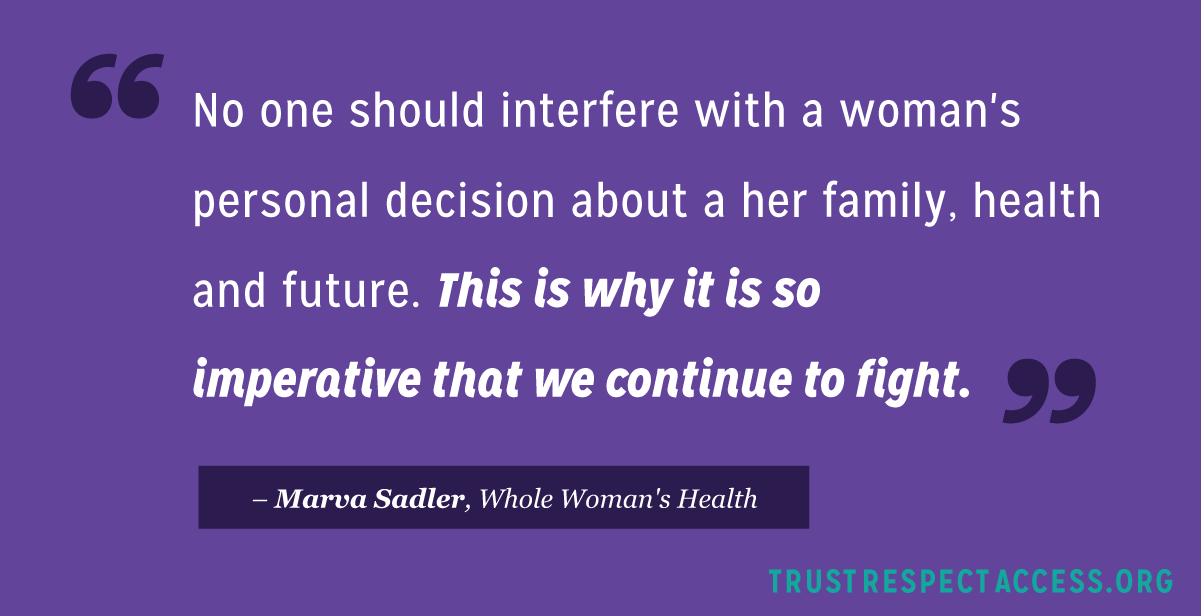 House Representative Donna Howard (D- Austin):
"Robust access to family planning is essential to women's health, and a smart investment in reducing the overall cost of health care. This session, I urge lawmakers to support my proposals to use federal dollars to offer a contraceptive benefit under the Children's Health Insurance Program, and to maintain valuable provider input in the latest reworking of our women's health programs. I also ask the Legislature to respect physicians' medical judgment, and allow them to determine the best course of treatment for their individual patients without fear of penalty."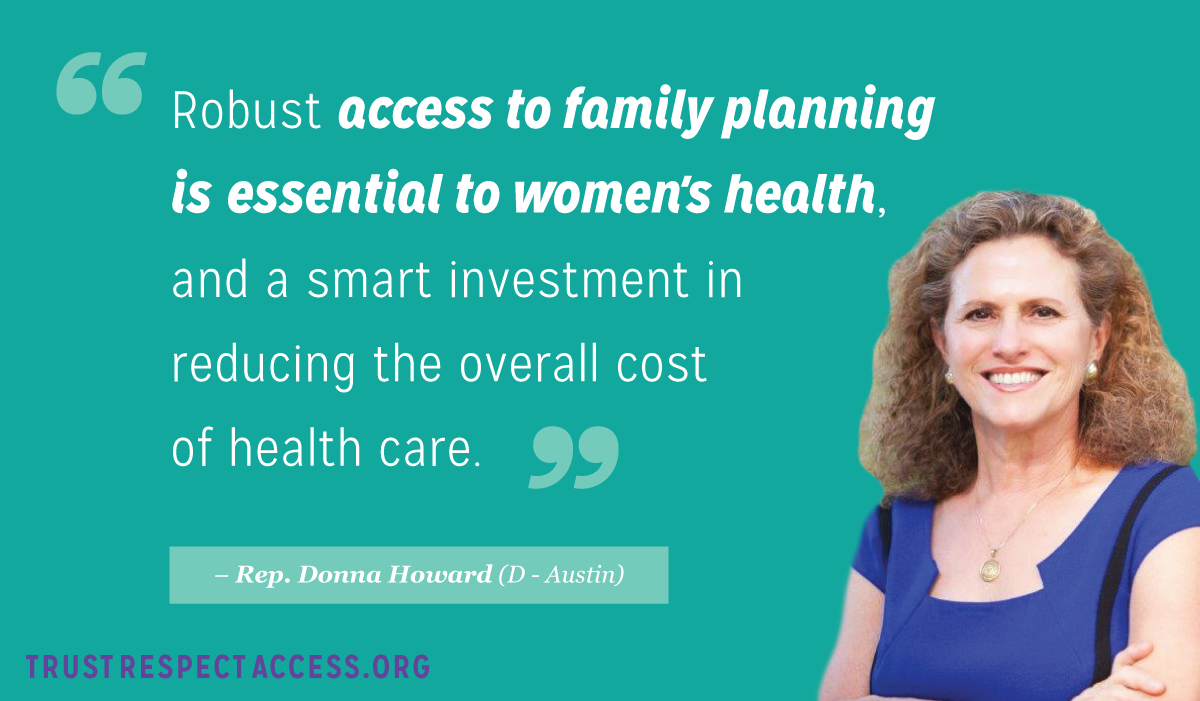 Heather Busby, Executive Director, NARAL Pro-Choice Texas:
"Texans who have made the decision to have an abortion deserve access to a safe, legal and dignified healthcare experience. It is long past time for anti-abortion politicians to stop making laws that interfere in the private doctor-patient relationship and force doctors to provide biased, medically inaccurate information to their patients. In the midst of a hostile federal administration and continued state attacks on abortion access, we have seen a tremendous increase in activism and the public's rejection of hateful and devastating restrictions on basic human rights, including access to reproductive health care."