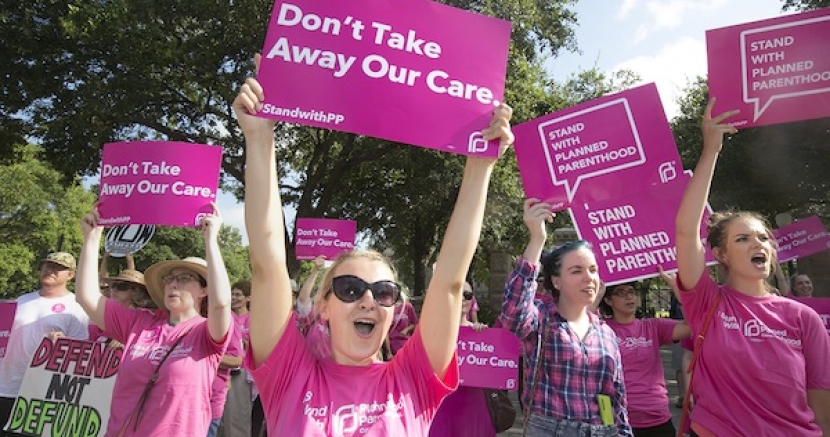 Texas House Republicans Move to Fully Defund Planned Parenthood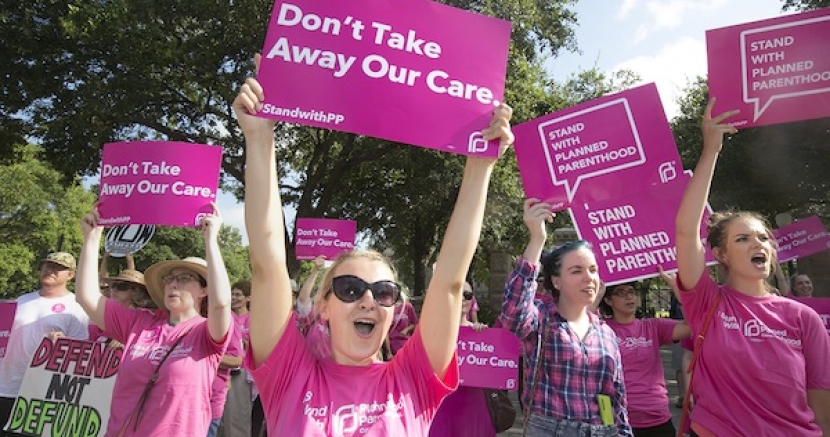 Instead of funding legitimate health care providers, House GOP doubled funding for anti-abortion crisis pregnancy centers.
On Thursday, the Texas House of Representatives debated the budget. After 15 hours of floor debate and behind the scenes dealmaking on hundreds of amendments, one issue emerged as the clear loser: Texans' access to quality reproductive health care.
House Republicans offered a slew of amendments that would increase state funding for anti-abortion, crisis pregnancy centers — unlicensed, fake medical clinics — and that would zero out funding for Planned Parenthood. By the end of the budget debate — during which House lawmakers largely avoided votes on other "controversial" amendments —  two of these amendments passed.
Targeting Texans Served by Planned Parenthood
In a deal that pitted deeply interconnected transgender rights against reproductive rights, Republicans pulled down an anti-transgender, bathroom amendment in exchange for a vote on an amendment that would fully defund Planned Parenthood from the state's budget.
The GOP's final blow to Planned Parenthood comes at a time when the state's women's health program is struggling to provide Texans with the reproductive health care services Planned Parenthood once provided. Just last month, the Associated Press reported on the state's failure to fill the gap in services left after Planned Parenthood's ouster from that program.
In a statement the executive director of Planned Parenthood Texas Votes Yvonne Gutierrez decried the cut:
"It is shameful that Texas politicians are making backroom deals on which vulnerable population to target. These politicians are doubling down on failed policies that are bad for Texans and have decimated access to health care. Ultimately, Texas women and families will continue to suffer the consequences of the state's crusade against Planned Parenthood."
After the state barred Planned Parenthood from providing care through the Texas Women's Health Program (TWHP) in 2011, the state's own numbers show that nearly 30,000 fewer women received birth control, cancer screenings, and other care through the program two years later. A study in the New England Journal of Medicine showed that blocking patients from going to Planned Parenthood in Texas led to a sharp decline in low-income women's use of the most effective methods of birth control and a dramatic increase in births among these women.
Bolstering Anti-Abortion Crisis Pregnancy Centers
Instead of funding legitimate reproductive health care providers and services, House Republicans approved an amendment that cut $20 million budgeted for air quality control and moved it to the state's anti-abortion, "Alternatives to Abortion" program. According to a Texas Observer investigation, CPCs deliver fewer services to women, while spending more per client than family planning providers. An investigation into CPCs by NARAL Pro-Choice Texas found these faux medical clinics use deceptive tactics, medical misinformation, and flat out lies to dissuade people with unintended pregnancies from accessing abortion services.
In a statement, the executive director of NARAL Pro-Choice Texas Heather Busby blasted the budget amendment:
"It is shameful that the state continues to give millions of health care dollars to non-medical entities that lie to, shame and manipulate Texans considering an abortion, especially at a time when vulnerable children are dying in foster care, public education remains chronically underfunded and cuts to Medicaid for disabled kids remain in place."