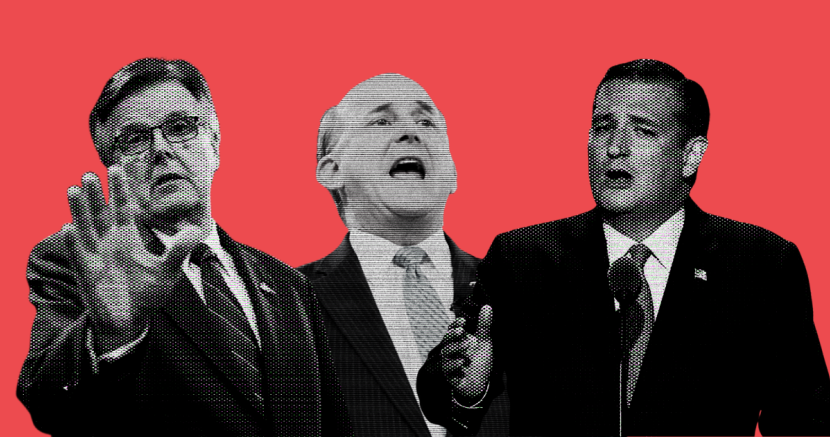 Exposed: Six Texas Republicans promoting Trump's false voter fraud claims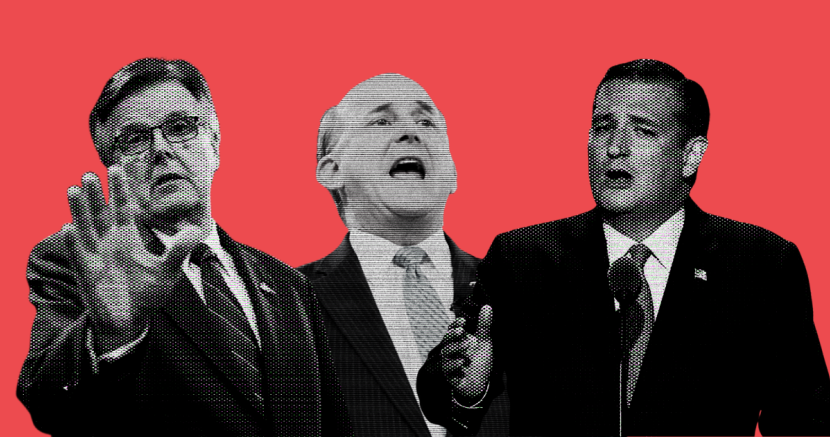 There is no evidence of widespread voter fraud, but these Texas Republicans are still spreading a dangerous, anti-democratic narrative.
We're another week into Trump continuing his baseless claims of voter fraud, as he refuses to admit he clearly lost. As of writing this, Trump has lost 27 different court cases in his post-election attempts. No claim of widespread voter fraud has been proven in court. Election and top government officials have called this, "the most secure election in American history" and that "there is no evidence that any voting system deleted or lost votes, changed votes or was in any way compromised." 
But regardless of the lack of evidence, these allegations of fraud are still dangerous. They are dangerous to our election process. They are dangerous to the American people, who came out in record numbers to make their voices heard. They are dangerous to our democracy.

Trump is not alone in his efforts. Many Texas Republicans are helping spread these false, harmful lies throughout the state. These elected officials should be held accountable for their complicit actions. Here's our round-up of some of their statements and how they've played a part in Trump's lies. 
Lieutenant Governor Dan Patrick

Perhaps the most supportive of Trump's actions right now is Dan Patrick. He is even going so far as to offer up to $1 million dollars to those who report voter fraud in Texas. Using money from his campaign fund, Patrick will reward at least $25,000 to someone if the information they provide results in a conviction. In his press release for the offer, Patrick offered no evidence of mass voter fraud. Trump then tweeted Patrick's offer and declared it a "big win."

But this is not surprising to see from Patrick. Starting back in October, Patrick said the only way Democrats could win is if they stole the election, without any evidence to support his claims. Predictably, a week after he made his offer, Patrick still hasn't awarded anyone and is still appearing on Fox News saying that Trump can still win the election.

Senator Ted Cruz

Cruz has made it known on appearances on Fox News and through his own Twitter account that he is once again joining sides with Trump. He repeated Trump's false claims on Fox News that in Pennsylvania, election observers were not being allowed in during the count process. He shared unverified videos of people claiming fraud, which was later blocked by Twitter for misinformation. But when Trump's lawyers were asked by a judge if this claim about election observers being denied access was true, they had to admit they were in the wrong. The judge then told Trump's lawyer that he, "shouldn't quit his day job."

As Trump continues to lose every major court case, Cruz is starting to change his tune. Even Cruz said of Trump's legal team, "other than screaming, 'it's all fraud,' they're not actually laying out cool, calm, methodical evidence,"" But regardless of what he says now, Cruz is still complicit. He already played a major role in helping spread these false accusations of fraud, all while knowing there wasn't substantial evidence to support them.
Representative Louie Gohmert
Recently making a name for himself as a mask skeptic who then tested positive for COVID, Rep. Gohmert went to Philadelphia in the days after the election and recorded videos of himself saying, "The election is in the process of being stolen," without providing any proof. He has taken to interviews to talk about his experience and continues to claim voter fraud is occurring without any evidence to back his claims.

Gohmert was also a part of the recent "MAGA March" in DC, where he told other Trump supporters to consider a "revolution." He even accused the FBI of committing crimes against Trump, another claim that has been disputed. Gohmert also claimed Trump won the popular vote in 48 states, when Trump in fact won the popular vote in 25 states.

Representative Roger Williams

Without any sustainable evidence, Rep. Williams has dubbed this "the most corrupt election of our lifetime." He has even tweeted "don't give out, don't give in" at President Trump. Williams was even briefly suspended by Twitter for his tweets claiming election fraud. Yet, Williams had no problem declaring his own win on November 4. He has not publicly questioned any other 2020 election race. 

Representatives Kevin Brady and Steve Toth

Both Brady and Toth have separately made their own false claims of voter fraud, but they appeared together at a "Stop the Steal" rally in Conroe. Together, they told the crowds to continue to have faith in Trump. The rally was started by the founder of Magnolia Trump Train 2020 and was attended by hundreds of people. While Brady said he would accept the results if every vote is counted, he provided no evidence to his claims of voter fraud.

When the next election comes, we must remember how these officials were complicit in helping spread this dangerous narrative. Texas deserves leaders who protect and preserve our democracy, not undermine it.