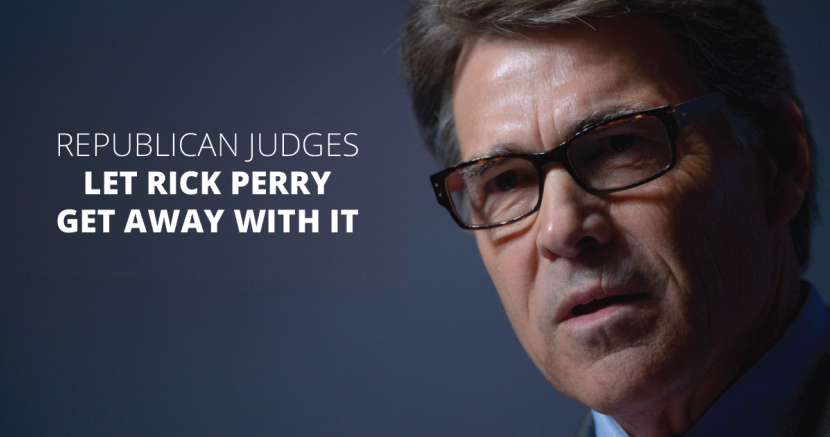 Justice Denied for Texans: Rick Perry Indictment Dismissed Without Trial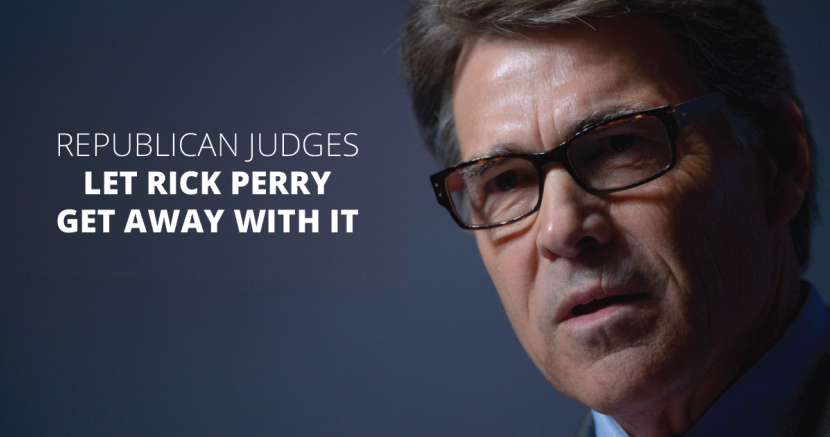 The people of Texas lost when the former governor vetoed funds to investigate political corruption
More than a year after he launched a high-priced legal battle reserved for the privileged, Republican judges on the Texas Criminal Court of Appeals — the same partisan body that reversed Tom Delay's conviction — dismissed the final felony charge against Perry without a trial. 
The case began when Rick Perry demanded the resignation of a District Attorney, and when she refused to comply he vetoed $7 million in public integrity unit funding that the people of Texas rely on in order to ensure transparency and accountability in government.
A partisan court may have handed Rick Perry a privileged gift, but the people of Texas were handed a loss when the former governor vetoed vital funds to investigate political corruption.
In response to the dismissal, Michael McCrum, the special prosecutor assigned to Perry's case, told the San Antonio Express News:
"I was a fool, I was told, to think that a Republican court was going to allow that to happen. I was naive enough to believe that our criminal justice system could withstand the power of politics. Unfortunately in the case of Rick Perry, in this election year, it could not."
Glenn Smith, Progress Texas PAC director, echoed these concerns:
"The Texas Court of Criminal Appeals tossed out decades of precedent to grant a special privilege to Rick Perry, allowing him to escape a trial before any evidence against him was heard. Legal precedent and common sense make it obvious that argument's like Perry's are hollow. He didn't argue that his indictment was technically flawed. He asked the appeals court to toss out evidence that had never been presented. We have to assume that hundreds of accused criminals will now flood the court with similar arguments. It's a black day for the law in Texas."
The two-count felony indictment stemmed from Perry's use of his veto power to coerce the resignation of Travis County District Attorney Rosemary Lehmberg. After her conviction of driving while intoxicated, Perry threatened to veto $7.4 million in state funds for the Travis County DA's Public Integrity Unit (PIU), the office charged with investigating government corruption, if she did not step down. Lehmberg refused — she is an elected Democratic official, and, had she resigned, Perry would have appointed her replacement — and Perry made good on the veto. At the time of his veto, PIU was actively investigating donors associated with the officials overseeing one of Perry's signature — and scandal-beleaguered — projects, the Cancer Prevention Research Institute of Texas (CPRIT).