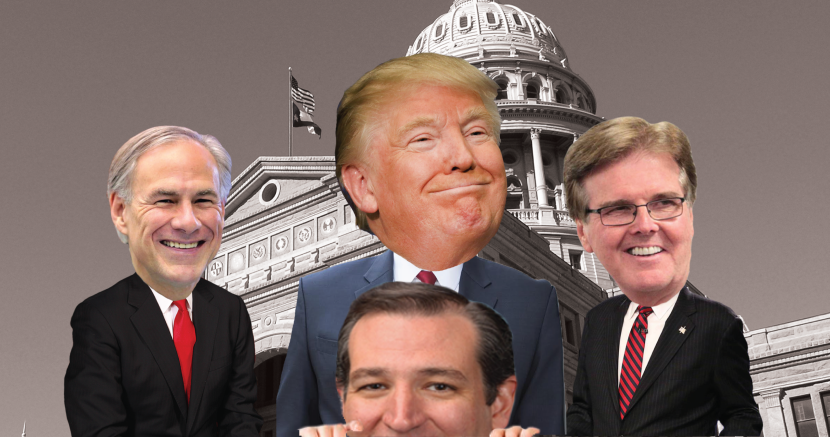 "I Love America" – Steinbeck, Trump and American Cheaters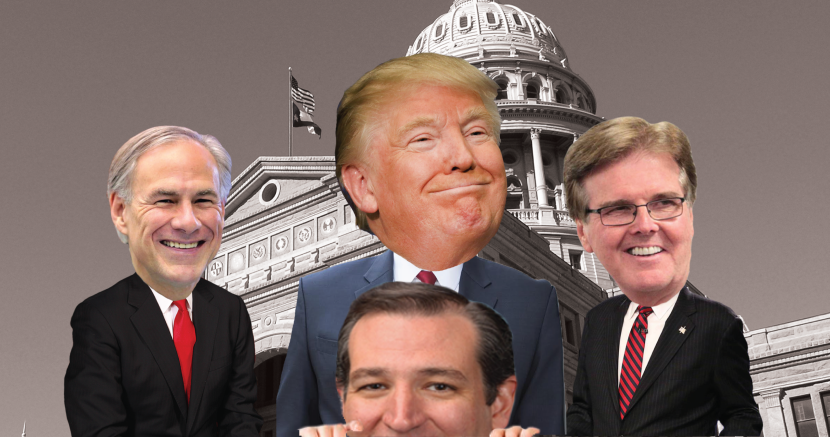 Texas Republicans are hugging Trump like children do a binky blanket -- hoping their shared guilt is less damaging than alienating key GOP primary voters.
Ed. note: the following column originally appeared at Quorum Report and is reprinted here with permission.
In John Steinbeck's The Winter of Our Discontent, the son of the tortured protagonist Ethan Allen Hawley wins a national essay contest for his piece, "I Love America." Sadly, it turns out the son, Allen, plagiarized the entire paper. The award is withdrawn.
When confronted by his father, Allen has this to say: "The stinking sneak," he says of the man who brought the bad news. "Who cares? Everybody does it. It's the way the cooky crumbles…Don't you read the papers? Everybody right up to the top—just read the papers. You get to feeling holy, just read the papers. I bet you took some in your time, because they all do."
The son is right about his father. Years before while working as a clerk in a grocery store, father Ethan turned in the owner to federal immigration authorities so he could take over the store. Steinbeck's novel is a sad, ugly tale set in the era of the television quiz show scandals and the McCarthy witch-hunts.
It all sounds familiar, doesn't it? Add a dripping dollop of misogyny to "stinking sneak" and it comes out "what a nasty woman."
Donald Trump's "Make America Great Again" message is as suspicious as Allen Hawley's "I Love America." And Trump comes with the same excuses for his moral failures. Trump evades taxes because everybody does it. His grotesque brags about his sexual assaults on women are just "locker room talk." Read the papers, Trump says. Everybody does it.
More disturbing even than Trump are those willing to overlook his depravity if they believe it's in their selfish interests to do so. In Steinbeck's novel, the man who comes to inform the family of the plagiarism offers a scholarship to Allen as a kind of bribe to keep the family quiet. "Public relations is my line," the man explains.
"Has sin gone on strike for a wage raise?" the dismayed father asks?
The same can be asked about the continued silence of Texas Republican officeholders and candidates who refuse to un-endorse Trump out of fear of alienating his rabid followers.
Gov. Greg Abbott, Lt. Gov. Dan Patrick, Attorney General Ken Paxton, and Land Commissioner George P. Bush, state Reps. Rodney Anderson and Matt Rinaldi and others – all of them are hugging Trump like children do a binky blanket. Eyes squeezed shut, they hope their shared guilt is less damaging than alienating key Republican primary voters.
The state representatives are locked in re-election races against strong Democratic candidates. They're all running duck and cover campaigns trying to avoid the Trump fallout this year. The statewide Republicans are placing their bets on public amnesia. By 2018, they figure, they'll be able to say, "Trump? Trump? Who is Trump? I don't know anyone named Trump."
It is disqualifying to overlook Trump's misogyny, as it is to overlook his ongoing attacks on veterans, Hispanics and African-Americans. These Texas Republicans have forfeited whatever moral standing they might have claimed before Trump dragged them into his hellish circle.
Now Trump is threatening democracy itself by saying he might not accept the results of the election unless he wins. We already know that many Republican officeholders and candidates find the institutions of democracy legitimate only if they guarantee their power. Democracy is not their priority. Their own authority is.
So, when Trump claims in advance that the election is rigged, what he means is that any legitimate election will guarantee his victory because that is the right and true order of the Universe. Any other result must have been a cheat against the Great Orange-Haired Chain of Being.
This belief, shared by many on the Right, is why they find it so easy to intentionally discriminate against minorities with voter suppression laws and the gerrymandering of voting districts. These actions are their attempts to rig elections. They probably assume their opponents are as diabolical as they are. Read the papers. Everybody does it.
In their minds, they can't rig elections because they are just advancing the natural order of things. They are supposed to be in charge. People of different color and beliefs will just have to accept it. "I Love America," they say. Just like Steinbeck said they would. The winter of our discontent, indeed.