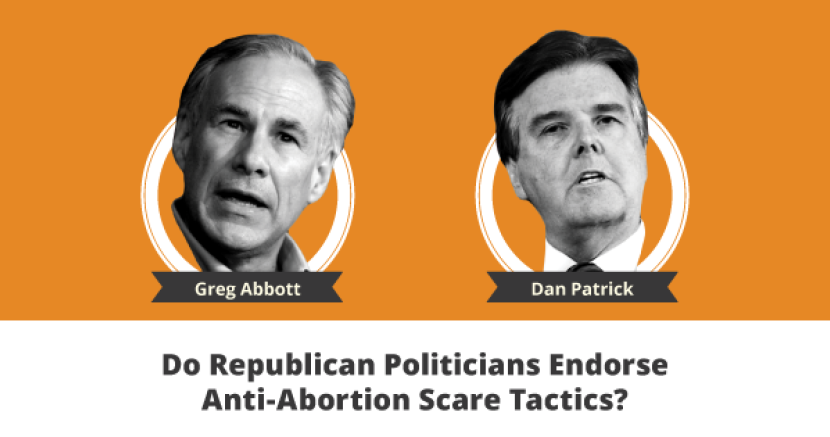 Do Republican Politicians Endorse Anti-Abortion Scare Tactics?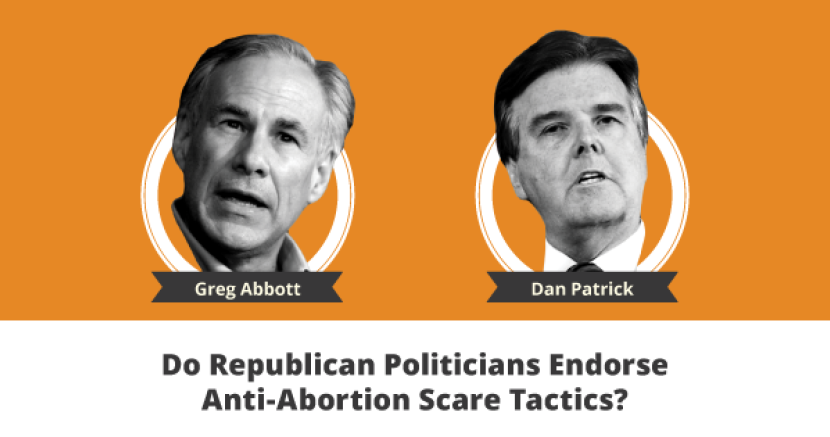 Earlier this week Progress Texas joined forces with NARAL Pro-Choice Texas to release a video containing undercover audio of a training hosted by anti-abortion groups at the State Capitol.
In the video, leaders of four anti-abortion groups operating in cities across the state detail the disturbing intimidation and harassment tactics they use to keep Texas women from accessing safe and legal abortion care—monitoring patients, providers and clinic staff, lining sidewalks outside clinics to dissuade patients from entering clinics, tracking physical descriptions and car license plates of patients, and searching tax records to find locations of new abortion providers.
The resounding response—from around the country and across the state—to our video: people are appalled and ready to fight back against these dangerous tactics.
We're calling on Republican politicians backed by these radical anti-abortion groups—including those at the top of the GOP ticket, Greg Abbott and Dan Patrick—to denounce these extreme tactics and to admit to what this video makes absolutely clear: HB2 had nothing to with protecting the health and safety of Texas women, and everything to do with shutting down abortion clinics.
Sign our petition and let these politicians know you won't be lied to: HB2 and it's extreme anti-abortion backers are endangering the lives of Texas women.

Undercover Audio Reveals How Anti-Abortion Activists Pursue Patients, Providers 8.12.14
On the same day that Texas abortion clinics fought in court to remain open, anti-abortion activists held a training session at the state's capitol on how to keep the facilities closed… Abortion rights groups based in Texas said that the intimidation tactics of protesters would only become more concentrated as clinics are forced to close… On the provider side, bombings, arsons, vandalism, burglaries, shootings, harassment and stalking are par for the course.

Frightening Audio Reveals How Texas Antiabortion Groups "Track" Patients and Doctors. 8.12.14
One of the most frustrating things about the main opinion in McCullen v. Coakley, the Supreme Court decision striking down Massachusetts' buffer zone law, was Chief Justice John Roberts' contention that the people stationed outside clinics are "not protesters."... Anyone who has entered or even walked by a clinic anywhere in this country knows this isn't the case...a new bit of audio of Texas antiabortion groups really drives the point home.

Undercover Video Reveals Anti-Abortion Activists' Disturbing Scare Tactics 8.13.14
The speakers in the video also confirm their goals have been advanced by an onerous new law in Texas, HB 2, that's shuttered half of the state's clinics over the past year...Progress Texas executive director Ed Espinoza added that the speakers in the video adamantly supported the GOP lawmakers who spearheaded HB 2 last year, and now there's a "legitimate question" about whether those politicians agree with the extreme tactics being described...The anti-abortion harassment in the state has only intensified as abortion clinics have been forced out of business, leaving fewer targets for anti-choice activists to go after.

Pro-Life Trainees Told to "Track License Plates" of Texas Abortion Providers 8.12.14
[S]peakers told attendees to track license plate numbers along with car makes and models of providers and clients as they arrive and leave abortion facilities… The four speakers in the video can be heard praising the closure of clinics across Texas and encouraging the trainees to continue intimidating providers and protesting outside clinics…[One speaker] also acknowledges that tactics like lining the sidewalks outside of abortion facilities keep women from getting the procedure.

Behind the Scenes at a Texas Pro-Life Meeting 8.13.14
[The audio] shows the tactics Texas anti-abortion activists are using in order to exploit recent court decisions -- like McCullen v. Coakley, which outlawed buffer zones around health clinics that provide abortions -- and prevent abortions...It outlines the techniques used by the groups to track abortion providers and women seeking abortions, keep women who arrive at clinics from actually going inside.

Anti-Abortion Activists Adopt a New Tactic: Tracking License Plates 8.13.14
Unlike traditional so-called sidewalk advocates, however, Romano did not simply try to talk the arriving women out of having their abortions. She also sought to get the clinic closed with a tactic that is becoming increasingly common in the Texas anti-abortion community: tracking license plates.

Undercover Audio Reveals Anti-Abortion Tactics 8.12.14
Another speaker refers to monitoring the percentage of abortion clinic closures as "keeping score" and cites the number of clinic staffers who quit, to applause. The "poorer ones," she said, heard the abortion clinic in their area was going to close and visited an anti-choice crisis pregnancy center instead.

Recording Catches Anti-Abortionists Plotting How to Intimidate Women 8.13.14
[T]rainers can be heard discussing their successes stalking patients and clinic workers, scaring women, and tricking them out of seeking the procedure...Intimidating physicians who perform abortions seems to have been a major focus of the training course...[A]nti-abortion activists "also spread misinformation about clinics in order to specifically target low-income patients."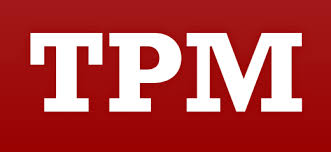 AUDIO: Texas Anti-Abortion Activists Reveal They Track Patients, Doctors 8.13.14
The undercover audio flips the script on anti-abortion groups like Live Action, which sent an activist undercover as a pimp to Planned Parenthood clinics back and 2011 and recorded him asking clinic employees for advice on how to get abortions for the "girls" in his fake prostitution ring without alerting authorities.

Pro-Life Activists Are Tracking License Plates of Abortion Patients 8.13.14
In the video, multiple members of various pro-life organizations explain their tactics, revealing that those totally legal pro-life protestors are often actually spies for their bullshit movement. As Karen Garnett of the Catholic Pro-Life Committee of North Texas explains, those "pro-life protestors are not just protesting" – they "track the women who choose life"... "We've got the sidewalks lined with people," Garnett says. We know. Then Eileen Romanco of 40 Days for Life chimes in, explaining that they can tell which women cancel appointments because they don't want to drive past the protestors.
Texas Abortion Clinic Protesters Told to 'Track License Plates' 8.12.14
The Catholic Diocese of Fort Worth's Michael Demma told trainees that his group, Respect Life, is "searching" for one of two abortion-providing OB-GYNs at the Whole Woman's Health facility in Fort Worth...Professional anti-choice activist Abby Johnson, who famously left her job at a southeast Texas Planned Parenthood facility in 2009, told the trainees that "abortionists are feeling the pressure" from anti-choice groups, and that she had identified the potential new location of an abortion-providing ambulatory surgical center in Austin.