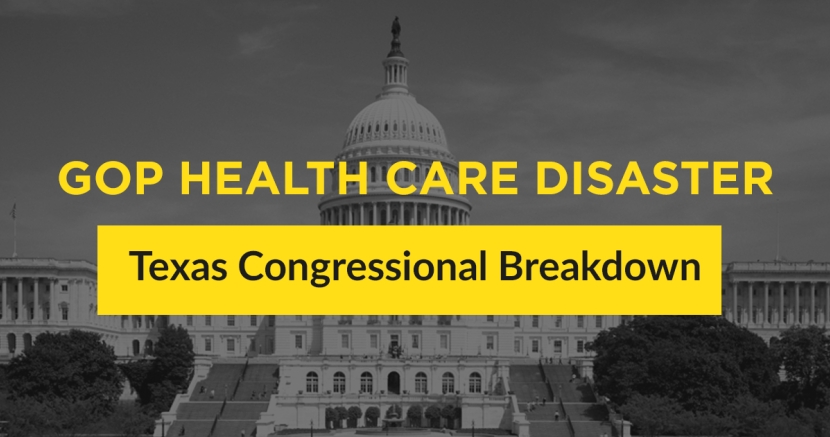 GOP Health Care Disaster: Texas Congressional Breakdown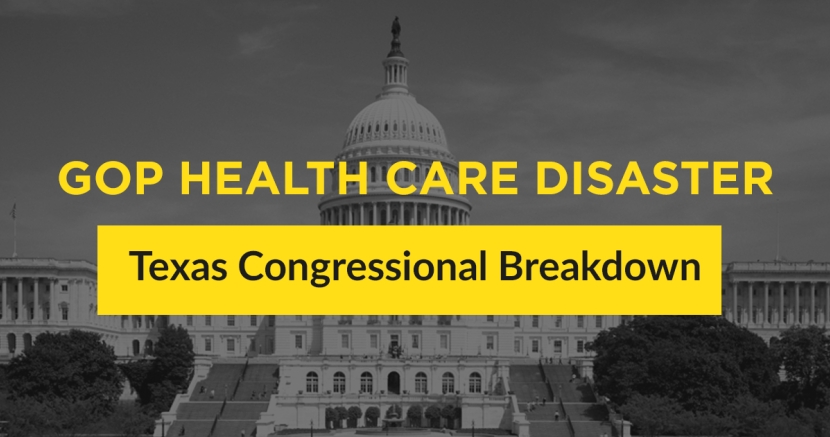 A breakdown of how many Texans could lose health insurance coverage per congressional district under the GOP health care plan.
Save the ACA ⇨ Call your representative NOW!

Take a few minutes and call (844) 489-5683, press 2 and then enter your zip code to be connected.
Source: Estimated data is from the Center for American Progress.
| District | Rep | Party | Texans Who Will Lose Health Insurace Coverage |
| --- | --- | --- | --- |
| 1 | Louie Gohmert Jr. | R | 39,100 |
| 2 | Ted Poe | R | 39,300 |
| 3 | Sam Johnson | R | 37,800 |
| 4 | John Ratcliffe | R | 38,800 |
| 5 | Jeb Hensarling | R | 42,400 |
| 6 | Joe Barton | R | 41,100 |
| 7 | John Culberson | R | 40,000 |
| 8 | Kevin Brady | R | 38,900 |
| 9 | Al Green | D | 52,600 |
| 10 | Michael McCaul | R | 41,600 |
| 11 | Michael Conaway | R | 39,800 |
| 12 | Kay Granger | R | 41,200 |
| 13 | Mac Thornberry | R | 35,600 |
| 14 | Randy Weber | R | 40,000 |
| 15 | Vincente Gonzales | D | 48,700 |
| 16 | Beto O'Rourke | D | 47,300 |
| 17 | Bill Flores | R | 39,800 |
| 18 | Sheila Jackson Lee | D | 53,500 |
| 19 | Jodey Arrington | R | 38,600 |
| 20 | Joaquin Castro | D | 48,300 |
| 21 | Lamar Smith | R | 36,700 |
| 22 | Pete Olson | R | 42,800 |
| 23 | Will Hurd | R | 46,300 |
| 24 | Kenny Marchant | R | 39,500 |
| 25 | Roger Williams | R | 35,500 |
| 26 | Michael Bergess | R | 40,800 |
| 27 | Blake Farenthold | R | 40,800 |
| 28 | Henry Cuellar | D | 47,800 |
| 29 | Gene Green | D | 54,800 |
| 30 | Eddie Johnson | D | 51,600 |
| 31 | John Carter | R | 39,600 |
| 32 | Pete Sessions | R | 39,600 |
| 33 | Marc Veasey | D | 52,600 |
| 34 | Filemon Vela | D | 48,600 |
| 35 | Lloyd Doggett | D | 52,800 |
| 36 | Brian Babin | R | 40,000 |